GOP Congressman Tweets Fake Photo of Obama Shaking Hands With Iranian President Rouhani: 'World is Better Without These Guys in Power'
On Monday afternoon, Congressman Paul Gosar (R-Ariz.) tweeted a picture of former President Barack Obama shaking hands with the President of Iran, Hassan Rouhani. But the picture has long been confirmed to be a fake.
"The world is a better place without these guys in power," tweeted Gosar.
Congressman Gosar later replied to tweets requesting he delete the picture by explaining that he knew the image was a fake and that his "point remains to all but the dimmest."
"To the dim witted reporters like @dmedin11 [Daniel Medina, reporter for The Intercept and The Guardian]: no one said this wasn't photoshopped. No one said the president of Iran was dead. No one said Obama met with Rouhani in person. The tweet says: 'the world is a better place without either of them in power,'" tweeted Gosar. "2. The point remains to all but the dimmest: Obama coddled, appeased, nurtured and protected the worlds No. 1 sponsor of terror. The world is better without Obama as president. The world will be better off without Rouhani."
Critical commenters to the second string of tweets pointed out that Gosar had tweeted that the world "is" a better place without Obama and Rouhani in power. Hassan Rouhani is still the president of Iran, and was elected to a second term in 2017.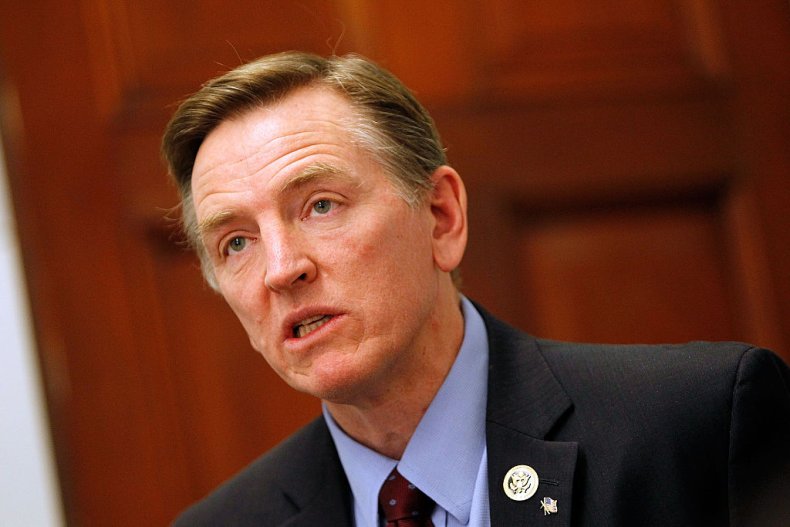 The picture Congressman Gosar tweeted was created by the Illinois-based Restoration PAC as part of a tv advertisement campaign opposing President Obama's nuclear deal with Iran. The ads were created to support the position of Wisconsin Senator Ron Johnson, who strongly opposed President Obama's signing of the 2015 agreement.
Dan Curry, a spokesman for Restoration PAC, strongly defended the ad's use of the picture at the time, responding to BuzzFeed's questioning of the image's veracity by saying that "BuzzFeed was not able to provide any proof that the photo was fake and it indeed is in circulation widely on the internet. There also are no articles claiming the image is fake. However, out of an abundance of caution, we are replacing the image with side-by-side Obama and Rouhani photos that make exactly the same point."
The image was eventually removed from the ad and replaced by two images of Obama and Rouhani composited side-by-side.
The base picture from the photoshop comes from former President Obama's 2011 meeting with Indian Prime Minister Manmohan Singh. Obama and Rouhani have never met in person.
Prior to his 2018 reelection, Gosar was the target of a well-known political ad in which his six siblings endorsed his congressional opponent, Dr. David Brill. Gosar defeated Brill by winning 68.2 percent of the vote, and is currently on his third term.
Newsweek contacted representatives for Congressman Gosar for comment, but did not hear back at press time.