Representative-elect Nicole Malliotakis, a Republican who will represent New York's 11th District, expressed a desire to form "alliances" with some Democrats to "shut down the socialist Squad."
Malliotakis, who defeated Democratic Representative Max Rose on November 3, is a member of the New York State Assembly. "The Squad" is a nickname for four progressive congresswomen—Representatives Alexandria Ocasio-Cortez of New York, Ilhan Omar of Minnesota, Rashida Tlaib of Michigan and Ayanna Pressley of Massachusetts—who were first elected to the House of Representatives in 2018.
Although conservative critics often describe Ocasio-Cortez, Omar, Tlaib and Pressley as "socialists" and "communists," these terms are inaccurate. While Ocasio-Cortez has described herself as a democratic socialist, her political views are in line with the mainstream policies already in place in wealthy Northern European nations like Sweden, Denmark and Norway—not those of Cuba or Venezuela, as her critics claim.
"We're hoping that some of those Democrats are gonna come with us to shut down the socialist squad," Malliotakis told Fox News in a Tuesday interview, discussing how her party will work in the upcoming Congress.
"Look, I'm the only Republican from New York City," she said. "This is her [Ocasio-Cortez's] backyard. And we need someone here who is gonna push back and provide a counterbalance as she gains friends and allies in the state Legislature here in New York and now on the City Council."
Malliotakis pointed out that some moderate Democrats have already raised their own concerns about the views of the Squad and other progressives. "You're also hearing from the Democratic side," she said.
"This is our opportunity to not only form alliances on the Republican side but with some of those Democrats," Malliotakis said. She expressed optimism that some Democrats would "join us" in opposing progressive policies.
Newsweek reached out to press representatives for Ocasio-Cortez, Pressley and Tlaib for comment, but they did not reply in time for publication. A press representative for Omar declined to comment.
Since the 2018 midterm elections, there have been consistent tensions between progressive Democrats and the party's more moderate members. These rose to the surface in the November 3 elections, when House Democrats lost a number of seats to Republican challengers.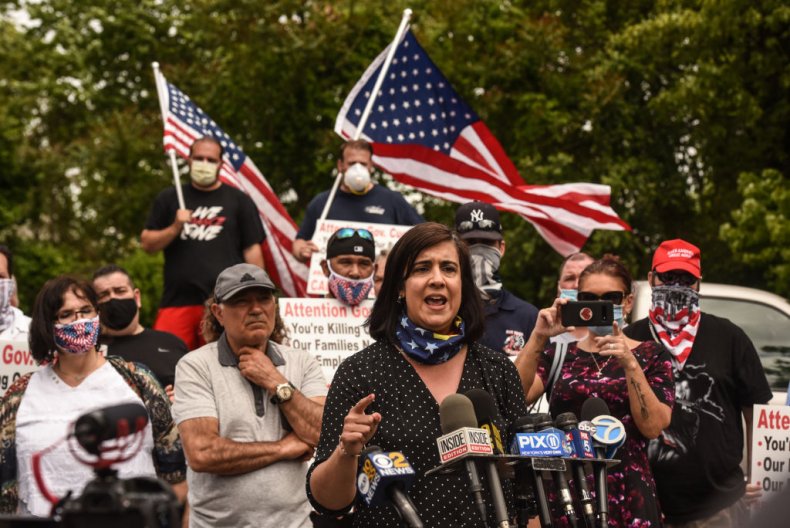 While moderates blamed progressives who have used the label "democratic socialist" and voiced support for activists calling to defund the police, progressives have pushed back—criticizing how moderates campaigned and their messaging. Meanwhile, multiple Democrats have urged unity among the party's factions, describing the party as "a big tent."
"I need my colleagues to understand that we are not the enemy. And that their base is not the enemy. That the Movement for Black Lives is not the enemy, that Medicare for All is not the enemy," Ocasio-Cortez told The New York Times earlier this month.