GOP Congresswoman Receives 'Fascist Pig' Note, Newspaper Editorial Board Tells Her It's a Taste of Trump's Own Medicine
A New York Republican congresswoman blamed the "radical Far-Left" last weekend after an anonymous person allegedly placed a nasty note on her car, but a local newspaper editorial board said she should do some "self-reflection" the next time she defends President Donald Trump's behavior.
New York's 21st congressional district representative Elise Stefanik was asked not to "get too carried away" by the newspaper's editorial board after she shared a photo of a note calling her a "fascist pig." The congresswoman's tweet said it was placed on her car at the grocery store Saturday.
In her post, Stefanik, who garnered praise from the president as one of his most vocal impeachment defenders, was quick to lash out against "radical" Democrats.
"It is truly sad that the radical Far-Left cannot see beyond their vicious hate. My husband and I went grocery shopping this morning before district events and enjoyed chatting with constituents throughout the store. This vile anonymous note was left on our car," Stefanik wrote on Twitter, including a photo of the note.
On Monday, the Times Union newspaper editorial board penned a piece calling her out on she and Trump's own "childish" name-calling they say has "unfortunately trickled down the GOP ranks."
"If Ms. Stefanik wonders how people seem lately to so easily call each other names, she ought to look at the tone she and her colleagues are setting in the political schoolyard," the Times Union newspaper's editorial board wrote. "Name-calling is clearly the favored sport of Donald Trump, the president Ms. Stefanik so vigorously defended in the House hearings on impeachment."
"And when our American president isn't branding someone he doesn't like with a nickname, he's commenting on some attribute, such as a woman's weight or looks, or a person's disability. It is disgusting behavior that draws not a peep of protest these days from his loyalists, including Ms. Stefanik," the Times Union editorial board continued.
Stefanik responded within hours to the newspaper's piece, responding to the editorial board for equating being told to "rot in hell" as she was on the note to her assigning the nickname 'Taxin' Tedra' and using descriptors like 'far-left' and 'socialist' to Tedra Cobb, her Democratic opponent for the District 21 House seat.
"Least surprising editorial ever from @timesunion. They somehow blame me, my campaign,@realDonaldTrump & the @GOP for deserving the vile, sick note. They equate campaign statements like 'Taxin' & 'Corrupt' with 'ROT IN HELL FASCIST PIG,'" Stefanik wrote on Twitter.
The congresswoman first gained national attention last year after blasting House Intelligence Committee Chairman Adam Schiff and other witnesses during the president's impeachment hearings. She received a direct blessing from Trump himself, who declared of her performance - "a new Republican Star is born."
The Times Union concluded its message of self-reflection toward Stefanik, writing: "The right end of the political spectrum certainly doesn't have the exclusive franchise on insults, but the Grand Old Party has raised it to a low art form under Mr. Trump's influence. Rather than scoff at Ms. Cobb's challenge to set a more dignified example in their campaigns, Ms. Stefanik might take up the idea. And it wouldn't hurt if supporters stopped applauding the kind of antics they'd never tolerate from their children."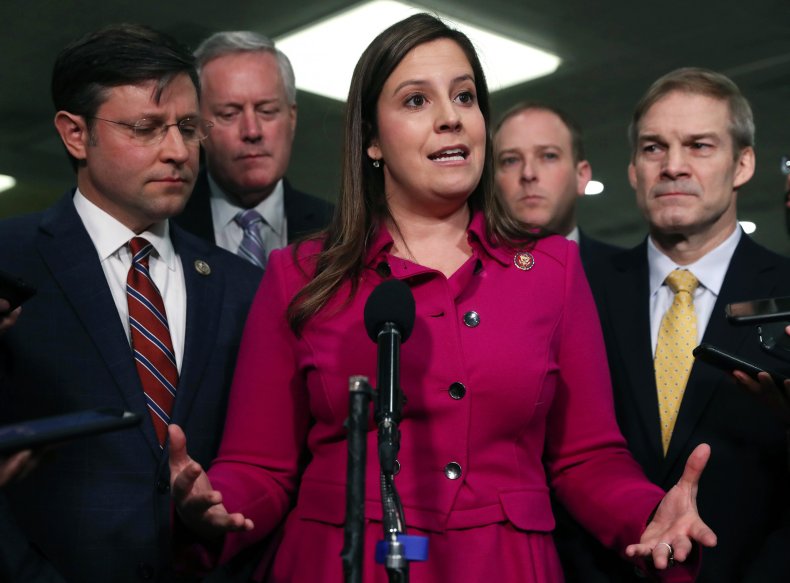 The congresswoman's New York office did not immediately respond to Newsweek's request for additional comments Tuesday afternoon.