GOP Consultant Urges 'Shoot to Kill' Response to Abortion-Rights Violence
A Republican consultant called for people to "shoot to kill" abortion-rights protesters who he alleged would resort to violence after the Supreme Court's overturning of Roe v. Wade, according to a post circulating Friday on social media.
The Twitter page for PatriotTakes, self-described as a group of researchers "monitoring and exposing right-wing extremism," shared a screenshot of the post from Colton Duncan. In the post, which appears to have been deleted from Duncan's social media, Duncan wrote that when Roe gets reversed, "nasty, ugly gender-confused animals will torch American cities and do everything they can to tear down the fabric of America."
The post goes on, "They should either be shot, or god-willing, apprehended before that has to happen. These depraved animals are our enemy. Let me repeat that. They are our enemy. Do not feel one iota of pity for them." Later in the post, Duncan instructs readers who live in big cities to "arm yourselves" and "shoot to kill" if they find themselves in a situation where their safety or livelihood is threatened.
Newsweek took a screenshot of the message before its deletion from Duncan's Facebook account but was not immediately able to confirm the time he posted it or where else it appeared.
Overturning Roe v. Wade
The highly anticipated ruling from the Supreme Court on Friday came after a draft opinion that was leaked in early May indicated that it was poised to overturn Roe and end legalization of abortion nearly 50 years after the landmark decision. In the majority opinion, Justice Samuel Alito called the 1973 Roe ruling "egregiously wrong and deeply damaging."
Many Republicans have commended and celebrated the decision, while Democrats have condemned the rollback of the constitutional right to abortion. Both abortion-rights and anti-abortion activists were gathered outside the Supreme Court on Friday.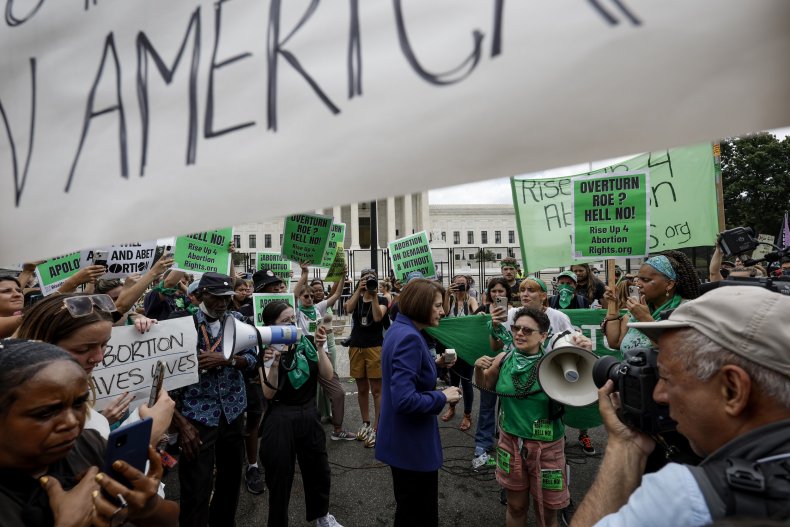 In a Twitter post, U.S. Capitol Police said demonstrations were growing outside the court. The department stressed that while peaceful demonstrations are permitted, protesters "must follow the officer's instructions so that everyone stays safe."
Capitol Police promised in the post to keep the public updated on the latest information. They had not announced any instances of violence in the demonstrations by late Friday afternoon.
Duncan, who lists himself as an employee of the conservative Arsenal Media Group and Turning Point USA, has criticized both Pride Month and abortion-rights advocates on social media in recent days.
On Wednesday, he tweeted that there is "quite literally NOTHING uglier than a Pro-Abortion activist."
"Brooooooo calm it down — chill out my dawg! No one wants anything to do with your uterus. I promise," he added.
On Friday morning, he tweeted that "not everything has to be gay" and that he's looking forward to the start of July, when Pride Month comes to a close.