GOP-Controlled Senate Rebukes Trump, Joining House in Overriding NDAA Veto
The Republican-controlled Senate joined the Democrat-controlled House of Representatives in rebuking the White House with the first veto override vote of President Donald Trump's tenure as commander-in-chief, 81-13, on New Year's Day.
"It's a serious responsibility," Senate Majority Leader Mitch McConnell said of the $741 billion National Defense Authorization Act (NDAA) Friday afternoon. "But it's also a tremendous opportunity: to direct our national security priorities to reflect the resolve of the American people and the evolving threats to their safety, at home and abroad."
The NDAA, which will keep the military funded and give pay raises to troops in 2021, previously passed both chambers of Congress with wide bipartisan support. But Trump opposed the legislation, criticizing the bill for ordering the Pentagon to change the names of military bases named after Confederate generals and not including a section repealing Section 230 of the Communications Decency Act. The president chose to veto the bill last Wednesday.
A two-thirds majority is required in both chambers of Congress in order to override a presidential veto. The NDAA passed through both the House and Senate with veto-proof majorities, but a number of House Republicans chose not to challenge the president's veto on Monday. While the NDAA initially passed through the House by a vote of 335 to 78 earlier this month, the override vote came in at 322 to 87. This was most likely the final roll call vote for the Senate for the 116th Congress as the 117th Congress begins on Sunday.
The Senate's veto override of Trump required Democrats to help, prompting some Democratic lawmakers to accuse Senate Minority Leader Chuck Schumer of backing down from his demands for $2,000 checks.
"Mitch McConnell needed Democratic support to override Trump's veto of the NDAA. This was our only leverage to get $2,000 checks for working-class families. But the master strategists in the Senate Democratic Caucus gave it away for nothing. No guts, as usual," tweeted Florida Congressman Omari Hardy, in response to the veto override.
The Senate's veto override comes amid McConnell's move last week to reject Trump's Democratic Party-backed demands for a $600 to $2,000 increase in checks as direct payments to Americans struggling during the coronavirus pandemic. And the move also comes days before Congress is expected to end a far-fetched attempt by some staunch pro-Trump Republicans to overturn President-elect Joe Biden's election victory in favor of the president using a technicality.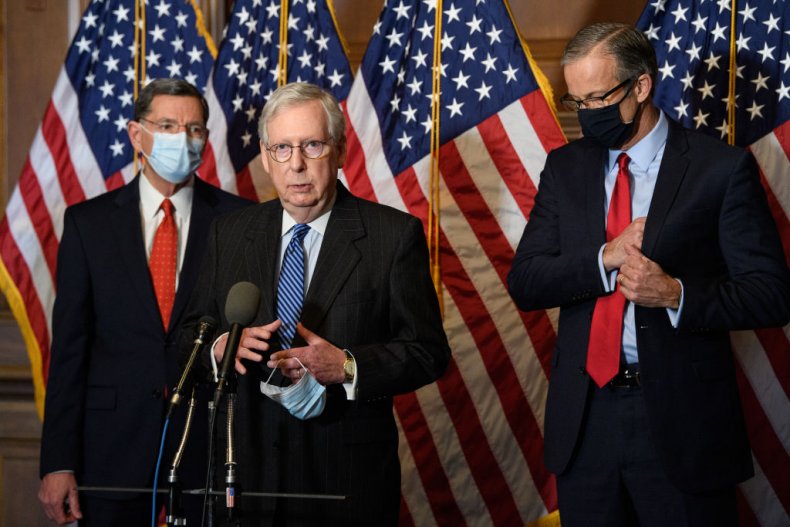 "Weak and tired Republican 'leadership' will allow the bad Defense Bill to pass. Say goodbye to VITAL Section 230 termination, your National Monuments, Forts (names!) and Treasures (inserted by Elizabeth 'Pocahontas' Warren), 5G, and our great soldiers being removed and brought home from foreign lands who do NOTHING for us. A disgraceful act of cowardice and total submission by weak people to Big Tech. Negotiate a better Bill, or get better leaders, NOW! Senate should not approve NDAA until fixed!!!" Trump wrote in a Twitter post on Tuesday morning.
Newsweek reached out to the White House for additional remarks Friday.
While Democrats and Republicans have criticized Section 230 and the broad protections it affords social media and other tech companies, neither party showed significant interest in taking up the issue in the NDAA. Senator Elizabeth Warren, as Trump noted, put forward the provision in the NDAA that would force the Pentagon to rename military bases named after Confederate generals.
The Confederacy was a rebellion that attempted to break apart the United States in a bid to preserve slavery. Confederate generals were traitors to the country, and some lawmakers and many Americans have pointed out that it is bizarre that U.S. military bases were named after these individuals.
Some progressive lawmakers, including former Democratic presidential hopeful Senator Bernie Sanders of Vermont, had opposed the NDAA as well.
"I will be voting against the Defense Appropriations bill. We need to get our priorities right. At a time when we have enormous unmet needs in our country we should not be spending $740 billion on the military – more than the next 10 nations combined," Sanders tweeted on December 10 ahead of the initial Senate vote.
Newsweek reached out to Republican and Democratic Senate leaders for comment.