Man Behind GOP Convention Open-Carry Petition Wanted to Start Gun Control Conversation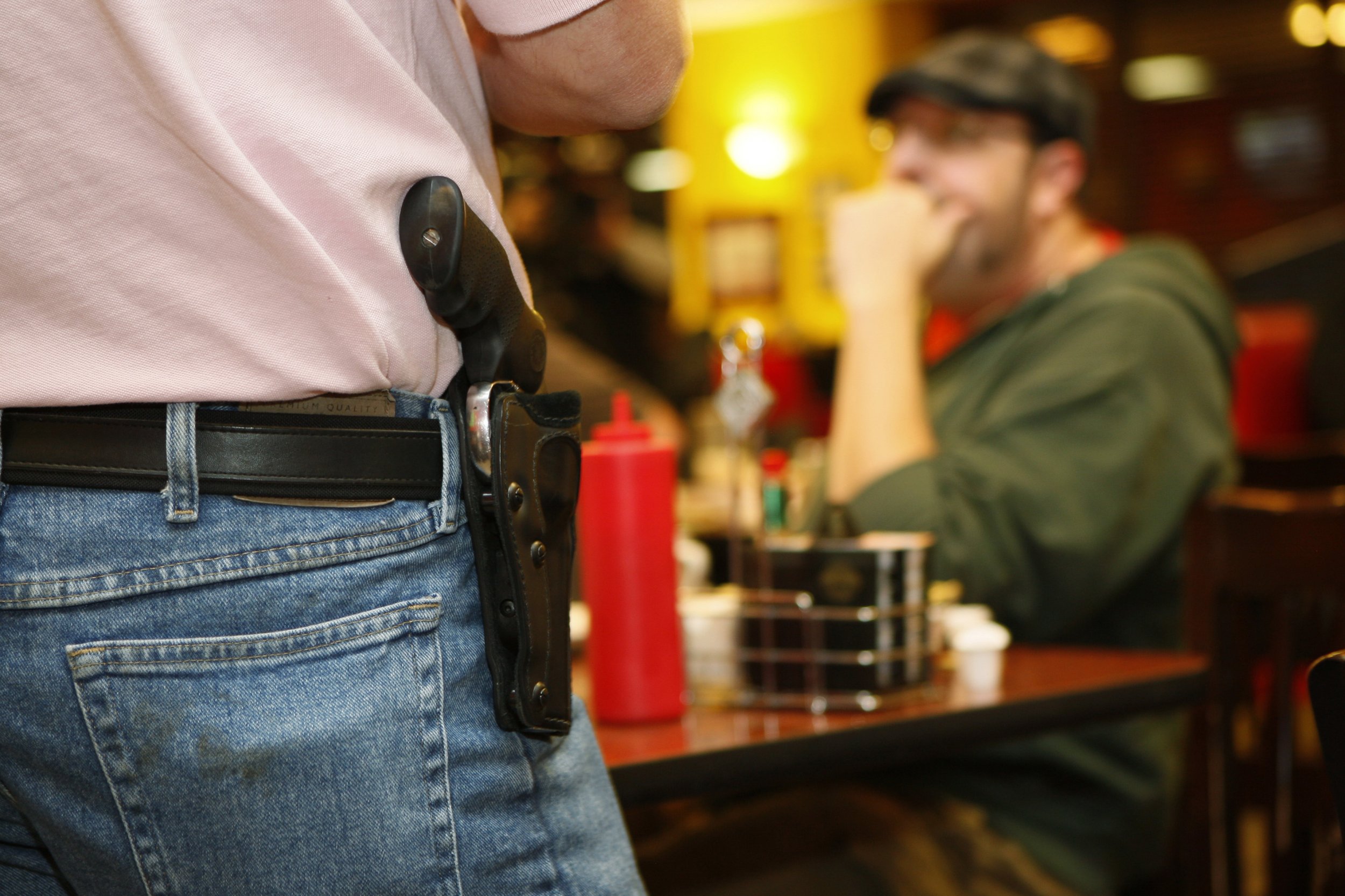 "Your argument is pure apple sauce. Enjoy your 20 seconds of fame, you fcuktard."
A man named Jim is reading out some of the vitriolic abuse he's received over the past few days via the Internet. Previously known only by his Twitter handle, @Hyperationalist, Jim last week launched a Change.org petition calling for the open carry of guns at the Republican National Convention, which will be held in Cleveland in July. The petition has ganered international news coverage and prompted responses from the Secret Service and Republican presidential candidate Donald Trump, as well as online haters.
While the petition reads like a rallying cry from a staunch gun rights activist, Jim, who asked that his surname not be used out of concerns for his and his family's safety, says he started it to prompt a national conversation about guns in America.
"It is satire," Jim tells Newsweek during a phone conversation on Tuesday morning. "The thing I try to be really clear about is: I'm not saying [Republicans] should have guns at their convention while I think they shouldn't. I think they should have guns at their convention because I think that's the only way to live in accordance with the principles they have tried to make us all live with."
The petition, which has been signed by more than 50,300 people and includes a photo of an assault rifle, is "written from the perspective of someone who cares deeply about gun rights," says Jim. "[It's] taking the words of those people, taking them at face value."
The Secret Service responded to the petition on Monday, releasing a statement saying "only authorized law enforcement personnel working in conjunction with the Secret Service for a particular event may carry a firearm inside of the protected site." It added that "individuals determined to be carrying firearms will not be allowed past a predetermined outer perimeter checkpoint, regardless of whether they possess a ticket" to the convention.
Guns were also banned at the 2012 GOP convention in Tampa, Florida.
Jim, who identifies as a Democrat and is not a gun owner, says that while he's been somewhat overwhelmed by the attention attached to the petition, he wasn't surprised by the Secret Service's reaction. Still, he believes that with the heated and sometimes violent rhetoric surrounding the Republican presidential campaign this year—Trump warned earlier this month that there could be riots if he's not nominated—safety at the RNC will remain a concern.
"As talk of a contested convention became pretty heated and as the Republican campaign got really vitriolic, there was something very, very relevant all of a sudden about the idea of them being in that convention hall with guns," says Jim. "It looks like it could be a pretty ugly scene."
"If you take their words about all other aspects of American life, you ask, 'Well, how are they going to protect themselves?'" he adds.
Jim, a public health worker who says he is "absolutely" a gun control advocate, is based on the West Coast. He wonders why "the Republicans acquiesce so docilely" to the Secret Service simply denying them the right to have guns at their convention. In the petition, Jim quotes all three Republican candidates—Trump, Ted Cruz and John Kasich—each of whom have said they'd eliminate "gun-free zones" in areas such as schools and military facilities.
"Why shouldn't guns be allowed [at the convention] if they should be allowed everywhere else?" says Jim. "I think it gives the candidates the easy out. Why doesn't the Secret Service allow guns at the convention? Is it possible that it makes candidates and convention-goers less safe? Then can we ask them what they think about guns on playgrounds? Can we follow that advice?"
The Republican Party is taking all safety cues and planning ideas from the Secret Service, as the RNC is a National Special Security Event, GOP convention spokesperson Kirsten Kukowski said in a statement emailed to Newsweek. "The Republican Party has been and will continue to be a staunch supporter of the 2nd amendment. It is in our Platform and is strongly supported by our candidates," she added.
Jim's petition has already started a conversation about guns at the RNC, and he's hoping it will be extended to the presence of firearms outside of other large, heavily protected arenas hosting political events.
"I wanted to point to a situation where people go, 'That doesn't seem like a good idea there.' OK, it's not a good idea there, obviously. Now think about why it's not a good idea elsewhere," he says.
"Can we talk about that?"