GOP County Chair Says Coronavirus in Kansas Isn't Serious Because There Aren't Many Chinese People There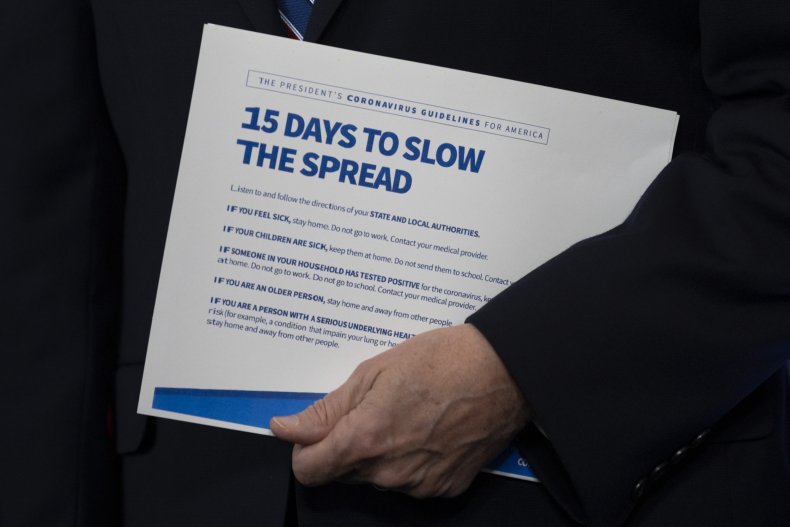 On Wednesday, Republican County Commissioner Marvin Rodriguez suggested that the new coronavirus isn't serious in Kansas because the state does not have a lot of Chinese people.
"I know that other people are having a great problem. And someone reminded me that in Italy, they have a lot of garment-people there, fashionists [sic], and they have a tremendous amount of Chinese there, and that's where a lot of it started," Rodriguez said at a special county meeting on Wednesday, according the Kansas news agency The Mercury. "So we don't necessarily have any [Chinese people], but I think the board would like to make sure we're on top of it, and the board will decide on that part."
Following those comments, Usha Reddi, mayor of Manhattan, Kansas, took to Twitter criticizing Rodriguez, calling his remarks, "false information."
"Yesterday, a Riley County Commissioner said this (paraphrasing): 'We have zero cases. I don't think it's a problem here. In Italy they have a lot of Chinese and that's why they have the virus. We don't have that problem here' This needs to stop! This is false information!" Reddi wrote on Twitter.
"Aside from obvious racism in that comment, let's be clear, COVID-19 can be spread from anyone regardless of race, age, gender, ethnicity, religion, socioeconomic status...and it is in our community," Reddi added in another tweet.
While speaking with The Kansas City Star, Rodriguez stated that he "didn't necessarily say it like that," in regard to Reddi's tweet, and explained what he meant when he first made the remarks on Wednesday.
"Italy has a problem with its health department, first. It's health for everybody. I have a friend in the Navy, and he said in that area," Rodriguez told the Star referring to the northern region of Italy where the country saw its first confirmed cases of the coronavirus. "There's a garment industry and a lot of Chinese. If we were like Italy, we'd have it already."
During his conversation with the Star, Rodriguez was asked if he understood why it is dangerous to Asian Americans to suggest that the virus only comes from Chinese people.
"Well, they say it came out of China, and I'm not putting it past the Chinese government in communist China," Rodriguez told the Star.
Newsweek reached out to Rodriguez for comment on this matter but did not receive a response in time for publication.
President Donald Trump has also been criticized for referring to the coronavirus as the "Chinese virus." During a recent press conference, Trump was asked by a reporter why he keeps calling it the "Chinese virus," while also noting increasing reports of bias against Asian Americans."
"Because it comes from China," Trump answered. "It's not racist at all, not at all. It comes from China, that's why. It comes from China, I want to be accurate."
While the new coronavirus, which causes the respiratory disease COVID-19, originated in Wuhan, China, it has continued to spread, infecting over 255,300 across the world, according to a tracker provided by Johns Hopkins University. In the U.S., there are over 14,600 confirmed cases of the coronavirus and at least 210 deaths. According to the tracker, there are at least 36 confirmed cases in Kansas and one death.