GOP Cutting Unemployment Benefits to $200 Would See Nearly 1 Million Jobs Lost, Analysis Shows
The Republican plan to cut unemployment benefits as the novel coronavirus pandemic continues would likely lead to nearly 1 million extra job losses and a further decline in gross domestic product (GDP), according to a new economic analysis.
Moody's Analytics, a firm which provides financial intelligence to promote growth and efficiency, released its weekly market outlook report on Thursday, warning about the negative consequence of significantly reducing the extra unemployment payments paid out by the federal government since March through the bipartisan CARES Act. Those extra $600 weekly payments have expired, but Democrats want to extend them fully while Senate Republicans proposed this week to reduce them to just $200.
The analysis from Moody's shows, however, that such a sizable reduction would lead to approximately 990,000 additional job losses. Additionally, GDP would decline further by about 1.15 percent. Even reducing the payments by just $100, making them $500 per week, would lead to nearly half a million job losses and a dip in GDP of 0.62 percent.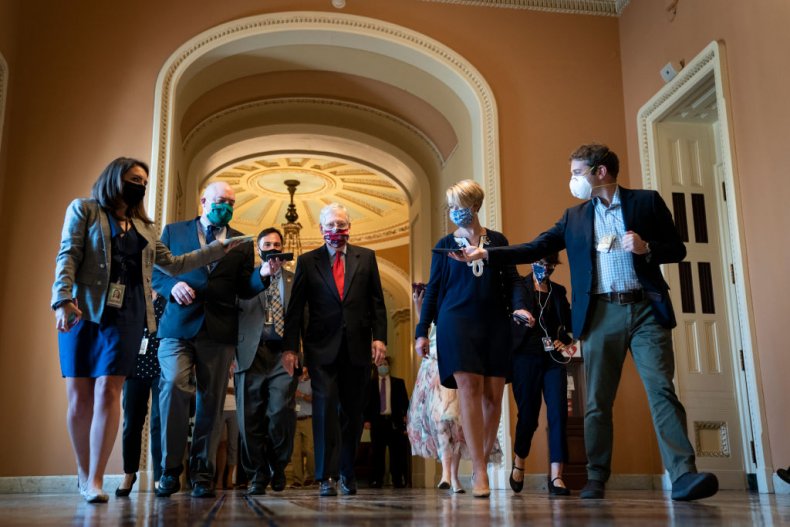 Newsweek reached out to Senate Majority Leader Mitch McConnell, a Kentucky Republican, and Speaker of the House Nancy Pelosi, a California Democrat, for comment on the analysis, but their offices did not respond by the time of publication.
McConnell on Monday unveiled the HEALS Act with a price tag of about $1 trillion. Under that Republican plan, which has been backed by the White House, most Americans would receive an additional $1,200 direct stimulus payment as they did through the CARES Act. But instead of extending the $600 in extra weekly unemployment insurance, the plan would slash the benefit to $200 in the short term. The federal government would then provide additional funds of up to 70 percent of a worker's previous earnings, maxing out at $500 per week, after states are able to accurately calculate the amount.
Back in May, the Democrat-controlled House of Representatives approved a $3 trillion package, the HEROES Act, which included the $1,200 payments and extended the $600 weekly unemployment payments. It included a number of other measures as well, which Republicans and the White House dismissed as a Democrat "wish list."
But Moody's analysis actually argued that the Democratic proposal was closer to what is necessary to keep the economy afloat amid historic job losses and a double-digit drop in GDP.
"Given the deteriorating economy, the final agreement needs to end up closer to the House proposal than the Senate's," the firm's report explained. "The pandemic and resulting economic fallout could be less serious than feared, but given the extraordinary uncertainty over how this will all play out, lawmakers should err on the side of a rescue package that is bigger than may ultimately be needed than one too small."
The analysis aligned with a statement on the GOP proposal published by Economic Policy Institute President Thea M. Lee on Tuesday.
"The $400 per week cut in UI [unemployment insurance] will mean others will lose their jobs, too—that $400 was supporting 3.4 million jobs," Lee wrote. "The bill also, unconscionably, ends all federal expansions of UI at the end of this year."
Democrats, Republicans and the White House continue to negotiate over the next round of stimulus. They appear to be far apart when it comes to their proposals, making it unclear what the final package will look like or when it will be approved. Meanwhile, the novel coronavirus pandemic continues to surge across the country, as unemployment remains at historic levels and GDP contracted by about 32.9 percent at an annualized rate in the second quarter of 2020.