Justice Scalia Death Looms Large Over Republican Debate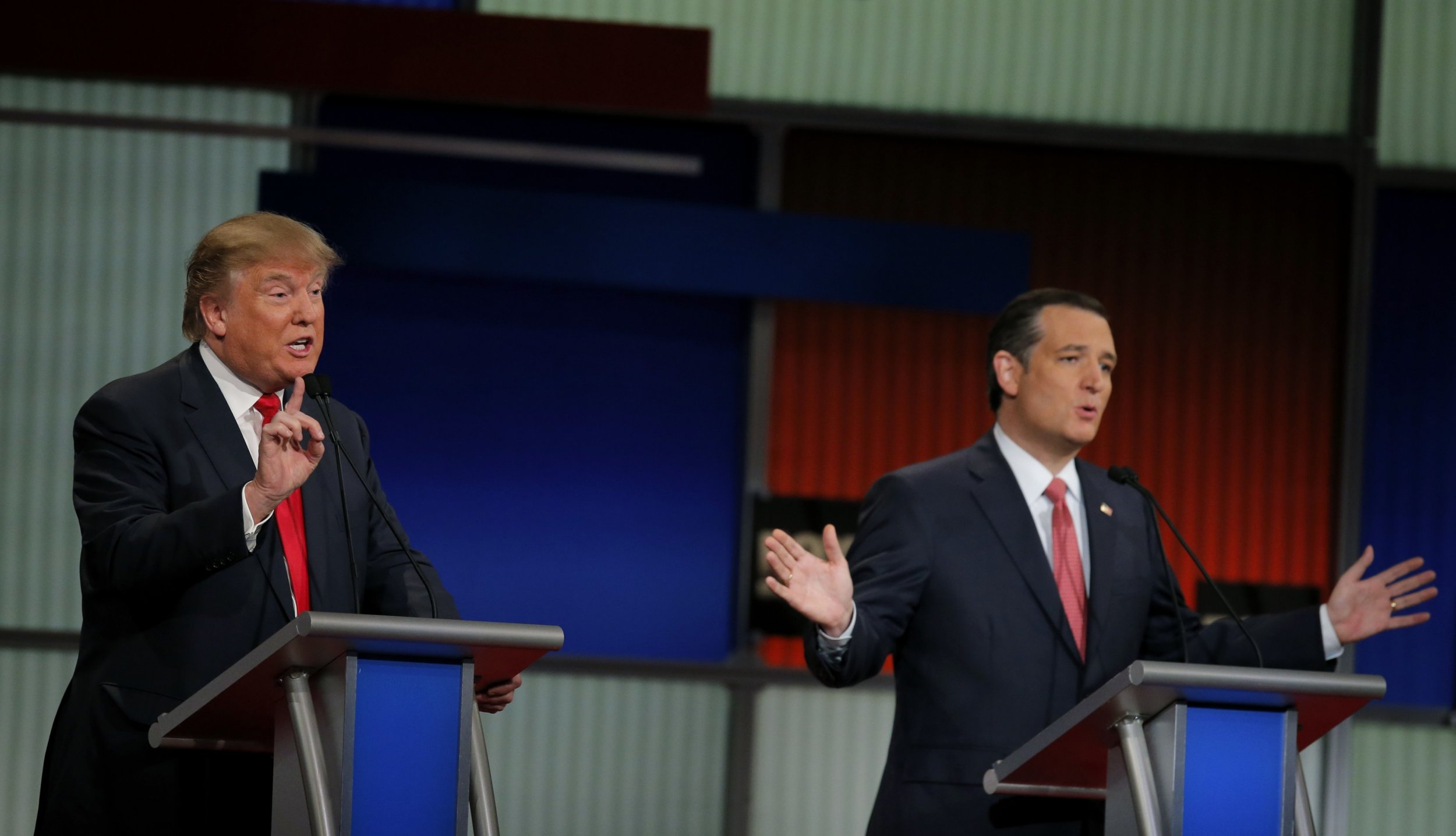 The Republican presidential candidates fired salvos at one another on Saturday night, bitterly fighting over everything from terrorism to immigration but coming together to demand that Congress not consider any nominee proposed by President Obama to replace Justice Antonin Scalia, who died just hours before the candidates took the stage in South Carolina, the site of the next GOP primary.
All of the candidates said that the Senate should refuse to consider, let alone confirm, a Barack Obama nominee to replace the conservative jurist. And while most couched their language in the importance of allowing the next president to make that decision, rather than one in the final year of his presidency, Donald Trump unveiled the raw politics of the moment when he unabashedly said that as president he'd move quickly to replace a vacancy on the Supreme Court while simultaneously insisting that Obama must be stopped from doing the same. Trump's sister is a federal judge appointed by Bill Clinton and while Trump has in the past said she'd be a good Supreme Court justice, on Saturday he mentioned two conservative favorite jurists, Bill Pryor and Diane Sykes.
Trump was at the center the feistiest moments during the debate. He repeatedly called Ted Cruz a liar, rejecting Cruz's accusations that he was liberal on topics like the Supreme Court or funding Planned Parenthood. "You are the biggest single liar," Trump said of Cruz. "You probably are worse than Jeb Bush."
Why Bush? Trump repeated his denunciation of the Iraq War, which led Bush to offer a full-throated defense of his brother, the former president, who will be campaigning for him in South Carolina on Monday. "While Donald Trump was building a reality TV show, my brother was building a security apparatus that kept us safe." Trump repeated his claim that 9/11 happened on President Bush's watch. "That's not keeping us safe," he said. The observation, which Trump has made on many occasions, was booed by the audience. Rubio came to George W. Bush's defense, insisting that the 9/11 attacks were Bill Clinton's fault and that even if there were no weapons of mass destruction Saddam Huseein's violation of UN resolutions merited his ouster.
The South Carolina primary could well thin the GOP field further. (This week saw the departures of Rand Paul, Chris Christie, Carly Fiorina, Rick Santorum and James Gilmore.) Trump has been leading in recent polls but Ted Cruz is running strong and this could be a good state for Jeb Bush whose family has long looked to the Palmetto State as a firewall after tough goes in New Hampshire. (George W. Bush soundly defeated John McCain in South Carolina in 2008). The state might be fertile ground for John Kasich coming off of his second place in New Hampshire.
There were other dustups Saturday. Kasich was a target for Bush, as the Ohio governor was one of few Republican governors to accept monies to expand Medicaid under the Affordable Care Act. "We should be fighting Obamacare, replacing Obamacare," Bush said. Kasich replied that he'd opposed Obamacare but couldn't turn down Medicaid expansion monies and noted that Ronald Reagan had expanded Medicare, too.
On immigration, Rubio called Cruz a "liar," insisting that the Texas senator had supported the kind of reform he now denounces. The scuffle even led to cul de sac over who could speak Spanish, with Cruz breaking into the language of his father's birth. Trump weighed in to say that Jeb Bush was "the weakest on immigration" of everyone.
Whether the debate will help or hurt any candidates is hard to discern. Unlike last week's forum, where Marco Rubio gave a robotic performance that even he acknowledged had stymied his momentum in New Hampshire, there were no clear wins or losses this time. In past years, Trump would have been hurt by his violation of the rules of decorum—calling his opponents liars rather than saying they, say, misspoke—or violation of conservative shibboleths like his saying that Planned Parenthood, excluding abortion, does wonderful things. But Trump has rewritten the rules in this primary season, at least so far, and that seemed to be the case last night.