GOP Disunity: The Battle to Stop Trump Isn't Over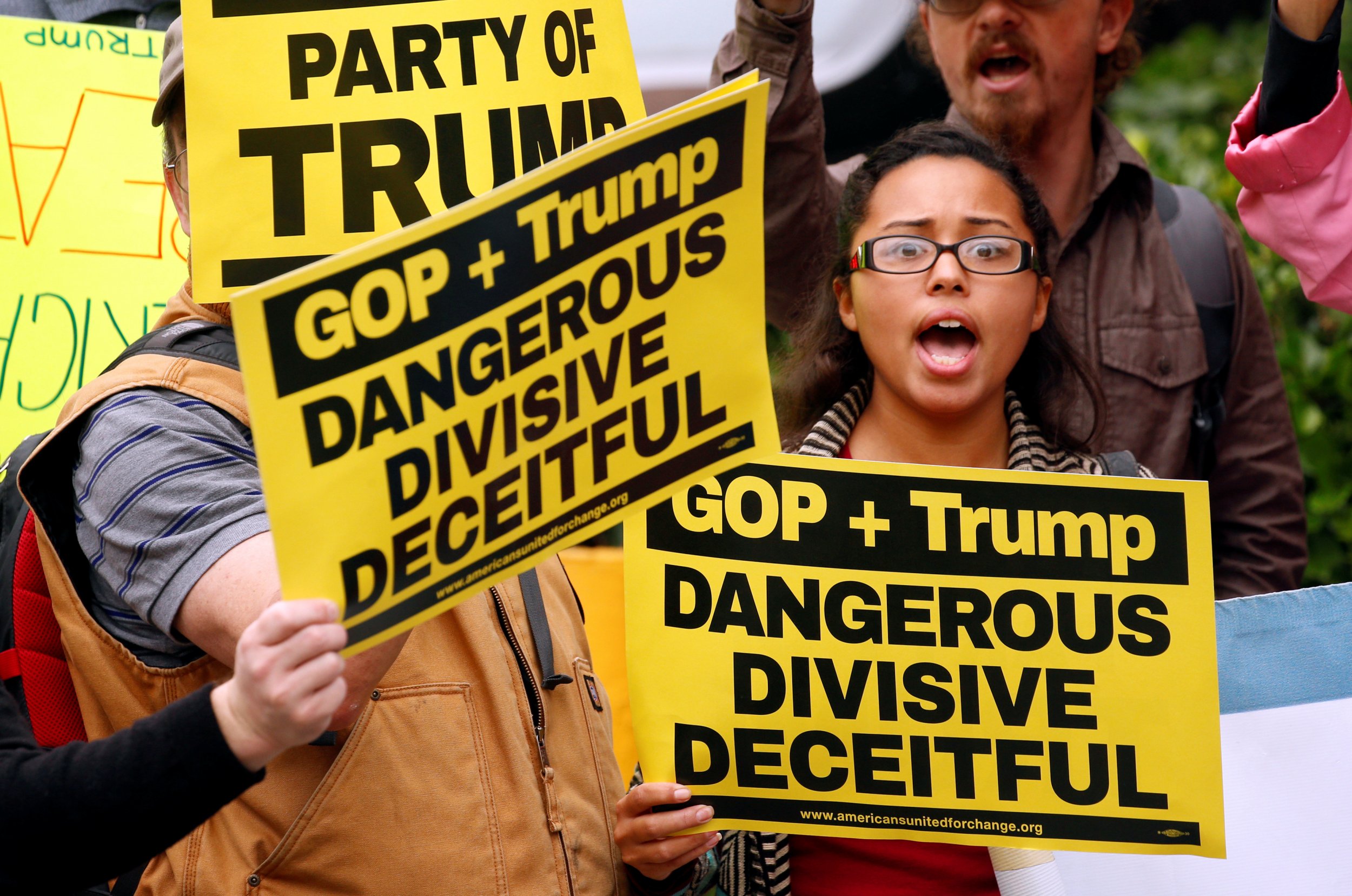 Don't let all the talk about Republican Party unity of the last week or so fool you: there remains an active, if quixotic, campaign to thwart Donald Trump's march toward the White House in both the new and old wings of the Grand Old Party; a fight they're almost certain to lose but that could shape the perception and politics of the conservative movement for decades to come.
The latest chapter, outlined in a Washington Post story published this weekend, is a recruiting effort in search of an independent presidential candidate who could upend Trump's path to victory either at the GOP convention in July or in the general election in November. None of the potential candidates—from Ohio Gov. John Kasich to Dallas Mavericks owner Mark Cuban—have actually expressed any interest in taking on Trump, especially at this late stage in the game. But that hasn't stopped a cohort of influential Republicans from trying to find a spoiler. At stake, they say, is the future of the party.
"None of us underestimate the gravity and the difficulty of the situation, but none of us are quitters either," GOP strategist Rick Wilson, one of the movement's key players, told Newsweek on Sunday. "There's a strong sense inside the movement that we can't just roll over on this thing. You've got to keep up a principled opposition to Trump."
The choice is clear, Wilson says: Accept Trump as the face of the Republican party, and the potentially disastrous consequences of not just his candidacy but his election to the highest office in the land, or try to stop him—even if that means splitting the conservative vote and delivering the White House to former Secretary of State Hillary Clinton. Wilson insists Clinton is the inevitable victor no matter what, if Trump is the GOP's nominee.
"Nothing about Hillary Clinton thrills me. But I think either way, Donald Trump as the nominee gives you Hillary Clinton. I think Hillary will be a disaster as president, but the alternative here is that Donald Trump brands us as a racist party that loses its ability pretty much forever to talk to anybody who's not a lily white guy with a high school education."
So the battle to stop Trump marches on. The Post reported that those Republicans involved in the effort to draft a new opponent include such high-profile figures as 2012 presidential nominee Mitt Romney, commentators William Kirstol and Erick Erickson and strategists Mike Murphy, Stuart Stevens and Wilson.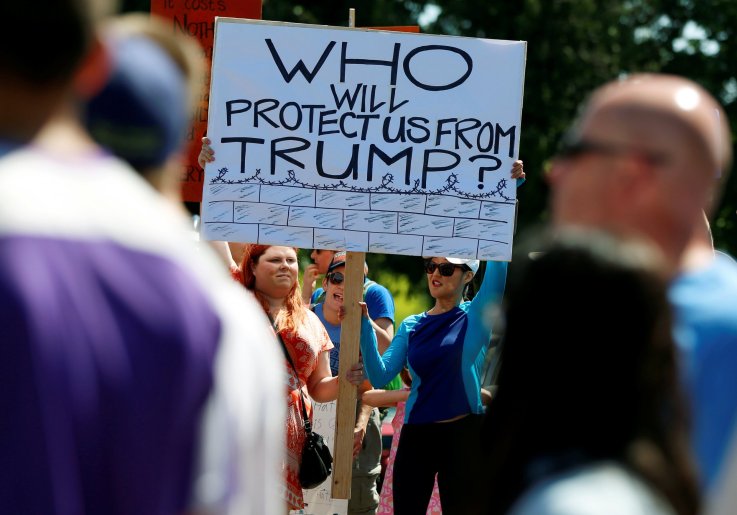 If ever there was an election fit for a third-party candidate, Wilson argued, it's this one. Both front-runners will begin the fight for the general election with historically high unfavorable ratings—Trump's negative numbers are in the 60s now, and Wilson expects that to climb to the 70s by July, especially as Clinton turns her sizable war chest to Trump, where there is plenty of material.
"The Clinton media machine is starting to spin up, and it's going to knock him in the head with $75 (million) to $100 million worth of advertising," Wilson said.
Meanwhile, Trump will continue to implode, Wilson predicts. He may be full of promises about revealing a more disciplined, "more presidential" version of himself, but the reality is "when Donald Trump isn't doing something, he's on Twitter, playing fuckaround, getting himself in trouble," Wilson said.
"Trump is impulsive and weird. I wouldn't trust Donald Trump to run an Arby's, much less be in control of our nuclear arsenal."
'A fighting plurality'
How to stop him? That's increasingly difficult, what with the deadline for registering to run in Texas recently passed and that of other states creeping closely. But even if Trump winds up the GOP nominee, some operatives are still hopeful there's a way to keep both him and Clinton out of the White House.
Any outcome requires a strong independent candidate who can appeal to Libertarians, military hawks, Christian conservatives and others who don't like Trump's rhetoric. "If you consolidate them all, you get to a fighting plurality," Wilson says. "There are a number of people who see him as a sociopathic con man."
Trouble is, most of the candidates whose names have been floated as potential Trump or Clinton foes have either said "no" or "no comment." Wilson and his crew are hoping for a change of heart. "There are a lot of people who said no, and now they're like 'Well, what do we do now?' If I were a multibillionaire, I would be looking at these two candidates and thinking 'My god, is this the best we can do?' "
This is a discussion that splits the Republican party. Some argue that the risks involved in adding a new player to the mix are too great—guaranteeing a Clinton victory, for example—and it's time now to try to find a way to support Trump. GOP political consultant Shermichael Singleton says it's too late to stop Trump on the path to the nomination, especially considering the filing deadlines in several key states and the lack of interest expressed by any of the candidates Wilson's team is trying to recruit.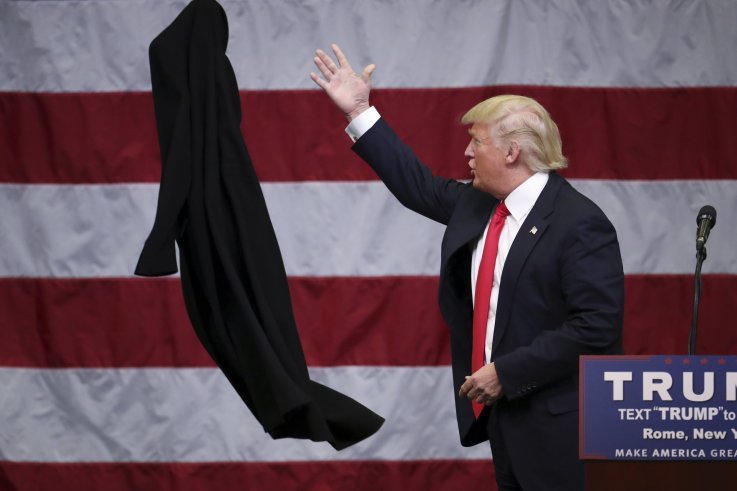 "I think the whole 'Stop Trump' movement has passed its deadline. He will be the nominee. The focus for those individuals should not be so much on stopping Mr. Trump, but in trying to find agreement, some middle ground so the party can unite," Singleton told Newsweek.
"They risk not only alienating the 40 percent of the Republican Party that has supported Mr. Trump thus far, but a lot of new voters Mr. Trump has brought into the Republican party."
Fears about down-ballot effects—GOP Senate and House candidates losing their elections because Republican voters who can't stomach a Trump presidency stay home—are overblown, Singleton contends. Conservative candidates will benefit from Trump's new constituency, he says.
Pick by House of Representatives?
Cheri Jacobus is a GOP consultant who has her own bone to pick with Trump—she filed a defamation lawsuit last month against him and campaign manager Corey Lewandowski, accusing the campaign of publishing statements intended to make an abject lesson "to those who might question Trump and his fitness for office, to incite a virtual mob against her, to destroy her reputation, and to bully her into silence." She's not involved in the effort to draft a new opponent, but she supports it.
"If you can do enough in the key states to deny either Trump or Hillary the 270 electoral votes they need, then it's a whole new ballgame," Jacobus told Newsweek.
That "ballgame" is spelled out in the 12th Amendment to the Constitution, which decrees that if neither candidate can clinch a majority in the Electoral College, the Republican-controlled House of Representatives would pick the next president. The last time that happened was in 1824, when Andrew Jackson emerged with the most Electoral College and popular votes but lost the presidency to John Quincy Adams.
Jacobus is hopeful for that outcome because she says most Americans haven't had much of a chance to consider Trump as a serious candidate until now, when it's nearly too late. A ratings-craved broadcast media delivered the candidate a crush of free publicity, and no one expected Trump to wind up the nominee. "Something has gone terribly wrong," Jacobus says. "This is a reality TV show start and a very greedy broadcast media going for ratings."
Now, it's time for a "call to arms," Jacobus says, for a candidate who realizes the party is in dire straits if Trump becomes the nominee. "The stakes are just too high," she says. "People who previously supported him, who reluctantly supported him, if they're given a way out, they'll take it."
GOP Disunity: The Battle to Stop Trump Isn't Over | U.S.