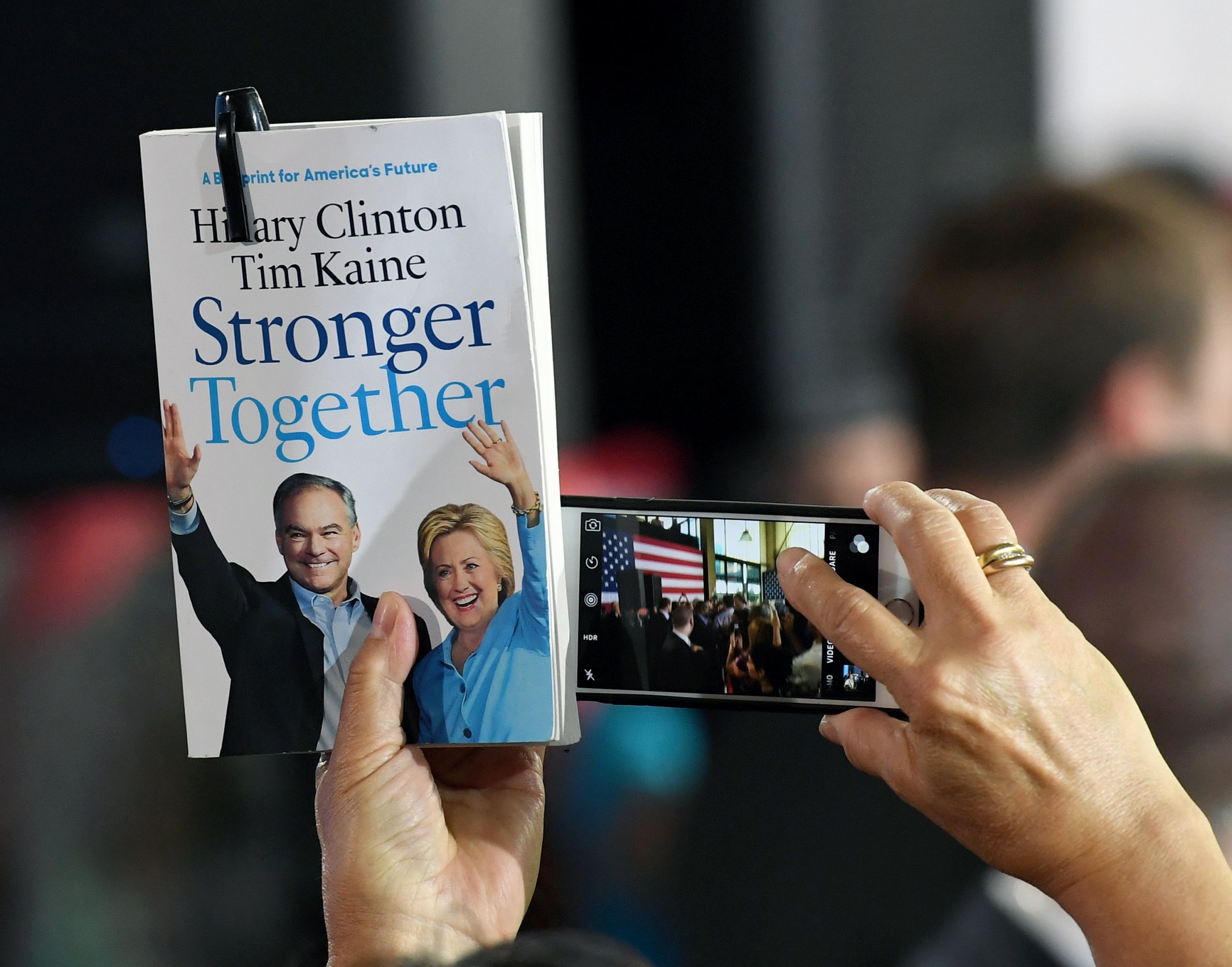 A new campaign poster released by the Republican Party on Monday appeared to take inspiration from Hillary Clinton's 2016 campaign, echoing one of the defeated candidate's most prominent taglines.
The graphic superimposed text over an image of President Donald Trump, declaring, "We're only getting stronger together." But social media users were quick to pick up on the resemblance to Clinton's "Stronger Together" slogan, which she used for her unsuccessful 2016 presidential campaign.
"Stronger Together" was also the title of a book, written by Clinton and running mate Tim Kaine, which outlined the campaign's vision for the country's future.
Jesse Ferguson, a former deputy national spokesperson for Clinton, expressed exasperation at the similarity on Twitter, writing, "Trump's 2020 slogan is Stronger Together? Um, my head hurts."
Journalist and author Molly Knight was more direct in her criticism of the ad, tweeting, "'Stronger Together' was literally Hillary's slogan. I'm so embarrassed for you."
But Republican National Committee spokesperson Steve Guest told The Hill that the GOP had done nothing wrong in co-opting the line. He claimed that "when you lose your campaign, you lose your monopoly on any slogans."
Citing Trump's Monday night rally in El Paso, Texas, Guest added, "President Trump continues to unite the American people behind his pro-border security agenda." Guest made his claims despite the fact that thousands of counterprotesters attended a rally nearby to hear former congressman and possible presidential candidate Beto O'Rourke criticize Trump's immigration policy.
Polls suggest Americans did not agree with the Republican assertion that Trump was bringing the country together. A November survey conducted by Politico and Morning Consult found that the majority of voters—56 percent—believed the president had done more to divide the country than unite it, while 30 percent of those surveyed said Trump had been a uniting force in America.
The president's hardline immigration policy, in particular, was considered divisive by his critics, as well as racist and xenophobic.
El Paso Mayor Dee Margo told CNN on Monday that Trump was wrong to suggest that the border city was one of the country's most dangerous areas until the construction of a border wall in 2008 and 2009. This was supported by numerous media and fact-checking organizations, including Politifact and The Associated Press, which noted that violent crime in the city peaked in the mid 1990s. El Paso had already been rated one of the three safest major U.S. cities since 1997—almost a decade before wall construction began.
A scientific study published in The Lancet in December also challenged Trump's assertion that migrants had brought disease to the southern frontier.
Before his El Paso appearance, O'Rourke told The Washington Post that Trump "knows what he is doing.
"I think there has been shown over many years great political reward for those who exploit this by stoking fear and anxiety, by lying to people about immigrants and the nature of the border and the safety and security that we have here," O'Rourke said.
"Some people have used code words, some have come at it obliquely. He just full on, in the most racist terms, completely divorced from the truth or facts or reality or our experience here in El Paso, uses this to incite fear and paranoia and turn that to political gain."