GOP Effort to Dismiss Impeachment Articles Appears Doomed as McConnell Reveals Support for Trial Rules
An endeavor by a faction of Senate Republicans to modify chamber rules to dismiss the impeachment articles yet to be transferred from the House appeared Tuesday to have little chance of coming to fruition after Majority Leader Mitch McConnell (R-KY) confirmed they have the votes to pass trial rules that will mirror those of the Clinton era.
"We have the votes, once the impeachment trial has begun, to pass a resolution that is essentially the same... to the 100-0 vote in the Clinton trial," McConnell told reporters following a weekly lunch with Senate Republicans. He said it would allow for debate over potential witnesses after House impeachment managers and the White House—or whomever the president wants to defend him—make their respective arguments.
This comes despite the lawmaker leading the effort to dismiss the articles, Sen. Josh Hawley (R-MO), telling Newsweek that more of his GOP colleagues are prepared to back his resolution, which would dismiss the two articles of impeachment against President Donald Trump if House Speaker Nancy Pelosi (D-CA) fails to transmit them within 25 days of their passage. The 25-day mark would be Sunday.
It seems unlikely the measure, currently co-sponsored by a dozen of Hawley's GOP colleagues, will receive a vote as Republicans are confident they'll emerge successful in staving off Democratic demands to subpoena witnesses and will prevail in implementing Clinton trial rules. In addition, it appears questionable whether Hawley's measure would receive enough support from his own colleagues, an uncertainty he conceded.
Sens. Rand Paul (R-KY) and Kelly Loeffler (R-GA) were the most recent members to join the list of co-sponsors. Hawley's office did not provide the names of any other potential additions and said they would leave it up to lawmakers' offices to make announcements of support.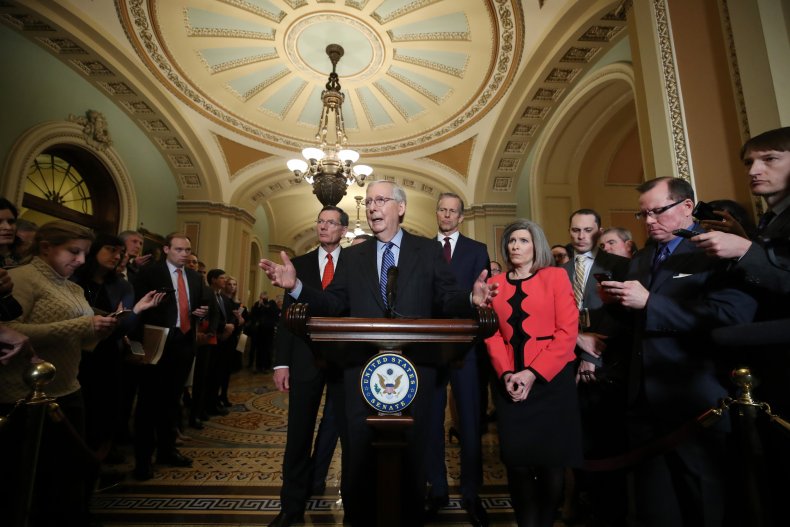 "I don't know how you dismiss something that's not held in the chamber," Sen. Thom Tillis (R-NC) told Newsweek.
Sen. Marsha Blackburn (R-TN), one of 10 Republicans who've co-sponsored Hawley's resolution, responded "we'll see" when prompted if she thought it would receive a vote and pass.
McConnell's office declined to comment on whether the measure would receive a vote. But Hawley appeared confident, highlighting that two of the co-sponsors—Sens. John Barrasso (R-WY) and Joni Ernst (R-IA)—are members of leadership.
"I think there's a growing sentiment in the caucus that we're going to have to—if the House speaker continues to delay—we're at day 20 now—so if she continues to delay in transmitting the articles, we're going to have to do something, or we could be here on day 200 or day 400," Hawley said. "There's no end in sight."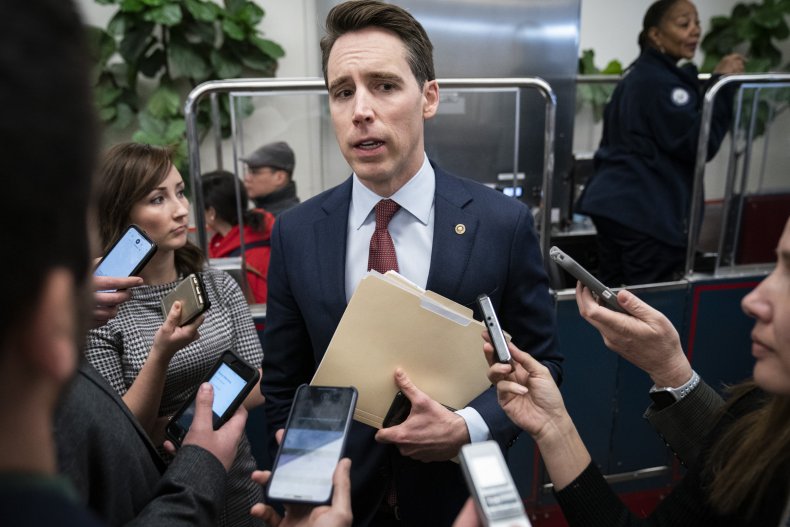 Democrats, such as Sen. Patrick Murphy (D-CT), chalked up the freshman senator's move to dismiss the articles as "political posturing" and "an effort to protect the president from his misdeeds." However, Murphy did reiterate his stance that Pelosi "should send the articles of impeachment on over here now" due to a lack of "much reason for further delay."
Sen. Chris Van Holland (D-MD) questioned how such a "frivolous thing" like Hawley's proposal could even be constitutional, a perception that Hawley rejected.
"It's totally constitutional," he said. "It defines the Senate's own internal rules. In fact, it's preserving the constitutional balance of power."
Many Republican senators reiterated that they believe a trial will occur. They expressed views that were in lockstep with McConnell, who said last week that he was "content to continue the ordinary business of the Senate while House Democrats continue to flounder."
"I think we should just keep doing our work over here and if and when Pelosi decides to send [the articles] over, we'll deal with it then," Sen. Marco Rubio (R-FL) told Newsweek.
Sen. Roy Blunt (R-MO), a member of leadership, stated bluntly: "There will be an impeachment trial."
This story was updated to include that Sens. Rand Paul (R-KY) and Kelly Loeffler (R-GA) joined the list of co-sponsors for Sen. Josh Hawley's resolution.