Congress Member Voted to Overturn Biden Win Out of Fear After Riots, Rep. Peter Meijer Says
Republican congressman Peter Meijer has said one of fellow party members voted against supporting the presidential election results, despite believing they should, over fears their family would be targeted by Donald Trump's far-right supporters if they didn't.
Meijer, who was recently sworn in to represent Michigan's 3rd congressional district, made the claims while writing about the "heinous assault" which occurred on Wednesday, January 6, as Trump supporters, extremists, and followers of the QAnon conspiracy theory stormed the Capitol in what lawmakers say was an attempted coup.
In an opinion piece for the The Detroit News, Meijer recalled how he had "assured my colleague we would be fine" even after they were unpacking gas masks and taking cover under bulletproof chairs as the violent mob tried to gain entry in to the chamber.
After the assault on Congress by those who Biden referred to as domestic terrorists, Meijer said his colleague—who was one of the 121 House members and six senators who supported the objection—did so despite knowing Trump's claims of voter fraud were false.
"My colleague told me that efforts to overturn the election were wrong, and that voting to certify was a constitutional duty," he said. "But my colleague feared for family members, and the danger the vote would put them in.
"Profoundly shaken, my colleague voted to overturn.
"An angry mob succeeded in threatening at least one member of Congress from performing what that member understood was a constitutional responsibility."
Meijer did not name the GOP lawmaker and it is unknown if they had previously planned on supporting the results prior to the attack.
Newsweek has contacted Meijer for further comment.
Meijer goes on to describe how the mob falsely believed that Vice President Mike Pence could somehow still overturn the election during his purely ceremonial and constitutional role as presiding officer of the Senate.
This idea was also falsely pushed by Trump in the days prior to the attack as he appeared to throw his longtime ally under the bus to his far-right, conspiracy theory believing supporters in a hope they will blame him if he does not remain president after all his cries of widespread voter fraud were proven unsubstantiated.
"I was one of the few Republicans who had already acknowledged Joe Biden as president-elect, and earlier in the week I had joined a handful of GOP colleagues in noting our constitutional responsibility to certify the Electoral College results," Meijer wrote.
"We had seen calls on the far right for the vice president to pull an imaginary 'Pence Card' and overturn the election results.
"To the fringe, Vice President Mike Pence's failure to seize fictional powers was tantamount to treason and there were suggestions Pence be put to death.
"While the Capitol was being assaulted by his supporters who were duped into believing the election was in fact a landslide victory and the true results could be overturned, Trump egged on these violent delusions."
During the apparent attempt to overthrow the government, the violent mob were seen chanting "hang Mike Pence" in the corridors of the Capitol building, with nooses and guillotines and seen in Washington, D.C on Wednesday.
Extremists inside Congress were also seen carrying plastic zip ties, with many believing they were brought in order to take hostages during the attempted siege.
According to Reuters picture editor Jim Bourg: "I heard at least 3 different rioters at the Capitol say that they hoped to find Vice President Mike Pence and execute him by hanging him from a Capitol Hill tree as a traitor.
"It was a common line being repeated. Many more were just talking about how the VP should be executed."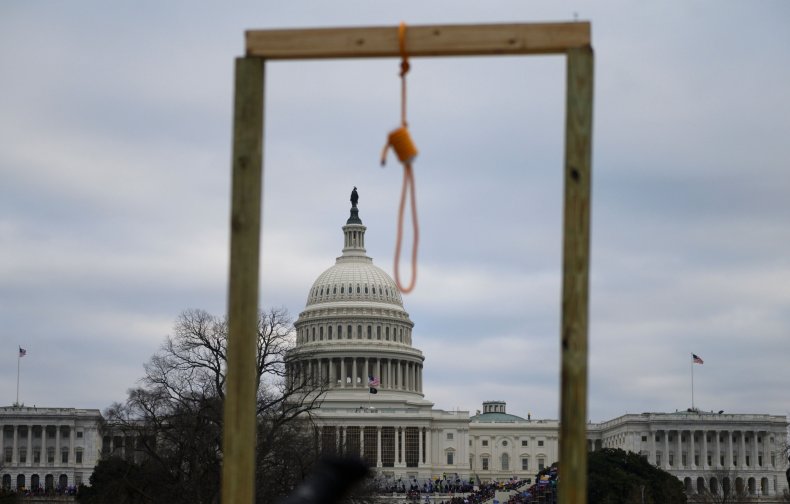 Update at 11:58 E.T. on 01/10/21: This story has been updated with additional quotes from Peter Meijer's op-ed