GOP Election Lawyer Who Represented Bush in 2000 Says Michigan Must Certify Election for Biden
Prominent Republican election lawyer Benjamin Ginsburg, who represented former President George W. Bush during the infamous 2000 presidential election, said that Michigan "must" certify President-elect Joe Biden's win in the Midwestern state as Trump and some Republicans hope to overturn the results.
The margin between Biden and Trump in Michigan is not close. The president-elect leads the incumbent by more than 150,000 votes (or 2.8 percent) and every Michigan county has now certified its results. But the Michigan Board of State Canvassers will meet on Monday afternoon to certify the state's results. As the board is composed of two Republicans and two Democrats, with one of the two Republicans publicly parroting Trump's baseless fraud claims, many are concerned that the board could reach a split decision.
Ginsburg published an opinion article with the Detroit Free Press on Sunday, outlining how he had represented Republican candidates, officials and causes in numerous lawsuits over his career. He also pointed out that the situation in Michigan is "nothing like" the situation in Florida in 2000, when former Democratic presidential candidate Al Gore contested the election results there.
"Vice President Joe Biden won Michigan by over 150,000 votes—a huge margin compared to the 537 votes that decided Florida two decades ago. Florida was about counting votes that determined who won. Michigan 2020 is about Trump trying to throw out 150,000 votes by claiming, without evidence, that wholesale fraud tainted the process," Ginsburg wrote.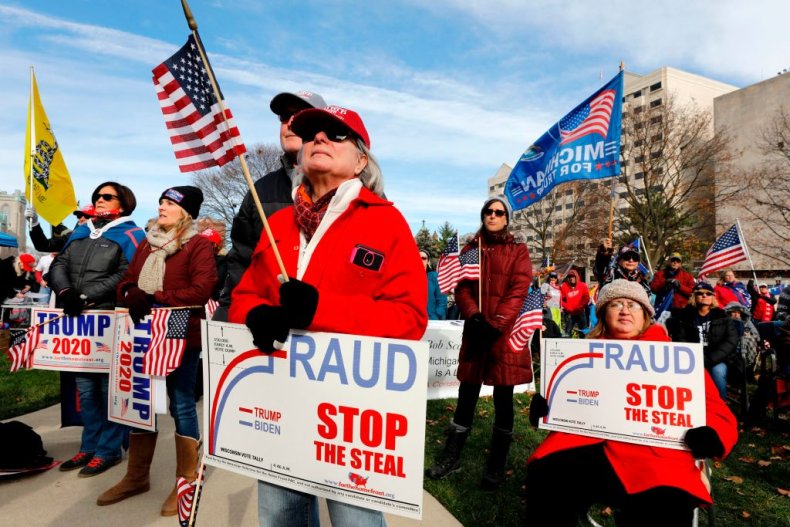 The Republican attorney explained that almost none of the Trump campaign's legal arguments in battleground states have held up in court, with most of the cases being dismissed by judges.
"The human mistakes that occur in our elections cannot be confused with fraud. Rhetorical charges without proof cannot be used to disenfranchise voters. The weakness of Trump's allegations became obvious when his lawyers filed as their proof an affidavit alleging fraud in Michigan—but citing townships in Minnesota," Ginsburg wrote.
He noted that the "irregularities" in Wayne County, Michigan—which Trump and his supporters have pushed to question the election results—were in line with previous elections and would not be nearly significant enough to overturn the overall results in the state.
"A refusal by the board to certify the results now would risk disenfranchising the state's voters—an unconscionable outcome antithetical to American democracy," the lawyer wrote. He said it was the "duty" of the two Republican members of the Michigan Board of State Canvassers to certify the results.
Newsweek reached out to the board for comment, but it did not immediately respond.
Separately on Monday, two legal scholars wrote an opinion article for the Free Press arguing that it would be a "felony" under federal law for the board to refuse to certify Biden's win in Michigan.
"And then there's federal law, backed by criminal penalties. Any refusal to certify an election based on meritless innuendo would likely violate the Voting Rights Act of 1965. Section 11(a) makes it illegal to 'willfully fail or refuse to tabulate, count, and report' lawful votes," voting rights experts Samuel Bagenstos, a law professor at the University of Michigan, and Justin Levitt, a law professor at Loyola Law School-Los Angeles, wrote.
"It's as simple as it sounds. It's a felony. And that may help explain why you've rarely heard of officials refusing to certify an election," the legal scholars added.
The Michigan Democratic Party sent a letter to the Board of State Canvassers on Sunday, urging them to certify the results and follow the law and it emailed the letter to Newsweek.
"Unlike the Republican Party, the Michigan Democratic Party is aware that there were other federal and state offices on the ballot as well. In some races, our party prevailed. In others, we did not. Those matters were decided at the polls, and we wish all of those chosen by Michiganders well," Lavora Barnes, chair of the party, wrote.
"The certification process must not be manipulated to serve as some sort of retroactive referendum on the expressed will of the voters," Barnes added. "That is simply not how democracy works."