As GOP Faces An Uncertain Future, Polls Show That Republicans Want Donald Trump to Lead
Out of power in the White House and in Congress, the Republican Party is facing an identity crisis. The only point of consensus, it appears, is that most voters want Donald Trump to lead the path forward.
"The Republican Party is in deep disarray and he's solid as granite. I mean, he's right where he was when he left," Tim Malloy, an analyst for the Quinnipiac University poll, told Newsweek.
Just days after the Senate acquitted Trump in his second impeachment trial, three out of four Republicans — 75 to 21 percent — told Quinnipiac they would like to see the former president play a prominent role in the GOP.
"He may be down, but he's not out of favor of the GOP," Malloy said, noting the poll's finding that overall two-thirds of Americans don't want to see Trump return. "He's been clobbered, he's been vilified by Democrats, he's been silenced by social media and yet he still has a foothold."
Quinnipiac's findings were echoed in a Morning Consult survey released on February 16, which showed that nearly 60 percent of Republican voters said Trump should play a "major role" in the party going forward. It was an 18-point jump for the former president since early January.
Not only do most conservatives want to see Trump remain an active political figure, but a majority also want to see him make another run for the White House. Fifty-four percent of Republicans polled said they would support Trump in a hypothetical 2024 presidential primary.
No other prominent Republican figure came close. Former Vice President Mike Pence received 12 percent support, former South Carolina Governor Nikki Haley got 6 percent and Utah Senator Mitt Romney just 4 percent.
"We're not that surprised," David Flaherty, the Republican head of the polling firm Magellan Strategies, told Newsweek. "There doesn't obviously seem to be any room right now for a Mitt Romney, a Pat Toomey, a Ben Sasse dissension whatsoever."
Those three Republican senators have all faced censure and backlash from their local parties for their vote during Trump's second impeachment trial last week. They were part of the seven GOP members who joined Democrats in finding Trump guilty. But it still wasn't enough for a conviction.
While some Republicans attempt to shift the party in a new direction post-Trump, including Senate Minority Leader Mitch McConnell, others are latching on to the former commander-in-chief ahead of the 2022 midterm election. Senator Lindsey Graham (R-S.C.) has said the GOP doesn't have a "snowball's chance in hell" of taking back congressional majorities without Trump's help.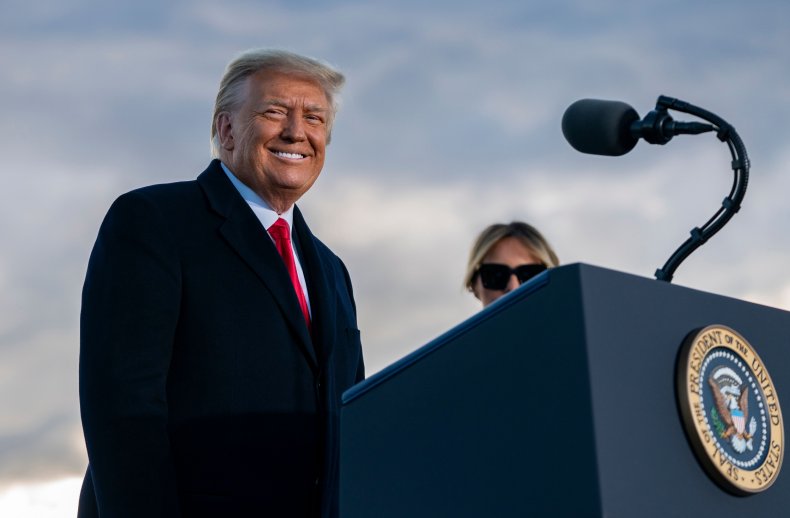 The GOP's internal struggle was illuminated during the recent controversies of representatives Liz Cheney (R-Wy.) and Marjorie Taylor Greene (R-Ga.). Cheney, an establishment Republican, faced an intra-party vote to be removed from her Conference Chair position after voting to impeach Trump. Greene, who came under fire for past social media activity supporting the QAnon conspiracy theory and approving the executing Democrats, wasn't punished by party leaders but was removed from her committee assignments by Democrats
After a week of colliding recriminations, both Cheney and Greene remained within the fold of the House's Republican caucus. Though experts said that the party will have to pick a side eventually.
And it's not just lawmakers who are unsure of who to follow. When given a choice between Cheney and Greene, most Republicans didn't know who they wanted to play a bigger role in the party. Twenty-two percent of Republicans want Cheney to play a bigger role, 25 percent want Greene to be a more prominent player and 53 percent said they didn't know, according to a Quinnipiac poll released Thursday.
It all means that Trump, for now, remains a point of consensus for the Republican Party.
"I think he is the leader they want right now. Without question," said Flaherty. "Where is it going to go? Are we ever going to go back to a different sort of leader for the party? I think it's going to be a bit until we see if that happens."