Video Shows Republicans Fist Bumping After Blocking Veteran Healthcare Bill
Republican Senators have been criticized for fist bumping on the Senate floor after the GOP blocked a bill that would have expanded healthcare coverage for military veterans exposed to toxic burn pits during their service.
On Wednesday night, the Senate failed to pass a Sergeant First Class Heath Robinson Honoring Our Promise to Address Comprehensive Toxics (PACT) Act in a 55 to 42 vote.
All but one of the 42 Senators who voted against the bill were Republicans, including 25 who previously supported it in June. The Senate had to vote for the PACT Act again because of a technical change the House made to the bill.
After the vote, a group of Republican Senators were seen shaking hands on the chamber floor, with Texas' Ted Cruz and Montana's Steve Daines also giving each other a fist bump.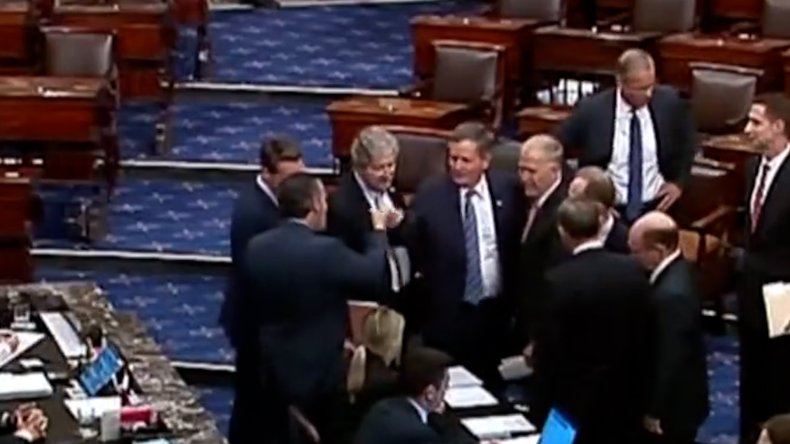 A clip of the pair bumping fists was shared on Twitter by the Senate Democrats, along with the caption: "Senate Republicans BLOCKED the PACT Act, critical health care for veterans with illness caused by toxic burn pits.
"Even though many Republicans supported it just weeks ago. And they celebrated."
The clip has been viewed more than one million times since it was posted on Twitter.
The Montana Democrat Party shared a similar video along with the caption "Steve Danies BETRAYED sick veterans and CELEBRATED it with a fist bump.
"This is how Daines treats our veterans. It's a game to him."
MSNBC's Chris Hayes said the GOP Senators decided to vote against what was previously a "broadly bipartisan" bill to help war veterans in retaliation for the Democrats waiting for the CHIPs Act to pass before revealing that Joe Manchin and Chuck Schumer had come to an agreement on what was essentially the long-negotiated Build Back Better Act.
In June, Senate Minority Leader Mitch McConnell threatened that the GOP would not help pass the CHIPs Act if Democrats went forward with the reconciliation package, a statement he made while Manchin was still objecting to it.
"Republicans were not happy, they threw a temper tantrum," Hayes said Thursday night. "They feel like they got played, so they're looking around with their anger, who to take it out on, and what they did was—I'm not making this up—they decided to punish U.S. war vets suffering the aftereffects of toxic fumes."
Hayes then played the clip of Cruz and Daines fist bumping as the "no" votes were being read out.
"'We'll show them, those vets whose lungs have the effects of toxic fumes they inhaled while fighting our wars.' Truly shameless stuff," Hayes added.
In a statement to Newsweek, a spokesman for Cruz said: "Senator Cruz is a strong supporter of the PACT Act and our nation's veterans. However, this version of the PACT Act contains an irresponsible Democratic provision allowing Congress to recklessly spend an additional $400 billion on programs totally unrelated to our veterans.
"The Senator and his Republican colleagues are working to advance the bill while removing that provision. Democrats were aware of this concern before yesterday's vote but ignored it and refused to allow a vote to fix the bill.
"That refusal is why the bill is currently stalled. Democrats must work with Republicans and fix this issue to prevent inflationary spending that will hurt all Americans. Once that happens, the PACT Act will quickly become law."
Daines has been contacted for comment.
Update 07/29/2022, 11:58 a.m. EDT: This article has been updated with comment from Ted Cruz's spokesman.