GOP Georgia Voting Official Worried Trump's Recount Request 'Running Election Officials Into the Ground' Before Runoffs
Gabriel Sterling, a Republican who serves as Georgia's election implementation manager, raised concerns that recount efforts in his state are "running election officials into the ground" ahead of the Senate runoffs in his state.
Although Georgia already carried out a hand recount of ballots, which showed President-elect Joe Biden beating President Donald Trump in the state by a margin of just over 12,000 votes, the Trump campaign requested another recount which will be conducted by scanning machines as allowed by state law. Sterling explained that the president was within his legal right to request the second recount, but he said he did not expect it to change the results.
"My one big concern is—we're running these election officials into the ground. I mean, we've got actual elections that are taking place a week from Tuesday in this state," Sterling told CNN in a Monday interview. "We have a January 5th runoff for two Senate seats and a statewide public service commission race, and they're all busy doing that," he pointed out.
"They just got finished doing this hand count, they're gonna have to do this recount again and it's just a lot of work and a lot of stress and a lot of strain for a lot of our counties that are very under-resourced," Sterling said.
The Georgia election official emphasized that the difference in the initial vote tally versus the hand recount was remarkably small overall. Sterling also noted that historically, recounts show that "the outcomes remain the same."
He said it's "frustrating" to see all the criticism and refusal to believe the outcome of the Georgia election.
"One of the things I'm personally worried about now ... is this is a distraction at this point," Sterling said, after pointing out he has been a Republican his entire life. He explained that a friend had received multiple text messages from Democrats explaining how to request absentee ballots ahead of the Senate runoffs while the friend additionally received multiple text messages from the Trump campaign requesting money to fund its legal fight against the results.
"They [the Trump campaign] need to make the main thing, the main thing," Sterling said. "The main thing for them right now ought to be this U.S. Senate race."
Newsweek reached out to the Trump campaign for comment but it did not immediately respond.
Biden was declared the winner of the presidential election just over two weeks ago, after Fox News, the Associated Press and other television networks called Pennsylvania and Nevada in his favor. These two states pushed Biden over the required 270 electoral vote threshold to claim victory in the Electoral College. Trump has refused to concede, pushing unfounded claims of widespread voter fraud in multiple battleground states where Biden came out ahead.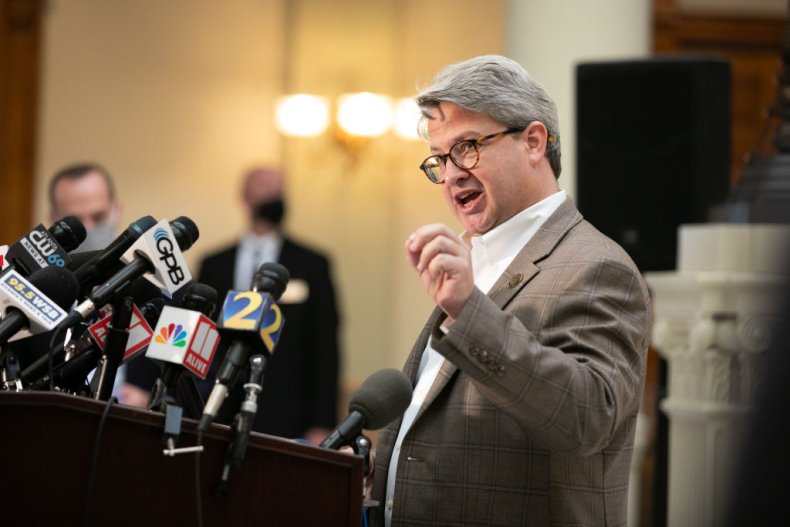 The president and his legal team, as well as Republican supporters, have taken aim at Georgia's results as well. They have criticized the southern state's top elected officials, all of whom are Republicans, and baselessly claimed that Biden was the winner due to fraud.
Meanwhile, Georgia's two Senate races will be decided in runoffs on January 5, as none of the candidates secured more than the required 50 percent of the overall vote to declare victory under state law. Republicans and Democrats are closely watching the races, as they will ultimately decide which political party controls the Senate.