Arkansas Republican Governor Asa Hutchinson hit back at former President Donald Trump on Sunday for his attack on Senate Minority Leader Mitch McConnell, urging the Republican Party to get back to their "principles."
The Quote
While appearing on CNN's State of the Union, Hutchinson was asked about Trump's speech in which he reportedly called McConnell a "dumb son of a bitch" and a "stone cold loser" while speaking to Republican National Committee (RNC) gathering at his Mar-a-Lago Club in Palm Beach, Florida.
In response, Hutchinson said: "Well anything that's divisive is a concern and it is not helpful for us fighting the battles in Washington and at the state level. In some ways it's not a big deal what [Trump] said but at the same time whenever it draws attention, we don't need that."
"We need unity. We need to be focused together. We have slim majorities or slim numbers in Washington and we got battles to fight, so we need to get beyond that," Hutchinson said.
Hutchinson was also asked about former House Speaker John Boehner's comments suggesting that the Republican Party is not what it used to be.
"You think about the Republican Party today," said the governor. "We do need to remind ourselves: let's get back to our principles. Let's stop the personality divisions that we have and focus on, really, the historic role that we've played, which is a voice for smaller government."
Newsweek reached out to Hutchinson for comment, but did not receive a response in time for publication.
Why It Matters
The comments by Hutchinson come just a day after Trump's reported comments that have sparked more divide within the Republican Party.
McConnell, a previous ally of Trump, has continued to be a focal point of his recent criticism toward the Republican Party since leaving office. While McConnell did not vote in favor of Trump's second impeachment trial in the Senate, the Kentucky senator made sure to note that the former president was "practically and morally responsible for provoking the events," of the deadly January 6 Capitol riot.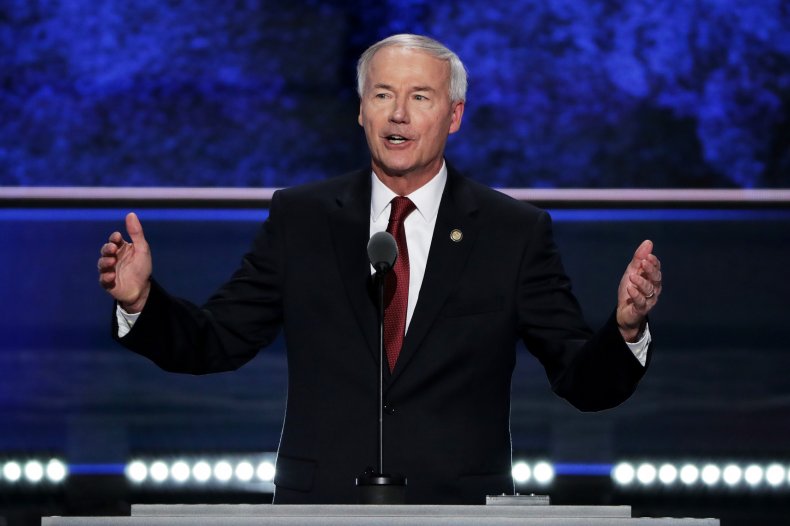 McConnell's remarks prompted Trump to call him a "dour, sullen, and unsmiling political hack."
In addition to Hutchinson, Illinois Republican Congressman Adam Kinzinger criticized Trump for his attack on McConnell during Saturday's Florida retreat event.
"Classy as always. I remember when my fellow Republicans would have condemned this stuff but, that was a whole 4 years ago," Kinzinger wrote in a tweet.
Opposing View
While Hutchinson's comments condemned Trump's remarks and urged Republicans to 
"get back" to their "principles," some of Trump's closest allies have expressed a different view on the future of the party.
Speaking to USA Today, Republican strategist Doug Heye suggested that the former president's control over the party is exemplified by those who were attending to watch and hear his speech in Florida.
"Everyone who is considering running for president is making the pilgrimage to Florida to kiss the ring and, more importantly, echo Trump's rhetoric," Heye said. "Those who have been critical of Trump—people like me—are the outliers."