GOP Gov. Asa Hutchinson Knocks Use of Private Funding to Send Guardsmen to Border: 'Bad Precedent'
Arkansas Governor Asa Hutchinson criticized South Dakota Governor Kristi Noem for sending National Guard troops to the U.S.-Mexico border using private funding.
Hutchinson joined CNN's Dana Bash on State of the Union Sunday to discuss a number of issues facing Arkansas, including vaccination rates and the border crisis.
Bash asked the Republican governor if he agreed with fellow GOP Governor Noem's plan to pay for the deployment of the South Dakota National Guard to Texas with money from a donor rather than state funding. Noem received a donation from Tennessee billionaire Willis Johnson to pay for the operation.
"Not for this purpose," Hutchinson replied. "This is a state function. It is something that we respond to other states in terms of disaster. I would consider it a bad precedent to have that privately funded."
The South Dakota governor announced her plan on Tuesday to send up to 50 troops to the U.S.-Mexico border.
"This is in response to Texas Governor Greg Abbott's request for help to respond to ongoing violations of state and federal law by illegal aliens crossing the unsecured border," Noem's office said in a statement.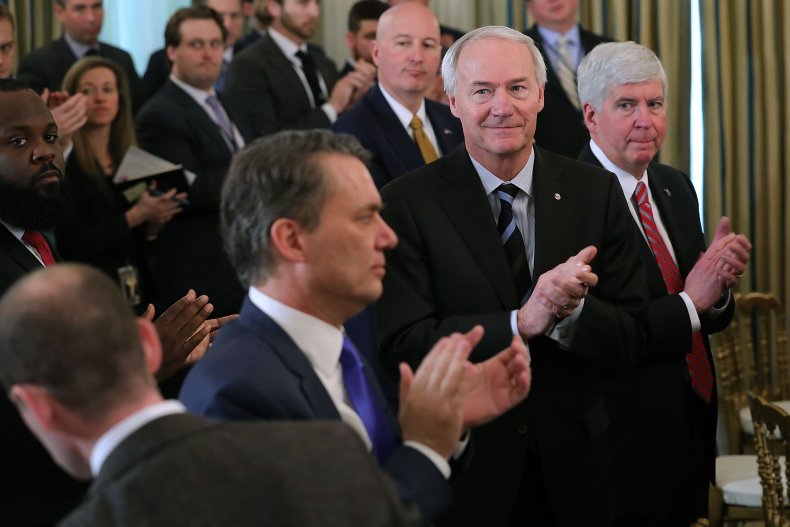 "The Biden Administration has failed in the most basic duty of the federal government: keeping the American people safe," Noem said. "The border is a national security crisis that requires the kind of sustained response only the National Guard can provide. We should not be making our own communities less safe by sending our police or Highway Patrol to fix a long-term problem President Biden's Administration seems unable or unwilling to solve. My message to Texas is this: help is on the way."
Both Johnson and Noem's spokesman, Ian Fury, declined to say how much the deployment cost for "security reasons," The New York Times reported.
Hutchinson told CNN that private funding is used to pay for some things, but there is no hard and fast rule on it. Questions of legality on the issue have been raised because an operation like Noem's funding for the troop deployment has never been attempted, according to the Times.
"Now, whenever you're looking at supplemental pay for some state employees, we use private foundation money, so it's not an across-the-board rule against that," he said. "But, in this instance, I think it's very appropriate that we would have our—paid for by the usual state budget."
Bash also asked Hutchinson if he had plans to run for president in 2024, for which he said he was focusing on the problems facing Arkansas in the here and now.
"I do want to be engaged in the national debate. It's important, the direction of our party, our country, and so that's my immediate concentration," he said. "We will see what the future holds."
Noem did not deny whether she was interested in a presidential bid in 2024, but confirmed she would be running for gubernatorial re-election in 2022, Keloland reported.
Newsweek reached out to Noem for comment and her spokesman Fury pointed to a Twitter thread posted by the governor on Sunday. She called Hutchinson's comments an "attempt to gain relevance."
"This was not a 'political donation.' The money went directly to the state AFTER I had already made the decision to send troops to the border, and the state will allocate the funds," Noem's tweet read.
Updated 4:50 PM ET, with Noem's comments via Twitter.