Republican Gubernatorial Candidate Says We Shouldn't Vaccinate Children 'For No Reason'
Connecticut GOP gubernatorial candidate Bob Stefanowski appeared to question whether children should receive vaccinations, a video filmed this summer shows.
The footage, obtained by NBC Connecticut, depicts Stefanowski saying at a campaign event "we shouldn't be dumping a lot of drugs into kids for no reason," when asked whether the state or local boards of elections should regulate vaccinations. The video came from "a source working for Democratic campaigns in Connecticut," the outlet said.
The state requires students to receive vaccinations at various points in their schooling, according to The Hill. Children must obtain immunizations for hepatitis, pertussis, tetanus and meningitis before beginning pre-kindergarten, kindergarten and seventh grade.
The Republican candidate did not advocate for any legislative alteration, saying "I'd want to see it. I'm really not dodging your question. A hypothetical bill that I've never seen, it's hard for me to say."
He added "I don't think we should be forcing people to inject a ton of chemicals into their kids, but I would want to see more about it." The GOP candidate said that all three of his children were vaccinated.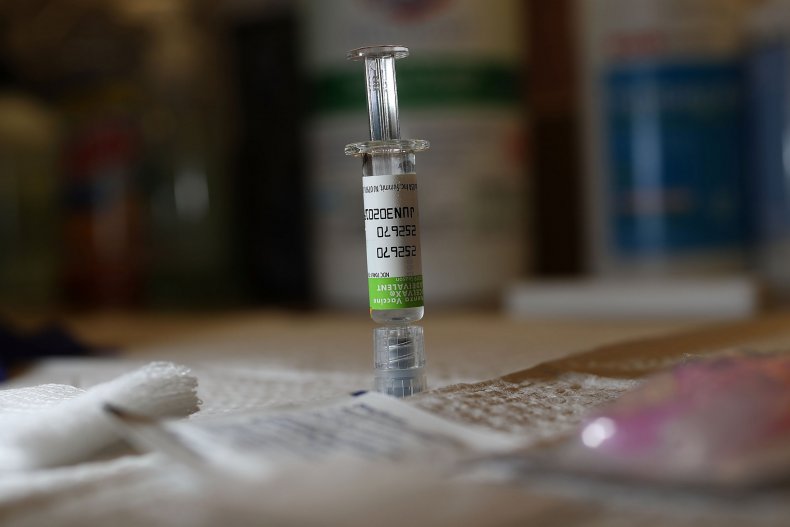 In comments that distanced himself from anti-vaccination messages, Stefanowksi painted the video as a political attack by his Democratic opponent, Ned Lamont
"Ned Lamont is clearly taking my comments out of context in a desperate attempt to fight his sliding poll numbers and regain some traction in this election," he said in a statement to Newsweek. "Let me be clear. Vaccination is an important matter of public health. We have seen the near eradication of terrible diseases that were commonplace due to their use. As I said before, I support the current laws we have on the books, which mandate vaccines for those in public schools, daycares, etc. I believe that our current laws on this subject fairly balance the public health needs and protect our children, while at the same time accommodating those who legitimately meet the exemptions criteria."
Chelsea Clinton criticized Stefanowski's comments from the summer.
"Measles. Whooping Cough. Rotavirus. Polio. Tetanus. Meningitis. The flu. Those are all really good reasons," she wrote on Twitter.
A Pew Research Center report from 2015 found that nine percent of Americans thought vaccines administered to healthy children for measles, mumps and rubella were unsafe. Five percent of Republicans and nine percent of Democrats opposed the immunizations.
In 2015, the Centers for Disease Control and Prevention responded to concerns that vaccines causing autism spectrum disorder. "Studies have shown that there is no link between receiving vaccines and developing ASD," the CDC said.
A Pew study from February 2017 found that 82 percent of Americans thought all healthy schoolchildren should be vaccinated for measles, mumps and rubella, while 17 percent thought that immunization decisions should be up to parents.
Republican Gubernatorial Candidate Says We Shouldn't Vaccinate Children 'For No Reason' | U.S.