GOP Governor Criticizes Trump for Encouraging State Protests Against Stay-at-Home Orders: 'It Just Doesn't Make Any Sense'
Maryland's Governor Larry Hogan questioned the logic of President Donald Trump encouraging demonstrations against stringent "stay-at-home" and "shelter-in-place" orders in several states, noting that the demonstrators were essentially protesting guidelines put forward by the White House's Coronavirus Task Force.
Hogan, a Republican, faced a protest within his own state, as demonstrators drove cars, waved flags and honked their horns through Maryland's capital Annapolis on Saturday. The protesters were calling for Hogan to reopen businesses and the economy, despite guidelines put forward by the Trump administration and a growing number of cases of the coronavirus nationwide.
"I don't think it's helpful to encourage demonstrations and encourage people to go against the president's own policy," the GOP governor said during an interview with CNN's State of the Union Sunday. "For example, I mentioned earlier, the president's policy says you can't start to reopen under his plan until you have declining numbers for 14 days, which those [other] states [with protests] and my state do not have," he explained.
"So then to encourage people to go protest, the plan that you just made recommendations on on Thursday, it just doesn't make any sense," Hogan added. "We're sending completely conflicting messages out to the governors and to the people, as if we should ignore federal policy and federal recommendations."
The Republican governor asserted that he can understand the frustration expressed by demonstrators. He said that he and other governors wanted to work toward reopening as soon as is safely possible.
Trump on Friday encouraged right-wing protests against stringent social distancing measures, tweeting: "LIBERATE MINNESOTA," "LIBERATE MICHIGAN" and then "LIBERATE VIRGINIA."
"There are a lot of protests out there and I just think that some of the governors have gotten carried away," Trump said later, defending his tweets. "You know we have a lot of people that don't have to be told to do what they're doing."
Michigan Governor Gretchen Whitmer, a Democrat, pushed back against the protests in her state.
"Michigan right now has the third highest death count in the country, we are the 10th largest state, as you can deduce, this means we have a uniquely hard issue going on here," Whitmer told State of the Union Sunday. "It is disproportionately hurting our state and that is why we need to take a uniquely aggressive action to protect people."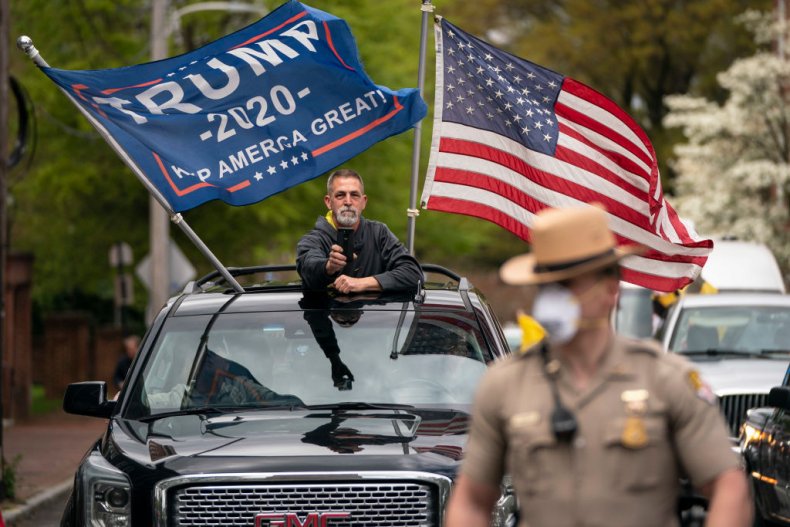 Washington's Governor Jay Inslee, also a Democrat, strongly criticized Trump in an interview with ABC News' This Week.
"To have an American president to encourage people to violate the law, I can't remember any time in my time in America where we have seen such a thing," Inslee said Sunday. "It is dangerous because it can inspire people to ignore things that actually can save their lives."
As of Sunday early afternoon, more than 720,000 people were confirmed to have the coronavirus in the U.S., according to a tracker updated by Johns Hopkins University. Of those, nearly 34,000 have died while close to 65,000 have already recovered.