GOP Governor Larry Hogan Says Mitch McConnell Will Regret Suggesting Government Let States Go Bankrupt
Senate Majority Leader Mitch McConnell's suggestion that the federal government let states go bankrupt amid the coronavirus pandemic is not going over well with many governors.
"Mitch McConnell, I think, probably regrets saying that," Maryland Governor Larry Hogan told Politico on Thursday morning. "If he doesn't regret it yet, I think he will regret it."
He added, "The last thing we need in the middle of an economic crisis is to have states filing bankruptcy all across America and not able to provide services to people who desperately need them."
McConnell told conservative radio host Hugh Hewitt on Wednesday that he'd prefer to let some states go bankrupt than to pass another billion-dollar coronavirus relief package for local governments. The remarks were made the day after Congress passed a $483 billion interim bill to provide assistance for small-business loan programs and hospitals.
"I would certainly be in favor of allowing states to use the bankruptcy route," McConnell said. "It's saved some cities, and there's no good reason for it not to be available."
His comments were immediately rebuked by several state leaders. New Jersey Governor Phil Murphy, a Democrat, called them "completely and utterly irresponsible." New York Governor Andrew Cuomo said they were "politically repugnant."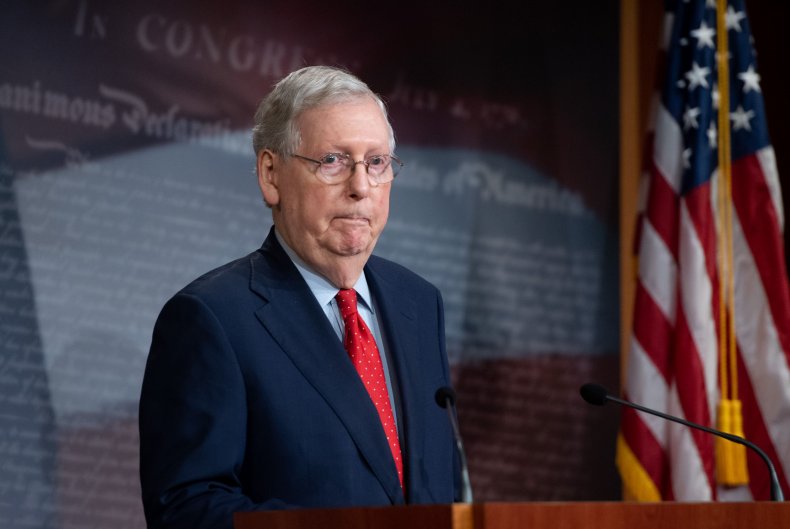 Hogan told Politico that he's "hopeful that we'll convince McConnell that we shouldn't let all the states go bankrupt."
Hogan, along with Cuomo, leads the National Governors Association. The group has requested that Congress create a $500 billion fund for states to offset revenue losses brought on by the health crisis.
Two senators have introduced bipartisan legislation that would give governors the money they've requested. The Cassidy-Menendez bill would provide $166 billion to all 50 states and the District of Columbia. The rest of the $500 billion fund would be divided according to a state's share of the total U.S. infection rate and the loss of revenue that governments have experienced due to coronavirus-related restrictions.
The White House has also seemed to recognize the bind that states are in. On Tuesday, after the interim bill was passed, President Donald Trump tweeted that discussions were officially going to begin on how to provide relief for state and local governments in the fourth coronavirus package.
"After I sign this Bill, we will begin discussions on the next Legislative Initiative with fiscal relief…to State/Local Governments for lost revenues from COVID 19, much needed Infrastructure Investments for Bridges, Tunnels, Broadband, Tax Incentives for Restaurants, Entertainment, Sports, and Payroll Tax Cuts to increase Economic Growth," Trump wrote.
But governors could be kept waiting for weeks as Congress is currently in recess and is not due to return to Capitol Hill until May 4.