GOP Governor Mandates Masks Statewide After Calling It 'Overkill' 21 Days Ago
Utah Governor Gary Herbert announced on Tuesday new protocols to mitigate the coronavirus's spread, as health officials continue to report a spike in infections statewide. Herbert, a Republican, resisted calls by county and state leaders for a broad face-mask mandate last month, as Utah's outbreak curve began a steep upward climb that would become increasingly severe over the coming weeks.
Rejecting the ideology behind a statewide mask order during a press conference on September 22, Herbert referred to the suggested move as "overkill," saying it "doesn't make a lot of sense to me." He added that his office aimed to "emphasize personal responsibility" instead. Some Utah counties implemented mask requirements for residents of their individual jurisdictions.
Health officials have confirmed increasing COVID-19 cases statewide since the beginning of last month, and numbers rose further after Herbert's late September news conference. As of Monday, Utah's seven-day rolling diagnosis average stood at nearly 1,200 new infections, roughly three times as high as averages reported during the first week of September.
During Tuesday's announcement, the governor acknowledged his state "is facing its most dire episode yet" since the onset of the pandemic and relayed updated guidelines, including mask mandates, that will be tailored to specific counties based on their respective COVID-19 statistics.
"Our infections are at an all-time high," Herbert said, also pointing to elevated pressure on Utah's medical facilities, many of which are approaching or have reached their maximum capacity due to an influx of COVID-19 patients.
"This is a moment to evaluate what has worked in the past, and what has not," he continued.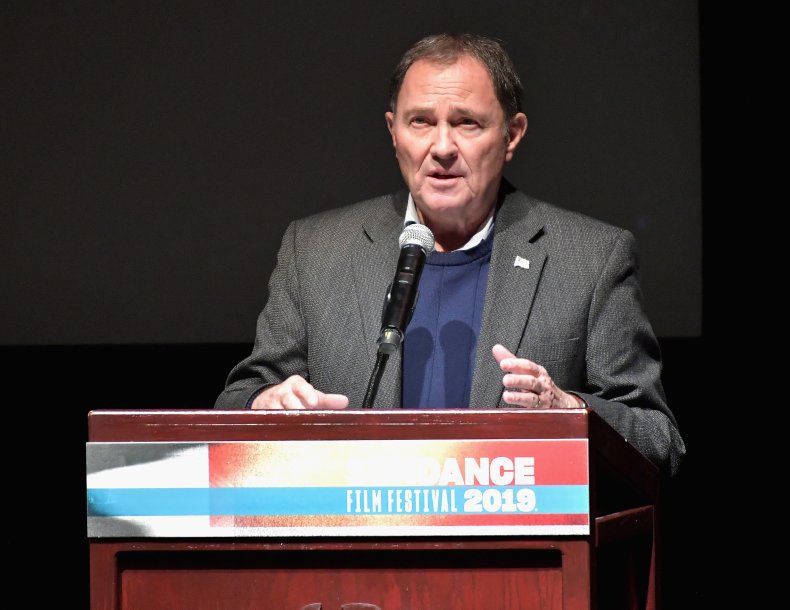 Officials from Utah's health department will examine weekly COVID-19 data in all state counties, and assign low, moderate, or high risk classifications to each accordingly. They will categorize counties based on COVID-19 case incidences, test-positivity rates and ICU patients. Residents of high-risk counties will be required to wear face masks in all indoor and outdoor public areas. A "moderate" rating means residents should wear masks for the next two weeks. In addition, all Utah residents are required to wear masks in large public gathering spaces, such as entertainment venues and places of worship, regardless of the risk classification assigned.
"In counties designated as Moderate or Low Transmission Areas, masks are strongly encouraged, and county executives are empowered to require masks on their own with consultation from their local health officer," Herbert added in one of several messages shared to Twitter after Tuesday's conference, explaining the new regulations in greater detail.
Utah's updated mitigation measures will restrict personal gathering sizes as well, with different capacity limits attributed to each transmission level. Beginning Thursday, residents of high- and moderate-risk counties are required to limit social gatherings to 10 people or less. The order will remain in effect for two weeks, after which capacity limits for moderate- and low-risk areas will increase to 25 and 50 people, respectively, unless those participating in gatherings are wearing face masks.