GOP Governor Restores Felons' Right to Vote in Presidential Election
Iowa Governor Kim Reynolds signed an executive order Wednesday morning granting felons in the state the right to vote. The executive order means all felons in Iowa who have completed their sentences will be able to vote in November's general election.
"This is a cause on which so many Iowans have worked on for years," Reynolds, a Republican, said during a news conference. "It boils down to our fundamental belief in redemption and second chances."
Reynolds said most felons who have completed their sentences will have their right to vote restored automatically and can pursue public office if they wish to do so. She said each felon's sentence, parole and probation requirements must be met before voting rights resume. Individuals who complete their sentences in the future will also have their right to vote restored automatically, Reynolds said.
Those who have been convicted on felony homicide charges will still have to apply to have their voting rights restored, Reynolds said.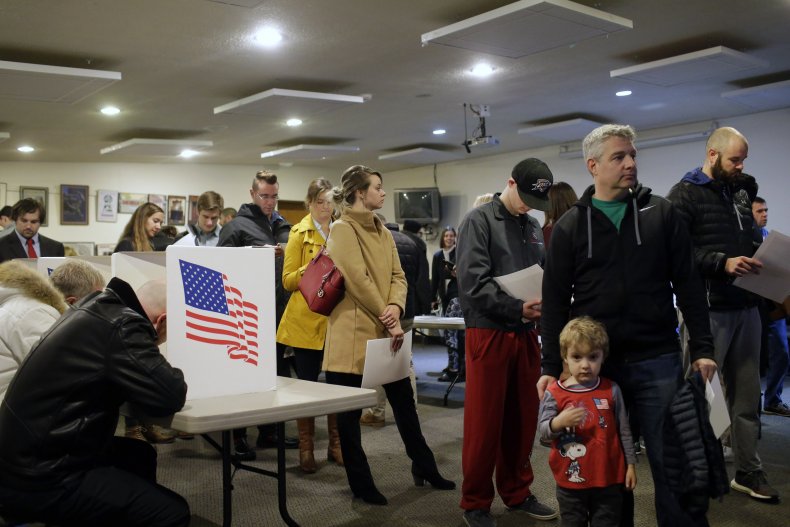 Before the governor's executive order, all felons who wished to have their voting rights restored had to apply for consideration. Before she signed the executive order, Reynolds said Iowa "holds the unfortunate status" of being the only state that blocked felons by default from voting or pursuing public office for life.
"That creates the potential for uneven justice," the governor said. "It means people who have served their sentence and are seeking to get their lives back on track permanently are prohibited from one of the most basic rights of citizenship, unless a single individual decides otherwise."
Earlier this summer, a Black Lives Matter group in Des Moines, Iowa, called on Reynolds to restore felons' voting rights as protesters across the country demanded an end to systemic racism in the United States. According to Des Moines-based television station WOI-DT, Reynolds told the group she planned to sign the executive order before November's presidential election.
Iowa residents who have not yet registered to vote are required to do so 10 days before general elections and 11 days before all other elections. Residents are also able to register on the day of any given election provided they bring to their assigned polling place their identification and proof that they live in the state.
With just under three months to go before the presidential election on November 3, Reynolds' executive order will clear the way for felons who completed their sentences, but have not yet applied to have their voting rights restored, to cast ballots on Election Day.
The decision comes as recent polling shows the race between President Donald Trump and presumptive Democratic presidential nominee Joe Biden is tight in Iowa. According to a cumulative average of recent state polls compiled by FiveThirtyEight, Trump currently leads among Iowa voters by a narrow 1.1 percent margin. Trump carried the state in 2016, but former President Barack Obama won it in 2012 and 2008.
Though Reynolds' executive order restores felons' right to vote for now, she acknowledged that past governors have approved and rescinded similar measures and that future governors could do the same. She said she is actively pursuing legislation to make her latest change permanent.
"Something that is fundamentally right should not be based on the benevolence of a single elected official. That's why I have been fighting to amend the Iowa Constitution, and that's why I will continue to do so," Reynolds said.
Newsweek reached out to Black Lives Matter for comment but did not receive a response in time for publication.