GOP Group Launches $1M of Fox News Ads, Billboard Campaigns to Promote Fair Senate Impeachment Trial With Witnesses
Republicans for the Rule of Law (RRL), a conservative group whose stated purpose is "defending the institutions of our republic," will launch a new advertising campaign calling on Senate Republicans to bring John Bolton in as a witness during the impeachment trial against President Donald Trump.
Advertisements will air on both Fox & Friends and Lou Dobbs Tonight beginning the week of January 20. In addition, digital billboards will display the message, "What is Trump Hiding?" in the capital cities of six states.
One of the two advertisements expected to run on Fox News shows a manipulated photo of Bolton with two pieces of duct tape covering his mouth.
"This is Ambassador John Bolton," says the voiceover. "He was national security adviser to President Trump. He was in all the meetings in which the president's national security team discussed withholding aid from Ukraine in exchange for announcing investigations into the Bidens. Now, Ambassador Bolton has agreed to testify before Congress."
"He's willing to do his duty to tell the truth," the ad concludes. "Are Senate Republicans willing to do their duty to listen?"
In an interview with Newsweek, Sarah Longwell, Executive Director of RRL, said that how Senate Republicans handle Bolton's offer to testify could say a lot about their motivations in the impeachment trial.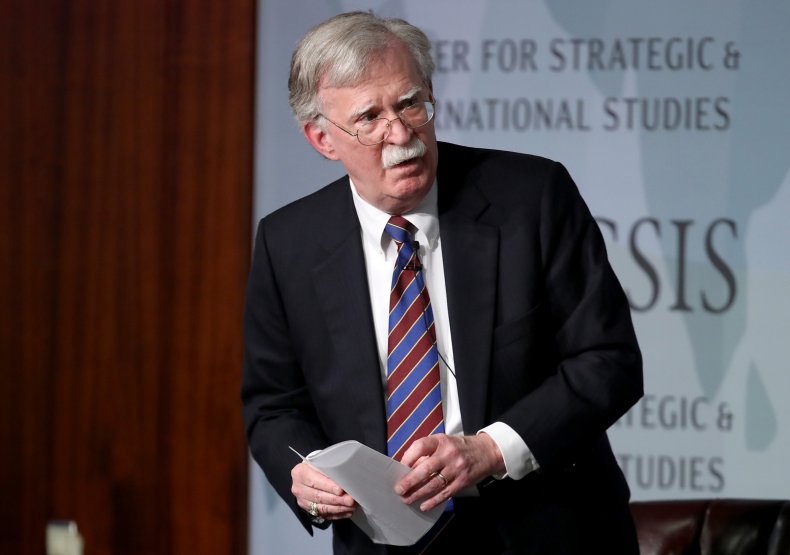 "The thing is that the Republicans, and I'm a Republican and have been a Republican my entire life," Longwell said, "their response, their pushback was, 'But we didn't get to hear from firsthand witnesses. All these witnesses were second, third and fourth-hand.' If that's your argument, that these weren't witnesses with firsthand knowledge, well, you have somebody like Ambassador Bolton who has firsthand knowledge offering to testify."
"The question is, do we care about knowing the truth?" Longwell added. "Does it matter to us? Does it matter to these Republican legislators?"
Longwell said the organization's ad campaign is all about the witnesses, hence their current emphasis on Bolton.
"Our campaign is about identifying the primary sources, most of whom were blocked during the House hearings by the White House," Longwell said. "That's extremely important because the matter at hand is, did Trump direct this money to be withheld [from Ukraine] as a quid pro quo? People forget it now because it's been so long, but that's the original thing we were getting to the bottom of."
"Our goal is that there is a fair trial, that both sides can call witnesses that are deemed relevant and that America can get the facts about what happened and whether or not American foreign policy was used as a domestic political errand for the president," Longwell added.
Longwell said she found Senate Majority Leader Mitch McConnell's claims that he would not be impartial during the impeachment trial "disappointing."
"It's disappointing that he wouldn't even want to have the appearance of a fair trial and that he is more interested in providing political cover for the president than knowing whether or not America's foreign policy apparatus was used to the benefit of the president politically," Longwell said.
Longwell said that people she has spoken to have indicated a "loss of faith" in both American institutions and public officials.
"A lot of that is because public officials aren't even pretending to take their obligations seriously," Longwell said. "I wish Mitch McConnell would treat the process with the respect that it deserves."