GOP Group to Run Ad Condemning Trump's Coronavirus Response, Accusing Him of 'Lying' to Public
Amid poll numbers that show diminishing voter approval for the president's handling of the coronavirus pandemic, an organization composed of anti-Trump Republicans is hitting the airwaves with a new ad featuring alleged lifelong members of the Grand Old Party who condemn the president's response to the crisis.
"Even though it's been a Republican all my life," several voters, from Pennsylvania to Michigan to Arizona, say in the roughly 30-second video, "I can't support Trump and his response to the coronavirus is exactly why."
The ad, which is on social media and will run Tuesday online and on Fox & Friends in the Washington, D.C., area, comes from Republicans for the Rule of Law, an organization that supported President Donald Trump's impeachment and removal from office. The unnamed voters accuse him of "lying" to America when he earlier claimed that the virus would "go away" and that testing would be widely available.
"He has squandered the one advantage that America had: time to prepare," the ad continues. "He says he puts 'America first,' but it's clear he only knows how to put Trump first. This is a crisis, and we need real leadership. Donald Trump is incapable of it."
The video comes as an increasing number of voters disapprove of Trump's handling of the pandemic that's killed more than 6,500 Americans and infected over a quarter-million people across the country as of Friday.
Less than half—49 percent—of voters say they approve of Trump's performance during the coronavirus crisis, down slightly from 53 percent in mid-March, according to a Morning Consult poll released Thursday. The decline was thanks to a shift in opinion among Democrats and independents. Republicans overwhelmingly approve—87 percent—of Trump's job.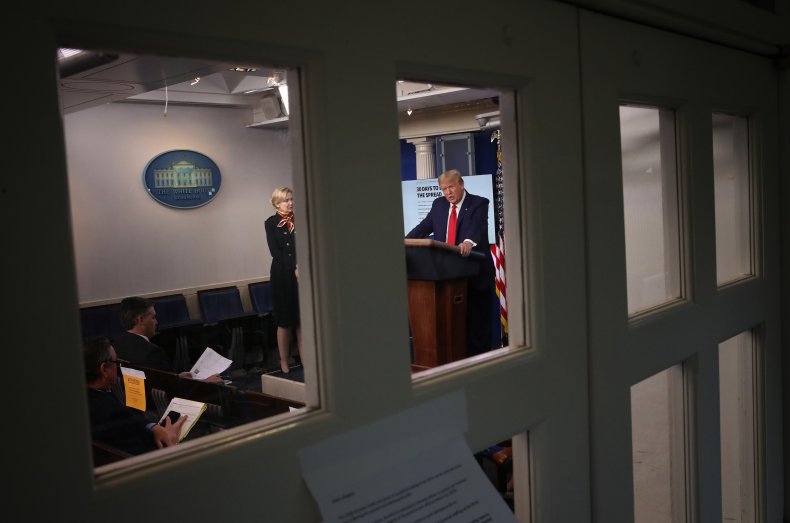 The White House is now projecting that 100,000 to 240,000 people could die from the virus—staggering numbers that speak to the severity of the illness, which Trump downplayed for weeks at the pandemic's onset.
"View this the same as the flu.... You treat this like a flu," the president told reporters during a daily coronavirus briefing on February 26. "We'll essentially have a flu shot for this in a fairly quick manner."
This week, the president's tune changed as he contradicted his previous remarks. "A lot of people thought about it: 'Ride it out, don't do anything, just ride it out and think of it as the flu,'" Trump said. "But it's not the flu."
An added layer to the public health crisis is the skyrocketing unemployment rate, which economists have told Newsweek could balloon to far greater numbers than those seen during the Great Depression nearly a century ago.
The latest jobs report released by the Labor Department on Friday showed a rise in unemployment from 3.5 to 4.4 percent. But the actual number is much higher, as a record 10 million people filed for unemployment benefits in recent weeks, an astounding number that won't be factored into the country's official unemployment rate until next month's report.
GOP Group to Run Ad Condemning Trump's Coronavirus Response, Accusing Him of 'Lying' to Public | U.S.