GOP Group Runs Fox News Ads in DC Calling for Republicans to Allow Witnesses in Trump's Impeachment Trial: 'Honor Your Oath'
With a vote expected on Friday on whether to permit witnesses into the Senate impeachment trial of President Donald Trump, conservative group Republicans for the Rule of Law has announced they will be running advertisements calling for witnesses to be allowed on major cable news outlets in the Washington, D.C. area.
Those advertisements are expected every hour on Thursday and Friday on Fox News, CNN, MSNBC and CNBC.
"Key witnesses in the Ukraine scandal must testify in the Senate impeachment trial," says one of the ads. "These witnesses include Rudy Giuliani, Mick Mulvaney, Mike Pompeo and John Bolton. These witnesses must testify. Call your senators now."
As part of the group's advertising campaign, the videos are expected to be promoted in six target states. Digital billboards asking, "What is Trump hiding?" are also expected to be on display in those areas.
"We've been pushing for a fair trial that includes witness and procedures designed to establish truth since the House passed the article of impeachment," RRL spokesperson Chris Truax in a statement. "Many Republicans—and a large majority of Americans—now agree with us. And this week, after major revelations from Lev Parnas and Ambassador John Bolton, it's clearer than ever why."
If Democrats cannot convince at least four Republicans to vote for the inclusion of new witnesses in Trump's impeachment trial, then the trial could end on Friday, sooner than some had expected.
In an interview with Newsweek, Truax said while he does not the alleged revelations from Parnas and Bolton should necessarily be believed, he does think "we should explore them."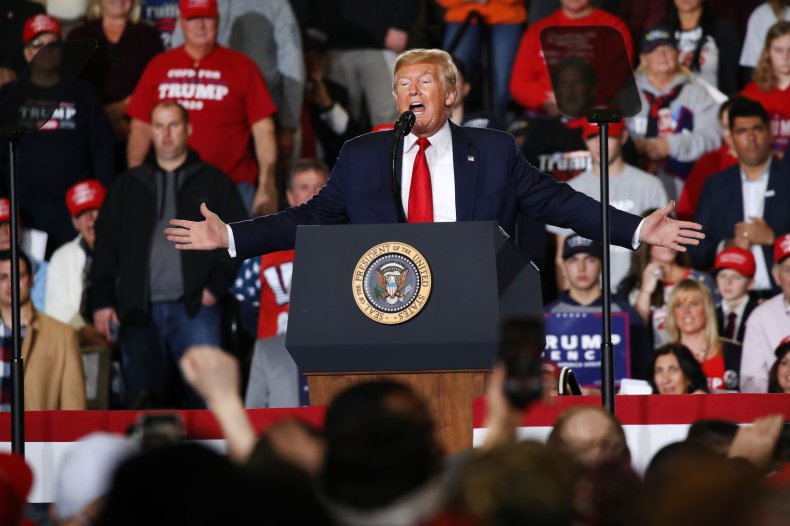 "Pretending they don't exist is the opposite of having a trial," Truax said. "The whole point of a trial is you have procedures designed to establish the truth. You listen to the evidence, you weigh it and then you make a decision. The idea of having a trial by not listening to any evidence is crazy. That's not a trial."
"I think that it is impossible for [senators] to take their constitutional duties seriously, to honor the oath they swore at the beginning of the trial if they do not consider all the available evidence," Truax said.
Truax said he believes that Trump's acquittal is "probable, given the political lay of the land," but that the Senate's decision in that matter is not the most important matter at hand.
"Whether or not Trump is acquitted, in my opinion, is less important than making sure that proper procedure is followed and people take this very seriously because we are creating a precedent that will last for hundreds of years," Truax said. "I mean, how much have you heard about the first impeachment trial now? You're an expert on it and that happened 150 years ago. That's the impact that this trial will have on the American constitutional system of checks and balances."
"We need to make sure that we properly respect the impact we will have on history and take this very seriously, dot all the i's and cross all the t's, and not treat this as a partisan exercise because that will fundamentally damage our system of checks and balances long after we've forgotten whatever it is we were so upset about today," Truax added.
In conjunction with Defending Democracy Together, RRL has thrown its weight behind the idea of Vice President Mike Pence taking office as an alternative to the current Trump administration. Using the tagline "At least it's an improvement," the group sponsored a mobile billboard truck to drive around the D.C. area Tuesday to spread that message.
According to their website, RRL is "fighting to make sure that the laws apply equally to everyone, from the average citizen to the president of the United States. We believe in fidelity to the Constitution, transparency, and the truth."