GOP Hawks Urge Tougher Sanctions on Putin, Aid to Ukraine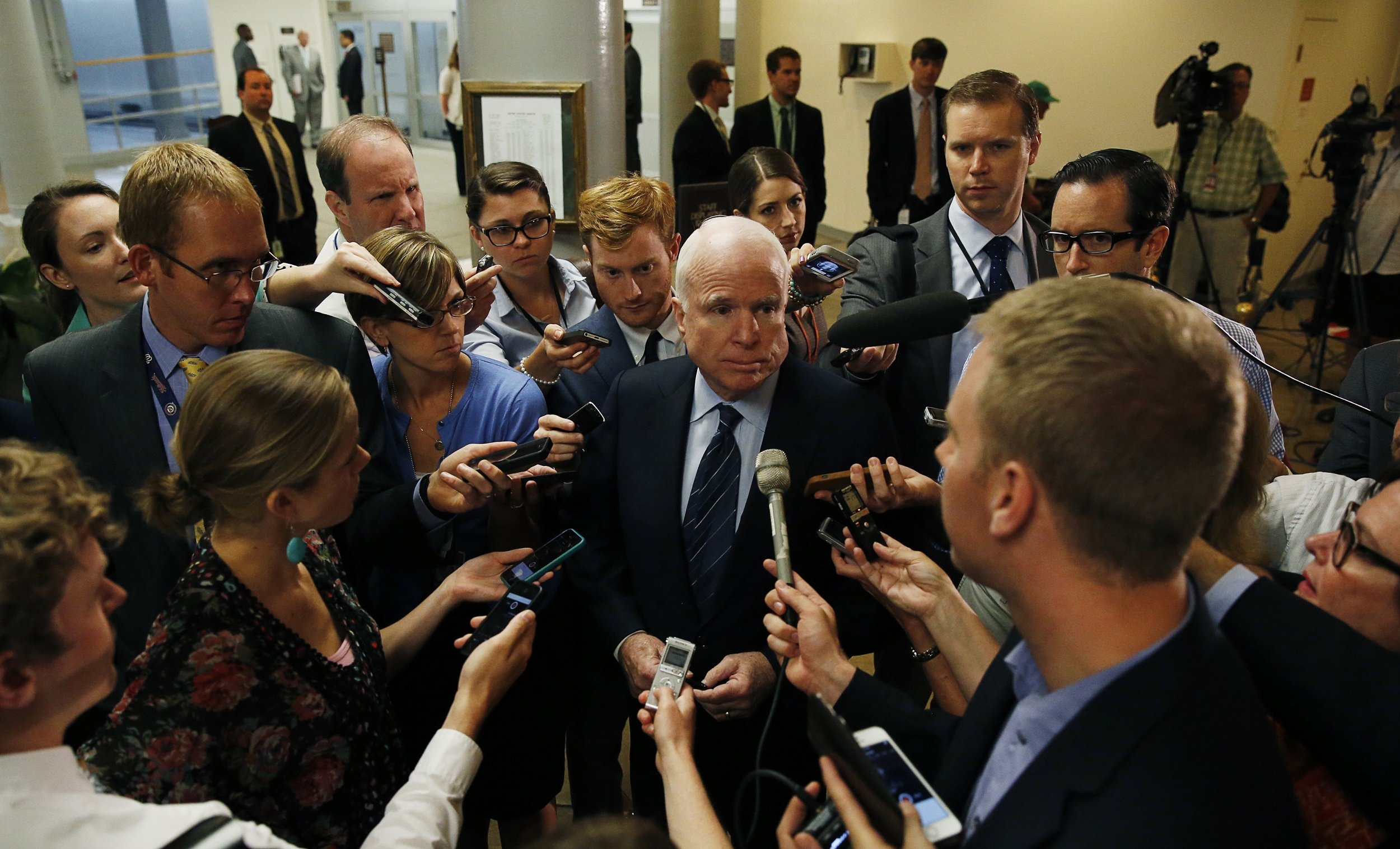 With evidence mounting that Russia-backed Ukrainian separatists shot down the Malaysian plane that crashed on Thursday, killing 298 people, some Republicans in Washington are calling for stronger sanctions on Russia and military support for Ukraine.
Members of Congress are already calling the downing of the plane an "act of terror" and demanding increased actions against Russia.
A vocal critic of President Barack Obama's foreign policy, Senator John McCain, R-Arizona, questioned whether more U.S. involvement could have prevented the disaster. For months McCain has called on the Obama administration to help arm Ukrainian forces to fight the rebels.
"It's a cowardly administration that we've failed to give the Ukrainians weapons with which to defend themselves," McCain said on Sean Hannity's Fox News show Thursday night. "If we had given them weapons, perhaps they could have taken that part of Ukraine back and that attack never could have been mounted from what apparently was a base where they captured these anti-aircraft missile capabilities."
In response to the situation, McCain called once again for arming Ukrainian forces, as well as a series of other steps to increase the United States's military presence in the region.
"First, give the Ukrainians weapons to defend themselves and regain their territory," McCain said. "Second of all, move some of our troops into areas that are being threatened by Vladimir Putin, other countries like the Baltics and others. Move missile defense into the places where we got out of, the Czech Republic and Poland and other places. Impose the harshest possible sanctions on Vladimir Putin and Russia. That's just for openers."
Senator Lindsey Graham, R-South Carolina, told reporters Thursday that lawmakers would call for increased sanctions on Russia and military aid to Ukraine, according to The Daily Beast.
John Bolton, the former United Nations ambassador under President George W. Bush, also blamed the Obama Administration's foreign policy for failing to keep Russia in check and echoed McCain's call for more missile capabilities in Europe. In an interview on Fox News, Bolton said that the economic sanctions imposed thus far by the administration are mere "pinpricks" and that such sanctions will never be enough to deter Russian aggression around the world.
"I think you go back to ramping up American missile defense. I think we get out of the Strategic Arms Limitation Treaty that the Obama administration signed and the Senate ratified," Bolton said. "And I think if you want sanctions, let's have real sanctions. I'll give you an example: no Russian financial institution has any role in the American financial system. That's a sanction."
Representative Peter King, R-New York, called for harsh sanctions as well as a prohibition on Russian planes landing in the U.S. "Why should [Russian airline] Aeroflot be allowed to land in our airports after something like this, until Russia admits what happened, until they make full compensation, and until we make sure it doesn't happen again," King said Thursday during an interview with Fox News host Megyn Kelly.
King said that at the very least, shooting down Flight 17 was an act of "criminal negligence" on the part of Russia and they should bear responsibility. "They have to pay a price for that," he said. Putin "has to be held accountable."
Democrats also had harsh words for Russia and the Russian president after the plane was shot down, but they did not mention the more drastic military steps called for by McCain and Bolton. Representative Eliot Engel of New York, the top Democrat on the House Foreign Affairs Committee, said that if the plane was indeed shot down, it was an "act of terror" and he would be for stronger sanctions against Russia if it is confirmed that Putin had any involvement.
And Senator Carl Levin, D-Michigan, the chairman of the Armed Services Committee, called the attack on the jetliner an "act of war" and said "whoever did it should pay a full price."
On Thursday, the Obama administration announced another round of sanctions against Russian officials, defense firms and financial institutions. In remarks at the White House Friday, Obama said he was open to increased economic sanctions against Russia and suggested European countries should follow the U.S.'s lead with strong sanctions.
"This outrageous event underscores that it is time for peace and security to be restored in Ukraine," Obama said.