GOP Hopeful Lindsey Graham Tends Bar, Praises Hillary Clinton's Liquor Tolerance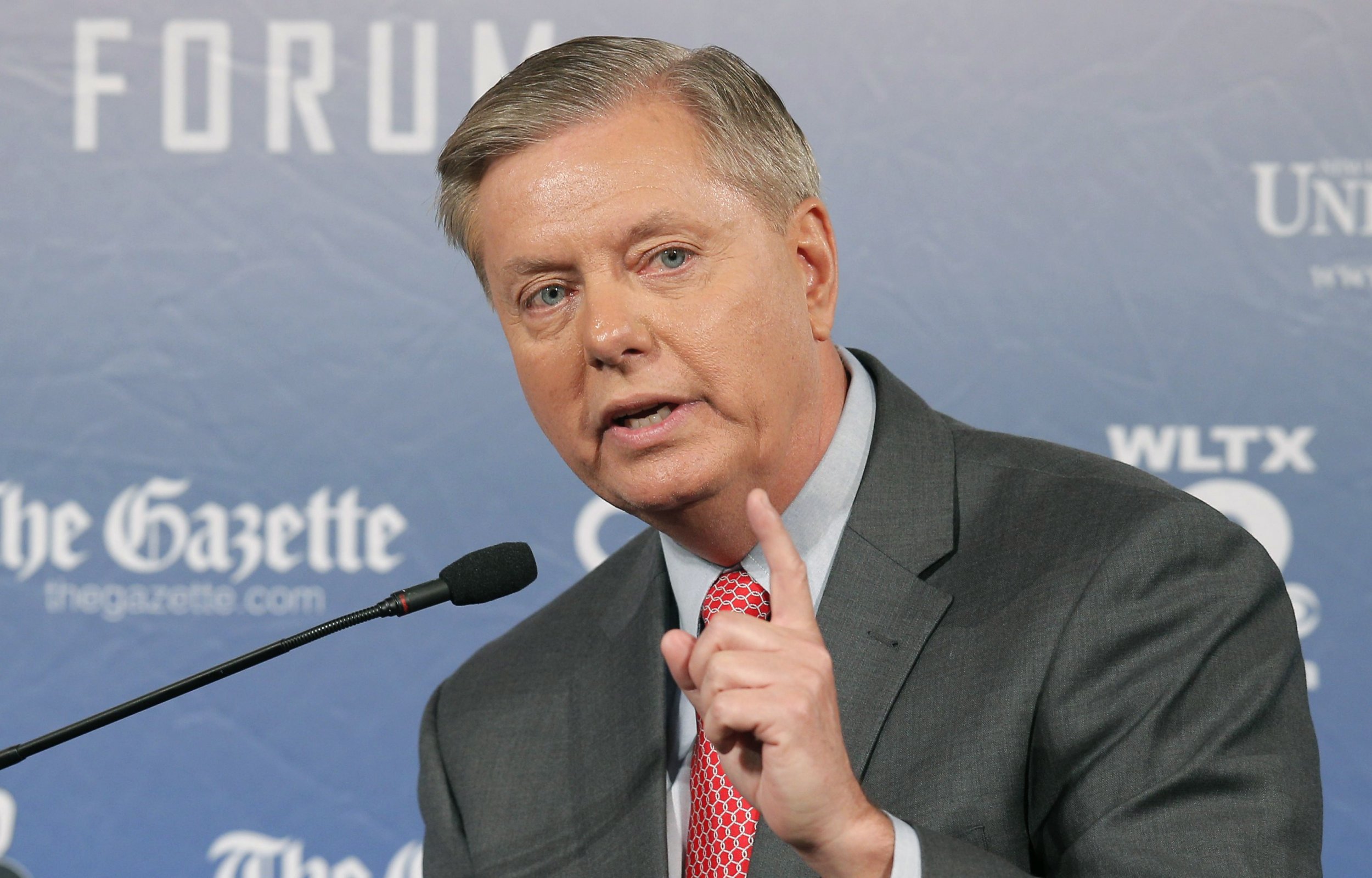 Republican presidential candidate hopeful Lindsey Graham pregamed for the third GOP debate in Boulder, Colorado, on Tuesday night, tending bar and mingling with journalists at the Politics on Tap event, hosted by CNN.
Graham served beers and shots of Jack Daniels, and even made a toast to Donald Trump, according to political reporter Dave Weigel.
Dana Bash, the network's chief political correspondent, took festivities to the next level with a game of "date, marry, or make disappear forever"—an appropriate twist on a game we've all likely dabbled in at some point over a drink or two.
Asked to pick between Hillary Clinton, Carly Fiorina and Sarah Palin, Graham said he would take the former Alaska governor hunting on their first date, marry Fiorina "'cause she's rich," but stopped short of saying he would like for the frontrunning Democratic presidential candidate to disappear.
"No, but is she rich? She said she was flat broke," he joked.
Though Graham clearly doesn't have any plans to marry or date Clinton, he did say she was a formidable drinking buddy, while recalling a congressional delegation trip with John McCain and Clinton.
"John and Hillary were drinking, toasting; they were with others I won't name because they have political futures," he said. "I don't drink very well, as you can tell from behind the bar. I was drinking water, pretending it was vodka. I had to go to the bathroom, before they stopped drinking."
On Wednesday evening, Graham will appear in the "kiddie-table" debate of Republican presidential candidates. Because there are 14 candidates, television networks have to host two debates: a small stage with four candidates at 6 p.m. and the main event two hours later.
Graham is not a fan of this strategy: "I think it sucks," he concluded at the Colorado bar. "With all due respect, I know there are a lot of us running but I don't think I'm an undercard candidate when it comes to national security. I think I've got something to offer."