GOP House Candidate Selling 'COVID-19 Made in China' Masks Faces Backlash
A congressional candidate from Virginia is facing criticism from the Asian American community after his campaign sold "COVID-19 MADE IN CHINA" face masks.
The bright red masks feature the catchphrase, which is similar to statements made by President Donald Trump, and "NickforVA.com," the website of Nick Freitas' campaign for Virginia's 7th District seat in the U.S. House of Representatives.
Freitas, a libertarian Republican in the state's House of Delegates, is running against Democratic incumbent Abigail Spanberger for the U.S. House seat. Freitas' campaign website features his platform, which highlights such issues as immigration, abortion and gun control, and his own store, which sells a pack of three assorted face masks.
For $15, purchasers can receive a "DON'T SNEEZE ON ME" mask featuring a snake and one that reads "COME AND TAKE IT" and shows a bottle of hand sanitizer. But it was the third mask that drew criticism this week, particularly from Asian Americans, as it says "COVID-19 MADE IN CHINA."
"He's literally financing his campaign with a tactic that has been shown to exacerbate anti-Asian racism," Sookyung Oh, the D.C. area director of the National Korean American Service and Education Consortium (NAKASEC), told The Washington Post.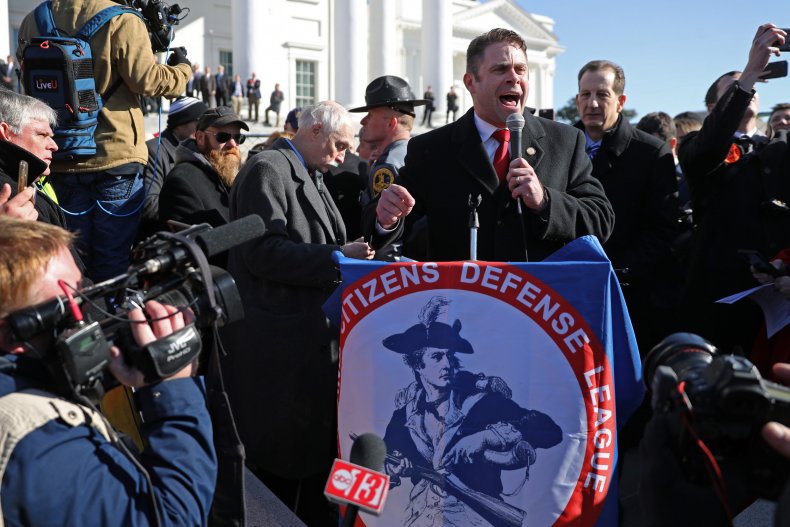 Since March, Trump has used phrases like "China virus," "Chinese virus" or "Kung flu" to describe coronavirus, which is believed to have originated in Wuhan, China, before spreading throughout the world. The president has previously defended his use of such phrases, telling reporters in March he began using the term "China virus" to counter conspiracy theories that he accused China of spreading about the disease.
"China was putting out information, which was false, that our military gave this to them. That was false," Trump said at a March 17 press conference. "And rather than having an argument, I said I have to call it where it came from. It did come from China. It is a very accurate term."
But the World Health Organization said in 2015 that using geographic locations to describe infectious diseases "should be avoided" in order to stop "stigmatizing certain communities or economic sectors."
Speaking during an online forum Tuesday, Cui Tiankai, China's ambassador to the U.S., criticized such rhetoric: "It's certainly wrong to have such stigma. The virus, as defined by the World Health Organization, is COVID-19."
In an open letter published that same day, the NAKASEC Action Fund wrote that "blaming China for the COVID-19 crisis in the United States has led to a sharp increase of racially motivated attacks and discrimination against people of Chinese descent and others perceived to be of Chinese descent." The letter added that Asian Americans in Virginia have been cursed and yelled at and physically assaulted, in addition to facing workplace discrimination.
The letter demanded that Freitas immediately remove the "Made in China" mask from his campaign store and called on the delegate to "spend more time on supporting policies that contain COVID-19."
The NAKESEC Action Fund also criticized Mark Cole, another Virginia state delegate, who created a photo of himself wearing the mask for his Twitter profile picture.
"Nick Freitas' campaign, and the implied support from Del. Mark Cole, exacerbates anti-Asian racism and endangers our lives," the letter stated.
Cole told Newsweek the "accusation that the masks are racist is without merit."
"China is a country, not a race, and identifying where the virus originated from is no more racist than calling the Spanish Flu the Spanish Flu," Cole wrote in an email. "The accusation is simply a political attack without any basis. Democrats frequently resort to name calling rather than engage in a debate or discussion of real issues."
Cole evoked a similar defense to Trump's, saying it "should not be forgotten" that the "Chinese government lied about the virus causing more people to die worldwide." Chinese officials have repeatedly denied such claims.
Newsweek contacted Freitas for comment but did not hear back in time for publication.
Update (08/07/20, 10:03 p.m.): This article has been updated to include a comment from Delegate Mark Cole.