GOP House Candidate Steve Watkins Liked Facebook Posts That Called Police 'Thug Criminals,' Racists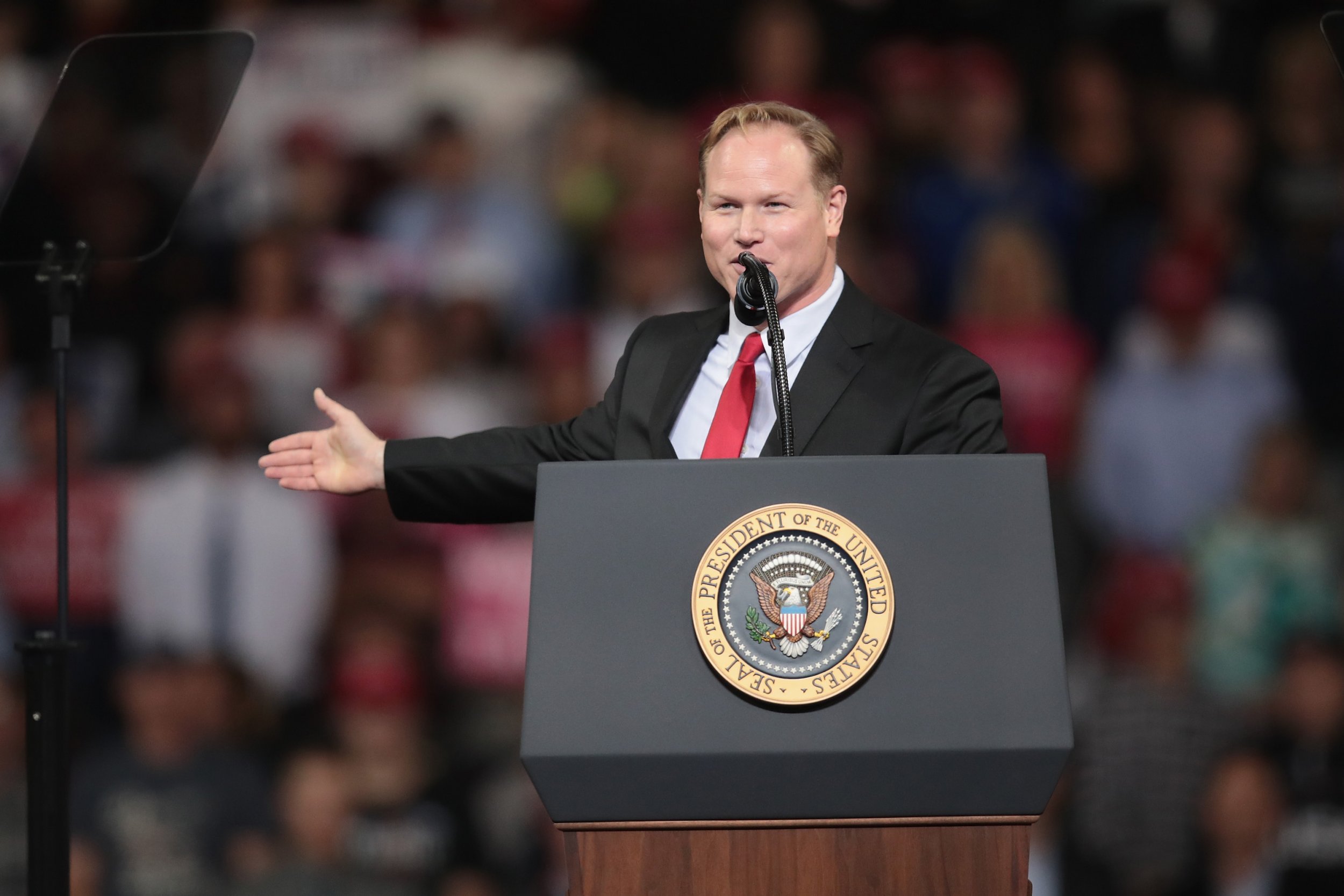 Republican candidate Steve Watkins, who received the support of President Donald Trump, reportedly liked a Facebook post calling police officer "thug criminals" and racist years before he ran for a seat in the House.
Prior to running as the Republican nominee for Kansas's 2nd congressional district, Watkins reportedly engaged with a self-proclaimed "cop watcher" called Antonio Buehler, McClatchy D.C. reported. Buehler has been arrested several times during his attempts to film police officers in Austin.
In 2012, Watkins liked a post that referred to officers as "thug criminals." In the post, Buehler wrote he "would almost feel sorry" for the two officers who arrested him "if they weren't such thug criminals, as their world is about to come down around them."
Watkins also responded to another post Buehler wrote in 2012 about a cop watching event by telling Buehler, "Great work Antonio!"
A year later, Watkins also liked a post that referred to a police officer as a coward. He also liked a 2014 post in which Buehler called the New York City Police Department racist following the death of Eric Garner.
Watkins's campaign did not immediately respond to Newsweek's request for comment.
However, Waktins's campaign spokesman Bryan Piligra told McClatchy that the candidate "has the utmost respect for law enforcement." Piligra added that as a former Army captain, Watkins was "the only candidate in this race who will preserve law and order in Congress."
Watkins was "no longer supportive" of Buehler's views as they had become "more radical over the years," Piligra added.
Trump, an avid champion of police, traveled to Topeka, Kansas, to stump for Watkins in early October.
Two days after his campaign stop in Kansas, the president told a group of police chiefs in Florida that "politicians who spread this dangerous anti-police sentiment make life easier for criminals and more dangerous for law-abiding citizens, and they also make it more dangerous for police, and it must stop, and it must stop now."
Watkins's opponent, Democrat Paul Davis, has received the endorsement of the Kansas State Lodge of the Fraternal Order of Police.
In a statement to McClatchy, the organization's attorney Sean McCauley said Watkins's support of the anti-police posts showed "he is no friend of law enforcement." McCauley said, "These anti-police websites have had a deep and abiding impact on law enforcement throughout the United States. They have driven officers from the profession and greatly discouraged others from entering it."
In two polls in September, Davis held a slight lead over Watkins as they aim to replace retiring Republican Rep. Lynn Jenkins.