GOP House Candidate Whose Social Media Posts Mirror QAnon Conspiracies Denies Knowing About Group
A Republican candidate running for Congress in Georgia said during a recent interview that she doesn't "know anything about QAnon" despite several of her social media posts appearing to mirror conspiracy theories promoted by the radical group.
Angela Stanton-King is running to fill a traditionally Democratic congressional seat in Atlanta that civil rights leader John Lewis held until his death earlier this year. During her recent interview with The Guardian, Stanton-King denied that she is a spokesperson for President Donald Trump, whose policies she said she supports, and also denied having connections with QAnon.
"I'm not a spokesperson for Donald Trump," Stanton-King told the paper. "I don't know why this reporter keeps asking me about Donald Trump. I'm trying to run my own campaign. I'm not his spokesperson. I'm not paid by his campaign to speak for him, and I don't have all the answers for him. But I do support his policies."
Trump pardoned Stanton-King in February, about two months before she announced her congressional campaign, for her 2004 conviction on federal charges in connection to a car theft ring. Stanton-King, who has spoken at Black Voices for Trump campaign events in recent months, also posted comments on social media that echoed theories and phrases favored and supported by QAnon.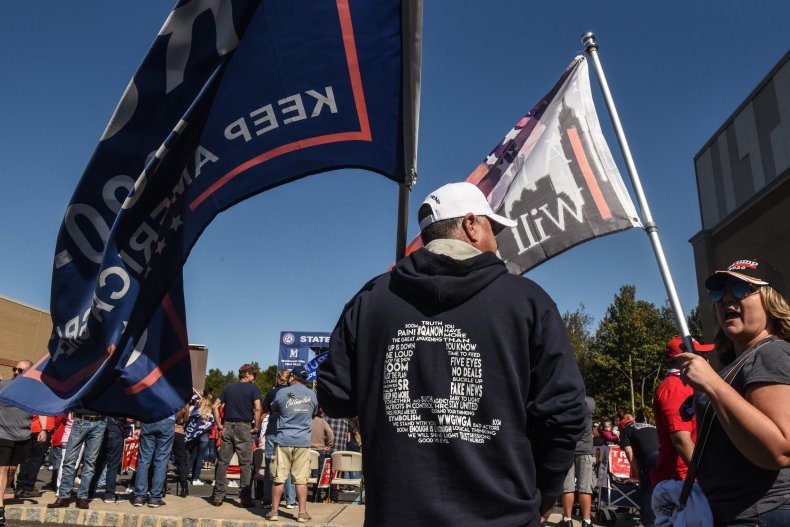 In one tweet posted on July 16, Stanton-King made a reference to a "cover up for pedophilia and human trafficking." When Guardian's U.S. Southern Bureau Chief Oliver Laughland asked if the tweet had any tie to QAnon conspiracy theories, Stanton-King said, "That has nothing to do with QAnon." Laughland pressed Stanton-King on explaining the tweet's meaning and she said it meant "exactly what I said."
The Guardian reporter pointed to another tweet posted a few days earlier that appeared to reference a debunked child trafficking conspiracy theory involving Wayfair that has also been tied to QAnon. "Did [Ghislaine] Maxwell tip authorities off about #Wayfair," Stanton-King's tweet said. She told Laughland the tweet meant "exactly what I said," a response she repeated for Laughland when he cited several other tweets Stanton-King had published to her account.
Stanton-King then tried to end the interview, but Laughland asked if she believed the Wayfair conspiracy theory was true as Stanton-King was walking away. "You know they are. You saw it. You watched the news just like I did," she said.
For his final question, Laughland asked Stanton-King about another tweet she posted on August 6 that said "THE STORM IS HERE" and was accompanied by an American flag emoji. The tweet received media coverage at the time due to how closely it resembled a phrase commonly used among QAnon believers that Trump will be the one to save the country from "the storm."
"It was raining that day," Stanton-King said when Laughland asked what the tweet meant. He repeated her answer, and she responded, "Yeah."
Stanton-King added a final comment about QAnon when asked if she was opposed to answering questions about the group. "I don't know anything about QAnon," she said. "You know more than I know. None of my tweets say anything about QAnon, so you're making accusations."
After the interview published on Thursday, Stanton-King tweeted a link to a clip from Trump's town hall event on Thursday night, during which he too said, "I know nothing about QAnon." On Friday, Stanton-King posted a tweet that said she was "with" Trump and reiterated her earlier statement that she knows nothing about the group.
"They're going to try hard and push me as a Q candidate because they know I'm not afraid to speak out against the abuse of children," Stanton-King's tweet said. "I'm with @realDonaldTrump IDK anything about Q anon [sic]. But what I do know is they speak out against pedohilia [sic] and I agree w/ that."
In a statement shared with Newsweek, Stanton-King reiterated that she is "not a Q candidate."
"I am not a Q candidate but it's crazy to see how advocating for the safety of children makes me such a target," Stanton-King's statement said. "As a former victim of childhood sexual abuse, my position is unwavering when it comes to speaking out against the hypersexualization of our children. I wonder if the people accusing me were ever victims themselves or have family members that may have gone through similar experiences. I know firsthand how that experience shaped so many of my childhood experiences that lead to self destructive behavior as a young adult. Thankfully I've overcome that past and been given an opportunity for a new life—and my purpose in running for office is to give that same opportunity to others. I will not compromise on anything related to protecting children."
Updated 10/16 at 6:26 p.m. ET: This article has been updated to include a response from Angela Stanton-King.