GOP House Leader Kevin McCarthy Says He Supports Trump's Move to Commute Roger Stone's Sentence
House Minority Leader Kevin McCarthy expressed his support of President Donald Trump's decision to commute the sentence of Trump's friend and former adviser Roger Stone, who was convicted by a jury of lying to a congressional committee and obstructing a proceeding.
The Republican congressman from California told CNN correspondent Manu Raju "I support" Trump's move to grant Stone clemency, according to a post Friday on Raju's Twitter account.
McCarthy's apparent statement to reporters seems to be at odds with Stone's repeated assertion that the GOP leader had privately advocated against Trump's decision to keep Stone out of prison.
Stone accused McCarthy and New York Congresswoman Elise Stefanik of advising the president to avoid commuting Stone before November's election, worrying it could hurt the Republican Party politically.
"I know that Kevin McCarthy and Elise Stefanik were lobbying the president against any act of clemency," Stone said during an appearance Wednesday on Fox Across America. "They, I guess, wanted me to die in a fetid, squalid hellhole in Georgia of coronavirus."
Politico reported that McCarthy and Stefanik had warned Trump during a ride on Air Force One in late May that the president should wait to commute Stone's sentence until after the election.
Newsweek contacted McCarthy's office for comment but did not hear back in time for publication.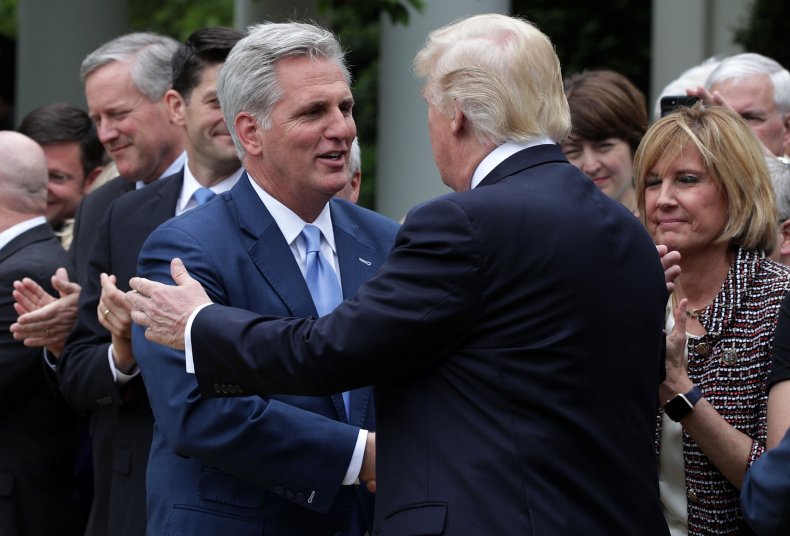 Few Republican lawmakers have spoken publicly on Trump's controversial decision to end his friend's prison sentence before it even began.
GOP Senator Mitt Romney of Utah called the move "unprecedented, historic corruption" in a tweet Saturday.
Pennsylvania Senator Pat Toomey, also a Republican, thought that "commuting Roger Stone's sentence is a mistake," according to a statement released Saturday.
Trump had announced his decision July 10 to commute Stone's 40-month prison sentence.
Stone was meant to report to a federal prison in Georgia by July 14 after being sentenced by a federal judge last fall to all seven counts he faced.
A jury convicted Stone of five counts of lying to Congress, one count of witness tampering, and one count of obstructing a congressional committee proceeding into Russian involvement in the 2016 election.
"Roger Stone is a victim of the Russia Hoax that the Left and its allies in the media perpetuated for years in an attempt to undermine the Trump Presidency. There was never any collusion between the Trump Campaign, or the Trump Administration, with Russia. Such collusion was never anything other than a fantasy of partisans unable to accept the result of the 2016 election," the White House had said in a statement about Trump's decision to commute Stone's sentence.
Trump and Stone have remained friends for decades after first being introduced in the 1970s.