Roy Moore Sex Abuse Scandal: GOP Accused of Hypocrisy for Defending Republican Senate Contender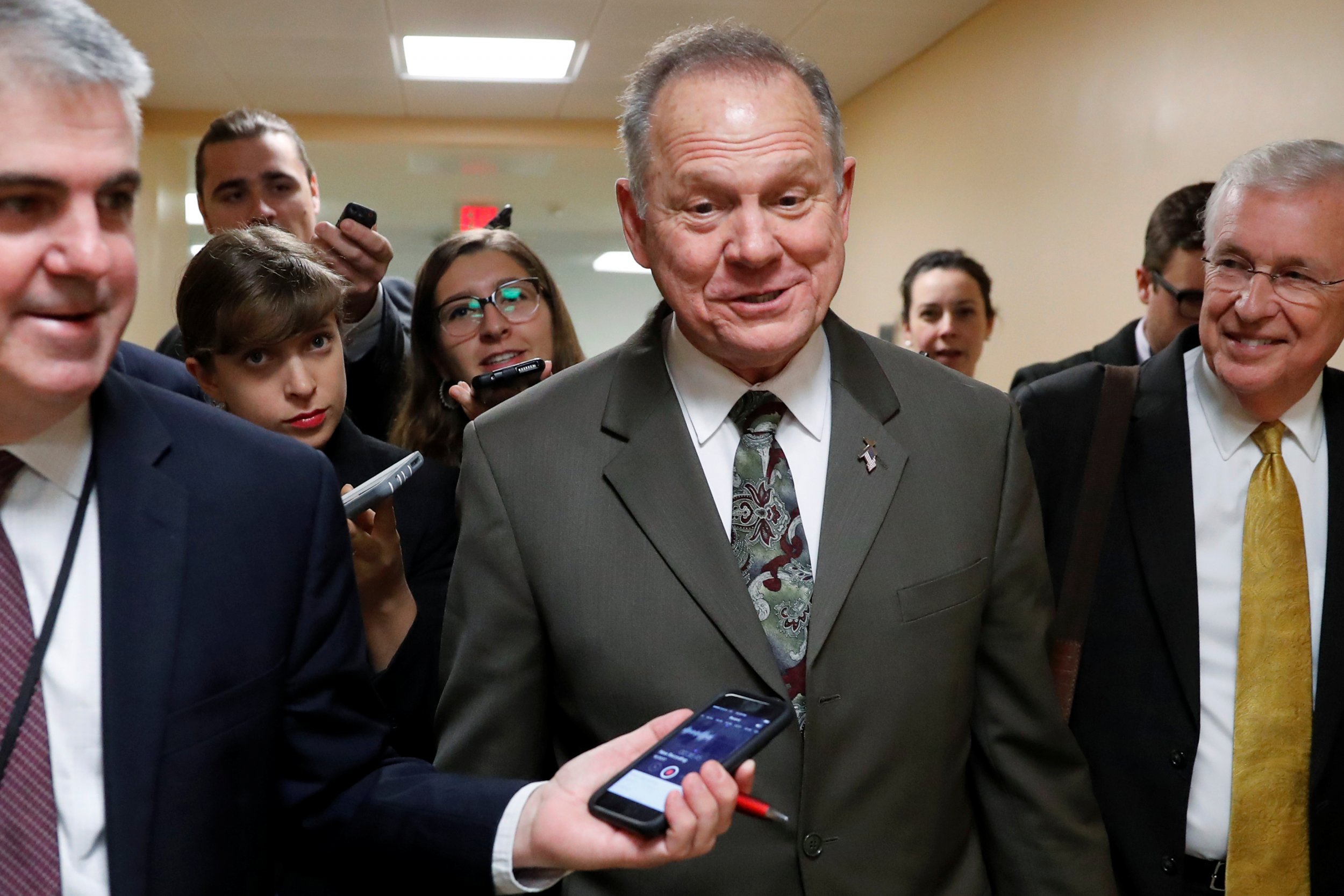 Updated | Republicans are being called hypocrites for defending Judge Roy Moore who is running for Senate in Alabama after one woman accused him of initiating a sexual encounter when Moore was 32 and she was 14. Multiple other women have accused Moore of pursuing them when they were young.
The accusations made by Leigh Corfman were published in The Washington Post Thursday. Corfman alleges that Moore asked for her phone number as she sat outside her mother's child custody hearing in 1979. She claims two subsequent encounters happened: one in which Moore kissed her after driving her to his home in the woods, and another where he undressed himself and her and touched her over her bra and guided her hand to his underwear.
Speaking about the allegations, Alabama Marion County GOP chair David Hall told Toronto Star reporter Daniel Dale: "Well, she [Corfman] said he may have tried to. But we're talking something that somebody said happened, 40 years ago. It wouldn't affect whether or not I'd vote for him." Hall is one of several Republicans and members of the hard-right defending Moore.
"I would vote for Judge Moore because I wouldn't want to vote for Doug," Hall said, referring to Moore's Democratic opponent Doug Jones. "I'm not saying I support what he did."
Get your unlimited Newsweek trial >
Moore and Jones are competing for the Alabama Senate seat vacated by Attorney General Jeff Sessions when he joined the Trump administration.
Three other women came forward in The Washington Post article to allege that Moore, the former chief justice of the Supreme Court of Alabama, pursued them when he was an assistant district attorney in his early 30s and they were 16, 17, and 18 years old.
Read more: Breitbart defends Roy Moore against child sex assault charges
Moore called the accusations "a political attack" by Democrats. Fox News host Sean Hannity said on his radio show that the allegations against Moore could be "false."
Get your unlimited Newsweek trial >
"You know, it is funny too, because Democrats never called on Bill Clinton to step down after he was—you know, after all the stuff that happened with him. Never, not one time. So, there's politics in all of this. Then you have false allegations that are made, and you know—how do you determine? It's 'He said, she [said],'" Hannity charged. Hannity later said he "misspoke" when he called the encounters "consensual."
Hannity subsequently issued a statement on his television show Hannity that if the allegations against Moore are true, "he should step aside and leave the Senate race."
The hard-right website Breitbart also defended Moore.
Other Republican state officials used the Bible to defend Moore. "Take Joseph and Mary. Mary was a teenager and Joseph was an adult carpenter. They became parents of Jesus," said Alabama state auditor Jim Ziegler told the Washington Examiner Thursday.
"Zechariah was extremely old to marry Elizabeth and they became the parents of John the Baptist," Zeigler said. "There's just nothing immoral or illegal here. Maybe just a little bit unusual."
"Let's not forget, these are the exact same people that routinely accuse Mohammed of being a paedophile," German counter terrorism expert Peter R. Neumann tweeted in response to Zeigler's comments.
President Donald Trump said Moore should step aside if the allegations are true. Senior Senate Republicans also spoke out against Moore. Senate Republican Majority Leader Mitch McConnell of Kentucky said the same. Arizona's Senator John McCain and Colorado's Cory Gardner, chairman of the National Republican Senatorial Committee, also spoke out.
Those defending Moore were accused of taking a hypocritical stance. "Funny how the party which worried so much about their daughters' safety in the bathrooms is now going on the record to defend pedophila," wrote entrepreneur William LeGate on Twitter, referring to bathroom bills proposed by Republicans to prevent transgender people who from using the washroom of the gender they identify as.
"I never thought I'd see the day when pedophilia became a divisive issue within the GOP," wrote Evan McMullin, a former CIA officer and independent presidential candidate in 2016. "The party cannot lead in this condition."
This story has been updated to reflect that Hannity suggested on his radio show that the allegations against Moore could be false, not that they are false, and to add a statement Hannity made later.
Roy Moore Sex Abuse Scandal: GOP Accused of Hypocrisy for Defending Republican Senate Contender | U.S.