GOP Infighting in Georgia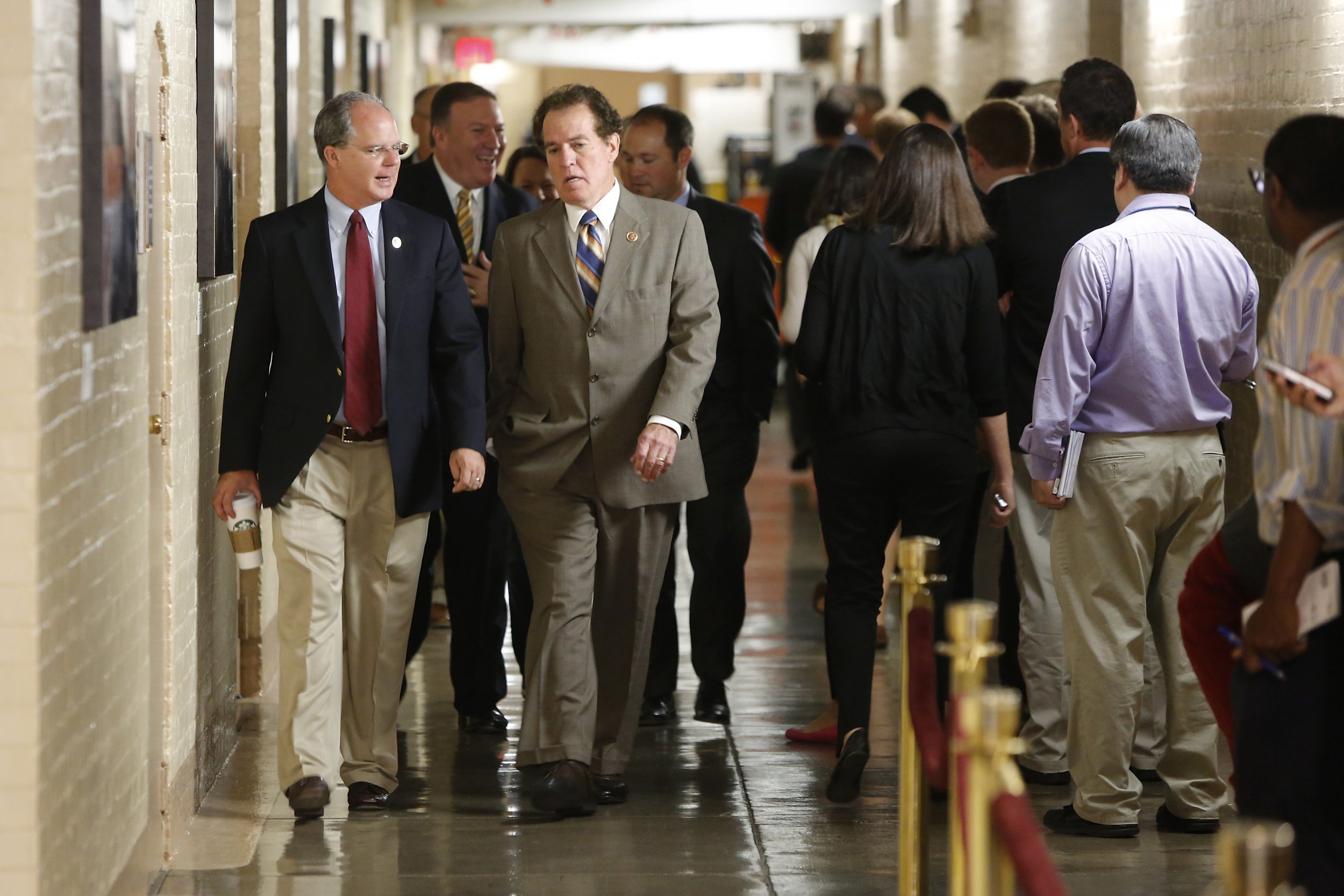 Georgia Republicans vote on Tuesday to pick their party's nominee for a race that could determine who controls the Senate next January. With five candidates polling between 10 and 25 percent, the primary is expected to go to a runoff, and Democrats are hoping that it turns into a destructive internal battle that will help them win in November."
There's the Mitt Romney-esque businessman (David Perdue), the establishment congressman (U.S. Representative Jack Kingston), the Sarah Palin-endorsed candidate (Karen Handel), the doctor who said Todd "legitimate rape" Akin was "partly right" (U.S. Representative Phil Gingrey) and the Tea Party firebrand (U.S. Representative Paul Broun).
This is also the order in which they are polling right now. The Real Clear Politics polling average has Perdue at 25.5 percent, followed by Kingston at 17.5 percent and Handel at 15.5 percent. The two candidates most closely aligned with the Tea Party—Gingrey and Broun—have 11.5 percent and 10 percent, respectively. But in Georgia, if you don't get 50 percent of the vote, the top two must battle for the nomination in a marathon nine-week runoff culminating on July 22.
In other words, this race is just getting started.
Georgia may be a red, Southern state, but it also represents one of two opportunities for Democrats to pick up a Senate seat in November (the other being Kentucky). Democrats have coalesced around Michelle Nunn, the daughter of former Georgia senator Sam Nunn. A first-time candidate and CEO of the volunteer organization Points of Light Foundation, Nunn has come out of the gate strong and demonstrated an ability to raise significant amounts of money. But her fate may be largely decided by the Republican primary.
On the Republican side, the race has become a fascinating test case of larger political trends playing out across the country: Tea Party versus the GOP establishment, insiders versus outsiders. The runoff is expected to center around one of these two themes.
Perdue is the cousin of former Georgia GOP governor Sonny Perdue, but he is running as the consummate outsider. "If we want different results in Washington, we have to send a different type of person," he said in his first TV ad. The ad was appropriately named "Outsider."
A multimillionaire and former CEO of Reebok and Dollar General, David Perdue tapped his own fortune to get on TV early with an attention-grabbing ad depicting his opponents as crying babies. That strategy has paid off. He now leads in the polls and is almost certain to make the runoff.
"David Perdue was the first candidate to go and spend money on television," said Chip Lake, a Republican consultant in Georgia who worked on the Gingrey campaign last year but has since left. "By doing that, I think David Perdue built his name identification up pretty high and built [up] his favorables."
Next up in the polls is Kingston, an 11-term congressman with the backing of the U.S. Chamber of Commerce and Fox News host Sean Hannity. Having served more than 20 years in Washington, including a stint in the House leadership, Kingston can't exactly run as an outsider or anti-establishment. His primary competitors have been attacking him for his long career in Washington (Perdue recently asked Kingston, "If you really believe in term limits, why are you still here?"), and one outside super PAC is spending half a million dollars on ads labeling him a "career politician." So Kingston has decided to play up his record.
"Only one candidate cut over $3 billion from Obama's budget," says the narrator in a Kingston TV ad, putting a positive spin on a potential liability: Being a senior member of the House Appropriations Committee. "Only one thought to make President Obama live under Obamacare himself."
Closely trailing Kingston is former Georgia secretary of state Karen Handel, who is also running as an outsider and is more closely aligned with the Tea Party than Perdue or Kingston. In addition to Palin's blessing, she has the support of ultra-conservative blogger Erick Erickson. Handel and Kingston are battling to be the second candidate to make the runoff.
Handel made national headlines in early 2012 when, as an official at Susan G. Komen for the Cure, the nation's largest anti-breast cancer group, she engineered the cutting of grants to Planned Parenthood. The decision created a national firestorm, and Handel, who had joined the Komen foundation after an unsuccessful run for governor in 2010, resigned. But the episode may have actually made her more popular in some Republican circles.
"That has allowed her an entrée into an audience that she might not have had four years ago" when she ran for governor, Lake said. "But this time she has a decent amount of support from what I guess you would call anti-establishment Republicans, Tea Party Republicans."
Handel has raised far less money than Perdue or Kingston, but she seems to have late-breaking momentum in the race. A Perdue-Kingston runoff would likely leave the Tea Party with no preferred candidate in the race, but a Perdue-Handel contest would be "a very defined runoff between establishment insider and Tea Party outsider," as Lake puts it.
Perdue-Handel back-and-forth has already become fodder for campaign ads—and perhaps the most famous moment of the campaign, aside from Perdue's crying baby ads. It all started when Perdue attacked Handel's education.
"I mean, there's a high school graduate in this race, OK?" Perdue said at a January event that was caught on camera. "I'm sorry, but these issues are so much broader, so complex. There's only one candidate in this race that's ever lived outside the United States. How can you bring value to a debate about the economy unless you have any understanding about the free enterprise system and how—what it takes to compete in the global economy?"
The comments were roundly criticized, and Perdue, after his campaign defended the comments, ultimately apologized to Handel, who left an abusive home at 17 and never finished college. But the apology didn't stave off a Handel radio ad that replays Perdue's comments.
"I'm Karen Handel. When I heard David's comments, I thought, 'Bless his heart, he's been overseas too long and lost touch with our values,'" Handel says in the ad. "I approve this message because we need less elitism in Washington and more Georgia common sense."
"Karen Handel is a street fighter," Lake said, predicting she would be a serious contender if she makes the runoff. "She is a survivor. She has nothing to lose."
Whoever the eventual nominee is, Georgia Republicans are confident that their side will win in November, largely because Georgia remains a red state despite demographic changes that are expected to make it more competitive in future election cycles.
Democrats hope the runoff will cripple the eventual nominee by draining the candidate's resources, pulling the person to the far right to please the GOP base, and having him or her emerge a severely damaged candidate. In that case, Nunn might be able to pick off enough independent voters and even white Republican women to stage an upset.
But Democrats admit that they can't rely on Republicans imploding and that running a strong Democratic candidate isn't enough to win. As Obama's campaigns did in 2008 and 2012, Democrats need to expand the electorate rather than just trying to win with the voters they have now. That means registering the many young people moving to the Atlanta area, as well as the growing Hispanic population.
"I am aware of a few efforts to begin the process of registering the unregistered voters in Georgia," said Democratic consultant Tharon Johnson, adding that 300,000 new voters is a goal that Democrats should reach for. "Expanding the electorate by registering these unregistered voters gives Democrats the best chance of winning in Georgia."