GOP Lawmaker Asks Trump to Pardon Ex-Congressman, Calls DOJ 'Corrupt and Inept'
Arizona lawmaker Paul Gosar called on President Donald Trump to include former Rep. Rick Renzi in his latest string of presidential pardons, calling the Department of Justice "corrupt and inept" after prosecuting Renzi for racketeering, money laundering and other federal offenses in 2013.
The request follows Trump pardoning several key political figures and fixers ahead of his term ending on January 20, despite his continuing efforts to overturn the election. Included in the list of more than 40 pardons issued this week is Trump's former campaign chairman Paul Manafort, longtime adviser Roger Stone, and Charles Kushner, the father of his son-in-law.
Gosar, a Republican representing his state's 4th district, tweeted Thursday: "More pardons are needed. I've expressed my support to @realDonaldTrump to pardon Rick Renzi, convicted by corrupt DOJ prosecutors who fabricated evidence, as well as anyone indicted with @WeBuildtheWall—a clear political persecution."
Earlier this year, federal prosecutors indicted We Build the Wall founder Brian Kolfage, former Trump adviser Steve Bannon and two others on fraud and money-laundering charges for their role in defrauding donors to the online crowdfunding campaign for personal gain.
"Our DOJ is corrupt and inept," added Gosar, an avid supporter of the president and his efforts to overturn the election.
Renzi, a Republican, served as a representative for Arizona's 1st district, the same House seat that Gosar was initially elected into in 2010. Renzi held his seat from early 2003 until 2009, deciding to not pursue a fourth term while facing a federal indictment for using his position in Congress to promote a land swap that brought in millions of dollars to him and a business partner, James Sandlin, according to the Justice Department.
In 2013, Renzi was convicted by a federal jury in Tuscon, Arizona, on 17 of 32 counts, including wire fraud, conspiracy, extortion, racketeering and money laundering. He was also convicted of misappropriating insurance premiums paid to his company in order to fund his 2002 campaign.
Renzi was sentenced to three years in federal prison in late 2013 and was released in 2017. Renzi's convictions were upheld in court after multiple attempts to appeal. He has since been requesting a pardon from Trump.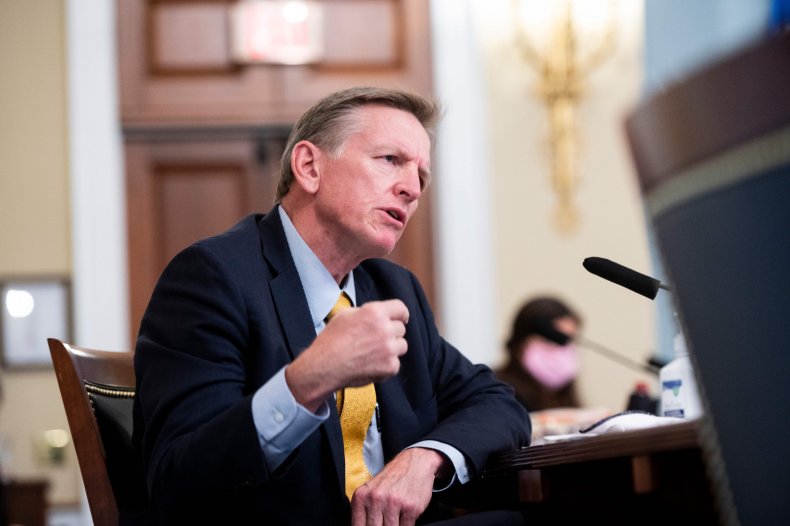 "I am grateful to Congressman Gosar for his continued support and especially for the courage President Trump has shown in exposing the criminal actors within the Department of Justice," Renzi told The Arizona Republic on Thursday. "Should the President choose to act on my behalf I would be forever thankful and would work hard to continue his legacy of revealing the corrupt, self-worshipping untouchables hidden within the dark corners of the DOJ."
Last year, Renzi founded a nonprofit called Abuse of Power that says it's dedicated to uncovering government abuse of power and corruption. The organization released a nearly eight-minute documentary featuring Trump attorney Sidney Powell, a significant figure in Trump's fight to dispute his election loss. The video alleged that Renzi was a victim and that the investigation into the land swap was politically motivated.
"I never misused my public office, it's a fabricated lie what they did to me," Renzi said in the video.
The organization also sent a letter to the DOJ alleging that investigators illegally wiretapped Renzi's conversations with his lawyers, provided improper media leaks, concealed evidence and introduced false testimony.
Newsweek reached out to Gosar for comment but did not receive a response in time for publication.