GOP Lawmaker Barred From 1/6 Committee Blasts Pelosi: 'She's Only Interested in a Narrative'
Indiana Republican Representative Jim Banks on Sunday blasted House Speaker Nancy Pelosi for barring him from the committee that will investigate January 6 attacks on the U.S. Capitol, arguing that the Democratic leader is "is not interested in an investigation, she's only interested in a narrative."
On Wednesday, Pelosi rejected Banks and Ohio Representative Jim Jordan as members of the committee. Both legislators are allies of former President Donald Trump, and the House speaker said she was concerned that they would "jeopardize the integrity of the investigation."
Speaking to Fox News on Sunday, Banks said "it's clear that Pelosi only wants members on this committee who will stick to her talking points and stick to her narrative. She claimed that the reason that she booted me from the committee was because of antics on the part of Jim Jordan and I."
"In hindsight," he added, "what I realize what she means by that now is that we were prepared to ask questions that no one else has asked, and demand answers as to why the Capitol was vulnerable to an attack on January 6."
Banks said the Capitol Police officers lacked proper training and equipment to address the attack in January.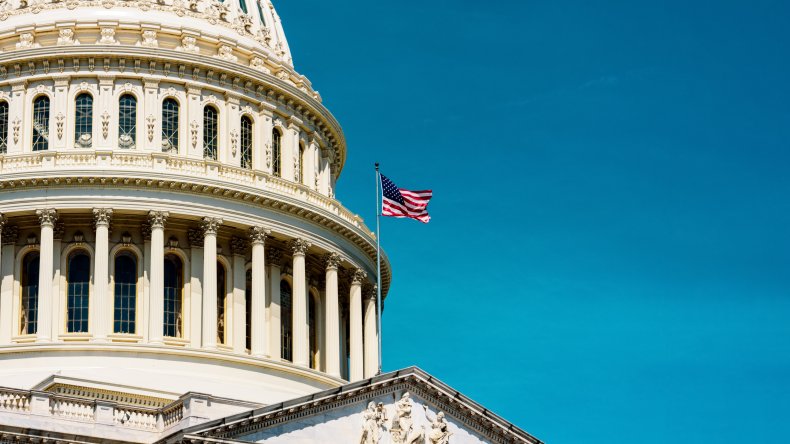 The Republican lawmaker argued that as House speaker Pelosi "has more control and authority and responsibility over the leadership of the Capitol Police than anyone else in the United States Capitol."
"She doesn't want us to ask these questions because at the end of the day, she is ultimately responsible for the breakdown of security at the Capitol that happened on January 6," Banks said.
While Republicans have claimed that Pelosi was in charge of security at the Capitol, fact checkers have shown this isn't true. While Congress approves the Capitol Police budget, the House speaker does not oversee officers' daily operations, the Associated Press reported in January.
Pelosi's office did not immediately respond to a request from Newsweek for comment on this story.
After Pelosi rejected Banks and Jordan, House Minority Leader Kevin McCarthy pulled his other appointees from the panel.
On Sunday Pelosi added GOP lawmaker Adam Kinzinger of Illinois to the committee. He and Liz Cheney of Wyoming, both strong critics of Trump, are at this point the committee's only Republicans.
McCarthy issued a response later on Sunday echoing Banks' comments, saying, "Speaker Pelosi's rejection of the Republican nominees to serve on the committee and self-appointment of members who share her pre-conceived narrative will not yield a serious investigation."