Republican Lawmaker Calls Freshman Democrat Ilhan Omar 'Anti-Semitic' and 'Anti-Israel,' Suggests She Supports Terrorists
Republican Representative Lee Zeldin slammed freshman congresswoman Ilhan Omar after she was appointed to the Foreign Relations subcommittee, calling the Democrat "anti-semitic" and "anti-Israel."
Earlier this week, Zeldin tweeted that he had "just learned Freshman Rep. Ilhan Omar was also put on this committee w oversight of US foreign policy. Crazy to watch what House Dems are empowering/elevating."
The tweet was met with criticism and Omar responded with a Twitter post of her own, writing: "Don't mind him, he is just waking up to the reality of having Muslim women as colleagues who know how to stand up to bullies! It's gonna be fun watching him lose his marbles."
Zeldin, one of two Jewish Republicans in Congress, responded to Omar's tweet with a new post in which he suggested that she supported terrorist organizations like ISIS.
"Those poor innocent ISIS fights & Palestinian terrorists right? Give me a break! That's a problem no matter your religion or gender Ilhan. Your anti-Semitic & anti-Israel hate is strong & wrong & those terrorists have US blood on their hands as well."
When calling Omar "anti-Semitic," Zeldin is likely referring to a 2012 tweet in which she wrote that "Israel has hypnotized the world, may Allah awaken the people and help them see the evil doings of Israel."
Ilhan has since apologized for the tweet, stating that she "unknowingly" used an anti-Semitic trope. The head of the Anti-Defamation League, Jonathan Greenblatt, later celebrated Omar's "honest apology" and "commitment to a more just world."
Omar made history during the 2018 midterms by becoming the first Somali-American elected to Congress. Since arriving on Capitol Hill in January, Omar has made headlines when she became the first woman to wear a hijab in the House of Representatives.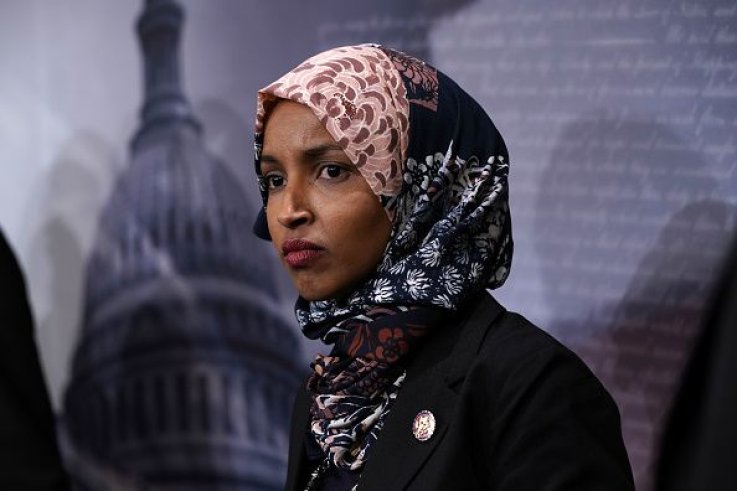 Omar has come under fire this week, after comparing Israel to Iran and saying she "almost laughs" when the Jewish state is described as democracy. The comment came during an interview with Yahoo News, in which she said the best way the U.S. can facilitate peace between Israelis and Palestinians would be to a have an "equal approach" in dealing with both nations.
"Most of the things that have been aggravating to me is that we have had a policy that makes one superior to the other. And we mask it with a conversation about justice and a two-state solution. When you have policies that clearly prioritize one over the other," she said.
Democratic leadership has rallied around Omar and another freshman congresswoman accused of being anti-Semitic, Rashida Tlaib. Both are the first Muslim women to serve in Congress and have been criticized for comments against Israel.
House Majority Leader Steny Hoyer said that he clearly condemns anti-Semitism but does not "draw the conclusion that those attacking these two members are correct they are anti-Semitic."
Republican Lawmaker Calls Freshman Democrat Ilhan Omar 'Anti-Semitic' and 'Anti-Israel,' Suggests She Supports Terrorists | U.S.