GOP Lawmaker Likens Sex Education to Porn, Blames Lack of Independent Legislative Maps
Illinois state Republican Rep. Andrew Chesney on Friday compared sex education to porn during a floor debate on a redistricting bill.
Earlier on Friday, the Illinois House passed a controversial bill that would allow age appropriate sex education to be taught to children from kindergarten to the 12th grade from 2023. While Democrats argued that such education would arm children with information to practice safe sex, Republicans vehemently opposed the legislation.
Chesney blamed the passage of the bill on the lack of an independent map amid the battle between Democrats and Republicans over new voter boundaries.
"Sex education today just passed with 60 votes. It's like a mini HBO porno. How does that happen? It's because you don't have independent maps. You need a little balance," he said. "They're wondering: how the hell do we get tampons in male bathrooms? How does that happen? That's because you don't have an independent map."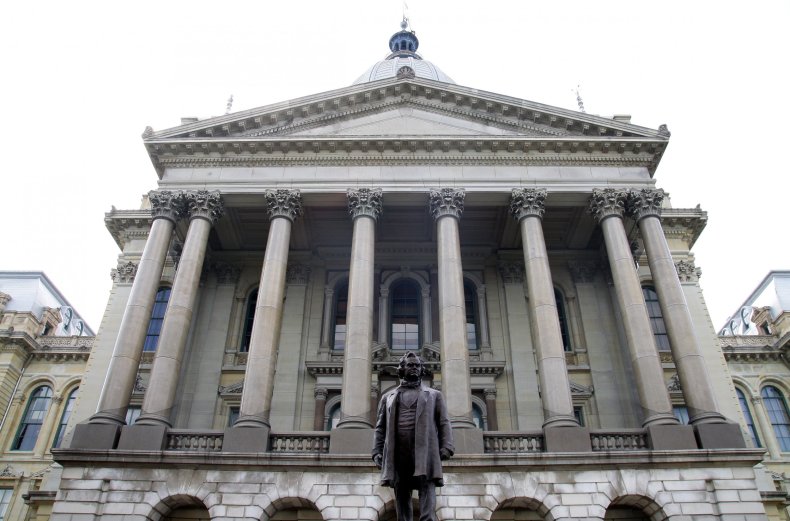 Chesney added: "Voting booths in county jails. How does that happen? How does that happen? You need to have an independent map, you need to have a fair map. This is what happens when you let politicians pick their voters. They get to vote in county jail. How about for illegal immigrants, the right to vote for their college trustees? That's legal in Illinois as well."
After the floor debate, the state's Democratic-led legislature voted along party lines to approve new boundaries in what Republicans say is an effort to retain control in future elections. The measure now moves to Governor J.B. Prizker's desk, who recently walked back his campaign pledge to oppose a partisan redistricting map.
Several state Republican lawmakers denounced the move and urged Prizker, a Democrat, to uphold his campaign promise.
"Illinois Democrat legislators conducted an embarrassing and nontransparent process to create the exact type of map Governor JB Pritzker pledged to veto," said Illinois GOP Chairman Don Tracy. "The Governor now has a choice. He can either keep his word to veto a partisan map drawn by politicians or turn his back on the people of Illinois. Pritzker can do the right thing or outright break his promise."
State Senator Jason Barickman accused Democrats of pushing ahead "with what they intended to do all along."
"They feigned interest in public input and a fair process, went behind closed doors and came up with maps that were drawn solely to protect the power of their own election politicians," he added. "If Governor Prizker wants to put the stamp of authenticity on his claims to be a reformer, then he has to follow through on the promise he made to voters to veto this politician-drawn map."
Newsweek reached out to Governor J.B. Prizker's office for comment. This story will be updated with any response.