GOP Lawmaker May Support Censuring All 147 Republicans Who Voted to Overturn Biden's Win
A freshman Republican congresswoman said that she may support efforts to censure all 147 of her GOP colleagues who voted in favor of objections to President-elect Joe Biden's election win hours after an angry mob of President Donald Trump's supporters stormed the U.S. Capitol.
Rep. Nancy Mace of South Carolina, who was sworn in alongside other House members on January 3, made the remarks during in interview with CNN's Christiane Amanpour on Monday. Mace insisted that she would be "looking at all of the options that are on the table" for punishing a large number of her GOP colleagues who supported efforts to overturn the will of voters, including censuring them.
"We had a constitutional crisis on Wednesday," Mace said. "I am barely a week into the job and I am looking at all of the options that are on the table. Censure should be on the table. We have to hold ourselves accountable, we have to hold ourselves to a higher standard. I am extremely disappointed with some members in my own party over their behavior and over their words."
"There has to be a reconciliation and reckoning within our own party," she added. "If we don't hold ourselves accountable, especially for those who are at fault for starting this or enabling this to happen, then we might never earn the trust of the American people back."
Mace expressed a desire to be "part of the solution and not part of the problem" of partisan division. Although she may support censuring Congress and has suggested censuring the president himself, she has also spoken against a second Trump impeachment over concerns that it could spark further division. The House is planning to vote on impeaching Trump later this week for allegedly inciting the riot.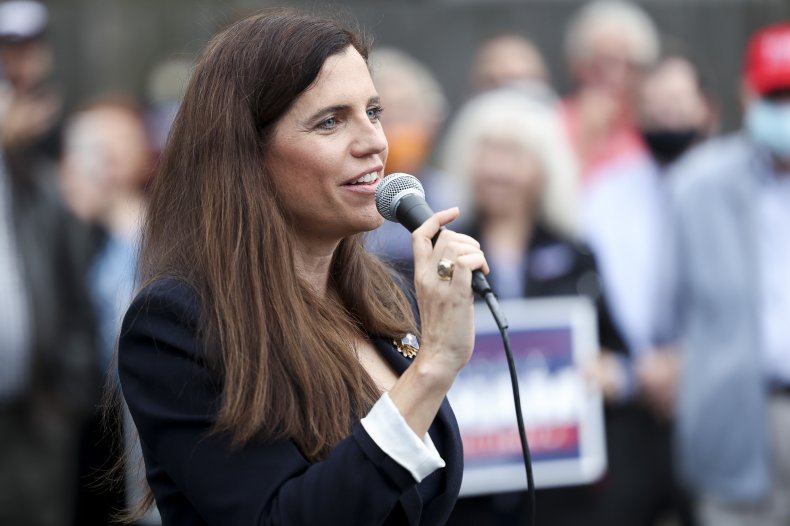 The congresswoman said that Americans who believed Trump's claims of massive voter fraud had "followed these lies because they feel like their voices aren't heard," adding "that's why the president was so successful in fleecing them" with his "lies and dishonesty to the American people."
Even after the rioters breached the building, Trump continued to claim without evidence that the election had been "stolen" on Twitter, contributing to the platform suspending and later banning his account permanently.
Mace lamented that "every accomplishment" Republicans had had over the past four years had been "wiped out" by the pro-Trump insurrection, saying that the party will "have to start over from scratch" as a result.
On a personal note, Mace described sheltering in her office alongside staff when the rioters breached the building as one of the most "harrowing" experiences of her life. Five people died as a result of the riot, with many more injured. Members of Congress narrowly avoided direct confrontations with the mob.
"I risked my life for a vote on Wednesday that should have been ceremonial," said Mace. "I was a sitting duck, my staff was a sitting duck as we were on lockdown in our offices. Our offices were locked. Shades were drawn, lights were out and we were quiet. All we know and all we heard were sirens across all of D.C. We knew there were pipe bombs out there, we knew there was a cooler full of Molotov cocktails. It was one of the most harrowing and scariest experiences."
Mace is not alone in calling for accountability for those who persisted in pushing discredited claims about election fraud even after the riot, although Democrats have suggested significantly more forceful measures.
Rep. Cori Bush (D-Mo.), also a freshman member of the House, introduced a resolution that would expel every member of Congress who attempted to overturn election results due to a provision of the 14th Amendment of the Constitution, which bars those who have "engaged in insurrection or rebellion" from serving.