GOP Lawmaker Appropriates 'My Body, My Choice' Slogan to Reject Mask Use
A GOP lawmaker serving in the Pennsylvania House of Representatives suggested the slogan "my body, my choice" applies to wearing face masks as he criticized measures enforcing people to wear them due to the COVID-19 pandemic.
Daryl Metcalfe, who represents Butler County, made his comments following measures enforcing all those entering businesses within the state to wear a mask unless they have medical reasons not to do so.
Speaking at the Pennsylvania House Environmental Resources and Energy Committee meeting on Tuesday, he spoke of having served in the military, during which time he had to fulfill exercises wearing masks.
"During training exercises we were required to put on our protective masks and we were not allowed to remove them until we were told. Those who serve and those of us who served in the military gave up some of our rights to defend yours, gave up some of our freedom to protect yours," he said.
He then moved on his argument to target specifically the policy mandating the wearing of masks.
It was at this point he made his reference to people who support abortion rights, stating: "Many who are advocating that citizens be required to wear masks are from the 'my body, my choice crowd' who support abortion on demand."
He went on to express that in his view that slogan does not apply to abortion, but does apply to facemask use.
"Let me be clear that neither the governor, BMC or any level of government has the authority to force citizens to wear face masks. Wearing a mask in this committee meeting remains the choice of the individual. Your body, your choice," he said.
Newsweek has contacted Metcalfe for further comment.
In a press released on Tuesday, Pennsylvania Governor Tom Wolf said that "mask-wearing is a vital measure to help stop the spread of COVID-19."
"Mask-wearing needs to be a part of our everyday routines," he added. "When you leave the house, grab your keys, your wallet and your mask. Mask-wearing has proven to be an important deterrent to the spread of the virus and keeping Pennsylvanians safe and healthy is the goal as we reopen and continue our mitigation efforts."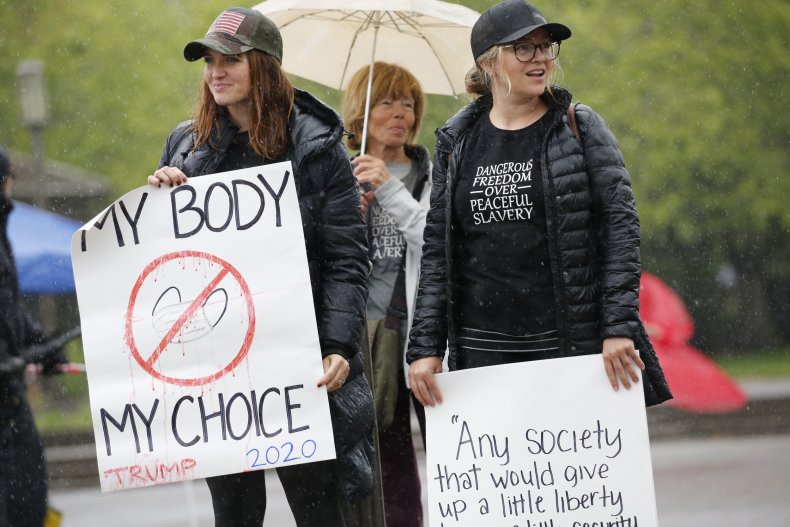 The rules on mask wearing are outlined in an order from Dr. Rachel Levine, secretary of health for the commonwealth of Pennsylvania, Gov. Wolf said.
The Centers for Disease Control advocates the use of cloth face coverings to stem the spread of COVID-19, stating they may protect those wearing them from infecting others, particularly if they are carrying the virus but are asymptomatic. They are advised to be worn in settings where social distancing is hard to maintain.
There have been more than 80,000 confirmed cases of coronavirus in Pennsylvania to date. Across the U.S., there have been more than 2.3 million cases, according to Johns Hopkins University data.
The graphic, from Statista, shows the recent spike in cases up to June 23.