GOP Lawmaker Peter Meijer Warns Against 'Politics of Deception' After Voting to Impeach Trump
Representative Peter Meijer, a Michigan Republican, warned against President Donald Trump's "politics of deception," after joining nine other GOP colleagues in the House of Representatives in voting to impeach the president last Wednesday.
The House of Representatives voted to impeach Trump a second time after he incited a violent insurrection targeting the U.S. Capitol on January 6, as Congress met to certify the Electoral College victory of President-elect Joe Biden. Although most Republicans declined to back the impeachment, 10 GOP lawmakers voted with their Democratic colleagues while many more condemned the president's actions.
Now the Republican Party appears fractured, as some lawmakers continue to push conspiracy theories that the election was stolen. Meanwhile, others—like Meijer—hope to move past Trump and his lies.
"The president's, you know, false idea that he had won in a landslide ... that was what inspired his followers to come out on January 6th, that was the message that he was propagating," Meijer, a freshman congressman, told ABC News' This Week on Sunday. "But we need to make sure that we move away from a politics of deception," he said.
"We need to make sure that we have leaders that are telling folks who trust them what they need to hear, not just what they want to hear," Meijer said.
The Michigan Republican described the events of the past few days as "absolutely gut wrenching." Meijer said that he is "calling on" his "party to restore trust—to restore the trust of the voting public."
Since November, Trump and his loyalist supporters have continued to push baseless claims of widespread voter fraud. These unfounded allegations have been thoroughly litigated, with legal challenges against the election results brought by the president and his supporters failing more than 50 times in state and federal courts. Even judges appointed by Trump and fellow Republicans have emphasized in their rulings that lawyers have not provided evidence to back the extraordinary claims.
In November, the Cybersecurity and Infrastructure Security Agency at the Department of Homeland Security asserted in a statement that "there is no evidence that any voting system deleted or lost votes, changed votes, or was in any way compromised." The government agency, which was led by a Trump appointee, described the election as the "most secure in American history."
Former U.S. Attorney General William Barr, who was widely viewed as one of Trump's most loyal and effective Cabinet members, said in early December that there was "no evidence" of voter fraud that would change the election outcome. Barr resigned a few weeks later.
Despite Trump's claims lacking any credibility, he urged his supporters to descend on Washington, D.C. for "wild" demonstrations on January 6 as Congress met to certify Biden's win. At a protest that morning, Trump told his supporters to march to the Capitol and to "fight like hell" to prevent Biden from becoming president. A riot ensued, with a mob of the president's supporters storming the legislative building as some threatened to harm or kill top lawmakers—including Vice President Mike Pence. Five people died in the violence.
The insurrection was unsuccessful, and lawmakers reconvened and certified Biden's win early in the morning of January 7. House Democrats then moved forward rapidly to push for Trump's second impeachment. Although just 10 Republicans backed the lone article of impeachment for inciting the insurrection, numerous others condemned the president while some pushed for a formal censure or said they'd be open to impeaching if more time had been given for due process.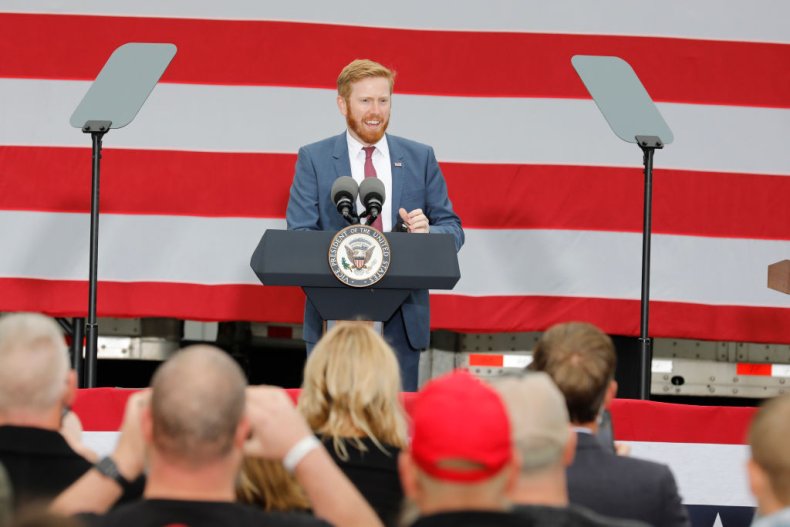 In addition to Meijer, Republican Representatives Liz Cheney of Wyoming, John Katko of New York, Adam Kinzinger of Illinois, Anthony Gonzalez of Ohio, Fred Upton of Michigan, Jaime Herrera Beutler and Dan Newhouse of Washington state, Tom Rice of South Carolina, and David Valadao of California voted to impeach Trump as well.
Cheney, the chair of the House Republican Conference, was the highest profile GOP lawmaker to back the effort—strongly condemning the president in a Tuesday statement ahead of the Wednesday vote.
"The President of the United States summoned this mob, assembled the mob, and lit the flame of this attack. Everything that followed was his doing. None of this would have happened without the President," the No. 3-ranking House Republican said.
"The President could have immediately and forcefully intervened to stop the violence. He did not. There has never been a greater betrayal by a President of the United States of his office and his oath to the Constitution," Cheney said.
Newsweek reached out to the Trump campaign and the White House for comment, but did not immediately receive a response.