GOP's Steve Scalise Slams "radical" Ocasio-Cortez Supporters for Mocking Mass Shooting he Survived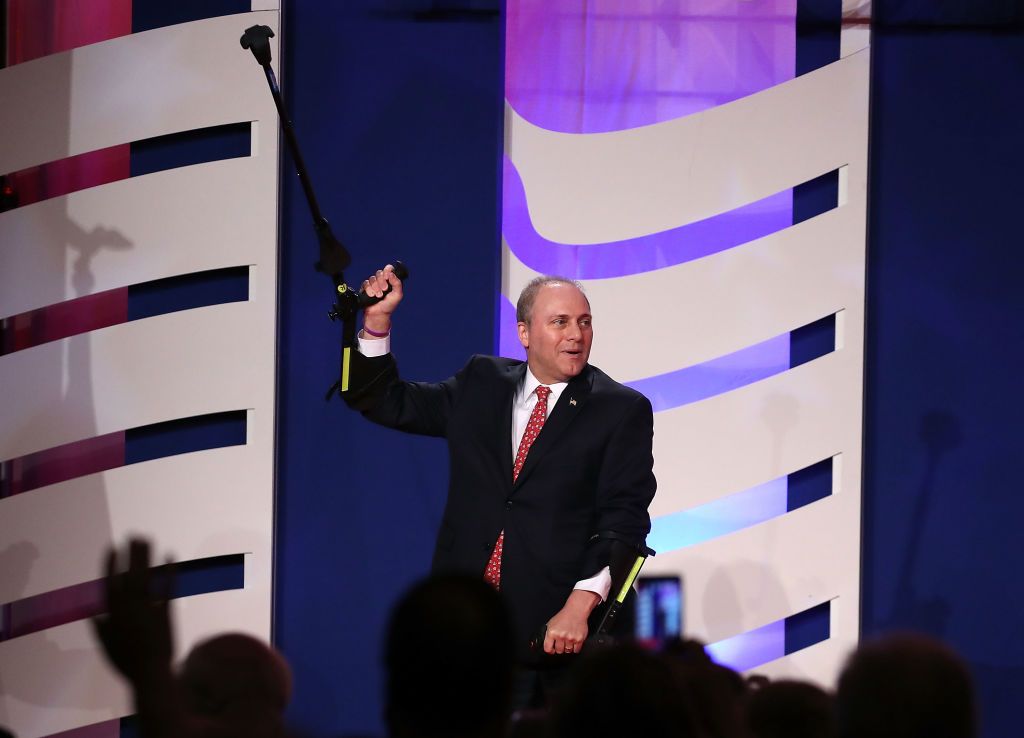 Louisiana Representative Steve Scalise (R) halted a Twitter debate with Representative Alexandria Ocasio Cortez of New York after supporters of the democratic socialist trolled him with mocking references to a 2017 mass shooting in which he was wounded.
"Hi @AOC. Happy to continue this debate on the Floor of the People's House, but it's clearly not productive to engage here with some of your radical followers. #StayClassy," wrote Scalise on Twitter, with screenshots of tweets directed at him.
"She's got better aim that James Hodgkinson, that's for sure," wrote one troll, in reference to the gunman who shot and wounded Scalise and four others at a congressional practise baseball match in Virginia in June 2017.
"Snipe his a--," wrote another Twitter user.
Previous to cutting short the conversation, Scalise and Ocasio-Cortez had been exchanging barbs about the New York lawmaker's plans for a 70 percent tax on top earners to fund a "new green deal," boosting federal investment in green energy.
Scalise, who is the House Republican whip, had attacked the policy in a tweet Saturday.
"Republicans: Let Americans keep more of their own hard-earned money Democrats: Take away 70% of your income and give it to leftist fantasy programs," he tweeted.
Later Saturday, Ocasio-Cortez, who at 29 is the youngest woman ever elected to congress, hit back and defended her plan, which would effect those earning $10 million or more.
"You're the GOP Minority Whip. How do you not know how marginal tax rates work?" she wrote.
"Oh that's right, almost forgot: GOP works for the corporate CEOs showering themselves in multi-million bonuses; not the actual working people whose wages + healthcare they're ripping off for profit."
Scalise was critically injured in the Jiune 2017 shooting, after Hodgkinson opened fire on lawmakers playing baseball in Alexandria, Virginia. He returned to Congress on September 28 2017.
Hodgkinson—a onetime campaign volunteer for Vermont's left-wing senator Bernie Sanders—was shot dead in an exchange of gunfire with police after the shooting.
As of Sunday morning, Ocasio-Cortez had not responded to Scalise's tweet about the trolls. Her office did not immediately return a request for comment.
Newsweek has learnt that Twitter has reviewed the accounts that trolled Scalise, and found them not to be in violation of its policies banning users expressing a desire for a person to be killed or come to harm.
A Twitter spokesperson said the company would take action against users who break its rules banning abusive behavior.
The dispute comes with both liberals and conservative lawmakers accusing each other's supporters of resorting to trolling and threats online amid aggressive confrontation in public over a host of issues, including taxes, defense and immigration.
*This story was updated on January 7 with information on Twitter's investigation of the tweets referenced by Scalise.