GOP Lawmaker Who Stormed Closed-Door Impeachment Deposition Criticized for Sharing Audio Recording Online
After storming a closed-door impeachment hearing at the Capitol with dozens of Republican lawmakers on Wednesday, GOP congressman Alex Mooney shared an audio of a phone call made from inside the secure room.
Dozens of House Republicans, including Reps. Steve Scalise—the House minority whip—and Matt Gaetz, dramatically barged into a secure room where the deposition of a Defense Department official was being held as part of the impeachment inquiry into President Donald Trump. Only lawmakers from the House Intelligence, Oversight and Foreign Affairs Committee, the panels conducting the inquiry, were allowed in the room where the testimony of Laura Cooper, the deputy assistant secretary of Defense for Russia, Ukraine and Eurasia, was taking place.
Some of the Republicans allegedly brought electronic devices into the room to take photos and recordings, a move that breaches the classified room's ban on electronic devices. Mooney, a West Virginia lawmaker, said in the recording that he was calling from a "secure phone" because "we had to give up our cell phones."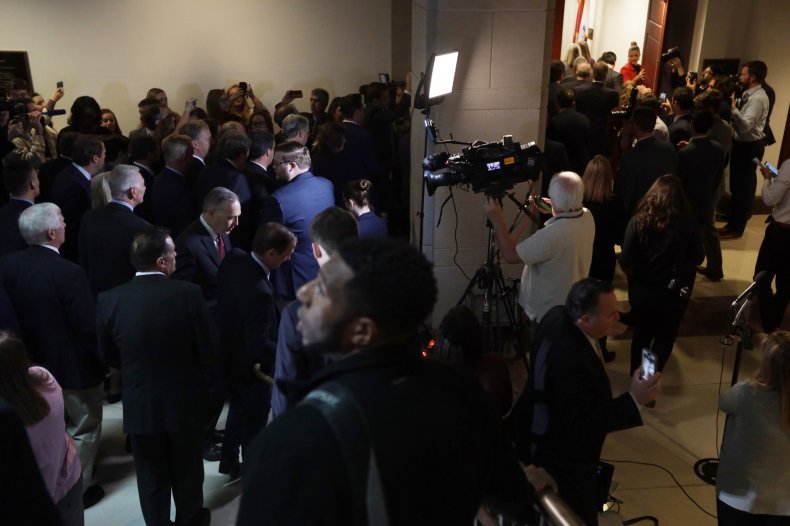 In the phone call, Mooney explained that he and his colleagues barged into the closed-door hearing to protest Democrats' refusal "to have a hearing in a transparent way for the people of West Virginia's second congressional district can be aware of what's going on."
"I represent over 600,000 people in West Virginia who are not given a right to know what's even being said in these hearings is a brazenly attempt for no reason to impeach the president of the United States," he said. "I'm proud that over 30 members of Congress, including our whip, Steve Scalise, walked into that room and demanded transparency and justice for our president."
Following their surprise entrance, Democratic House Intelligence Committee Chairman Adam Schiff left the room, postponing Cooper's interview to an unknown date.
"The fact that Adam Schiff won't even let the press in, you can't even go in and see what's going on in that room," Scalise said outside the room. "Voting members of Congress are being denied access from being able to see what's happening behind these closed doors, where they're trying to impeach the president of the United States with a one-sided set of rules, they call the witnesses."
Mooney's subsequent sharing of the recording online drew criticism on Twitter, with users condemning the lawmaker for allegedly violating the rules governing the SCIF, which stands for "sensitive compartmented information facility."
"This appears to be a congressman not only violating national security protocols by bring his phone into the SCIF, but broadcasting himself doing it," Mother Jones reporter Pema Levy tweeted.
"These Republicans have been trying to lie and pretend they weren't in violation of security. Here's one broadcasting 'live, inside the SCIF,'" Crooked Media's Brian Beutler tweeted.