GOP Lawmaker Who Voted for Impeachment Is Taking Safety Measures: 'Someone May Try to Kill Us'
Republican Representative Peter Meijer, a freshman member of Congress whose first term began earlier this month, discussed safety provisions that he and other federal lawmakers are taking after Wednesday's vote to impeach Donald Trump.
Speaking to MSNBC's Hallie Jackson during an interview Thursday morning, Meijer said GOP House representatives are operating under the assumption "that someone may try to kill [them]" over their support for Trump's early White House dismissal.
The Michigan congressman, who was one of 10 Republicans to cast a vote in favor of Trump's impeachment, told Jackson that he is looking to acquire bulletproof attire and a security detail while adjusting his usual transit routes. Meijer noted that some of his congressional associates are doing the same.
"I have colleagues who are now traveling with armed escorts out of fear for their safety," he said. "Many of us are altering our routines, working to get body armor, which a reimbursable purchase that we can make. It's sad that we have to get to that point, but our expectation is that someone may try to kill us."
Citing "an unprecedented degree of fear, of divisiveness, of hatred" permeating the national landscape amid a tumultuous transition between presidential administrations, Meijer added: "We have to account for every scenario."
A handful of House Republicans reportedly received death threats prior to Wednesday's impeachment vote. Democratic Congressman Jason Crow of Colorado suggested that most GOP members were "paralyzed with fear" during an appearance on NBC's Meet the Press ahead of the congressional hearing.
He said Republicans feared that voting to pass the article of impeachment, which accused Trump of inciting his followers' insurrection at the U.S. Capitol on January 6, would potentially put their lives at risk. The impeachment article ultimately passed in the Democrat-led House, with votes totaling 232 in favor and 197 opposed. Trump became the first president in U.S. history impeached twice during a term as a result of its passage.
Although reports that circulated earlier this week indicated that intimidation targeting House Republicans might impact the direction of their votes, Meijer said Thursday that this was not the case for him.
"We're still sifting through a lot of the information," he told Jackson, replying to an initial inquiry from the correspondent about whether he personally received death threats before the impeachment hearing.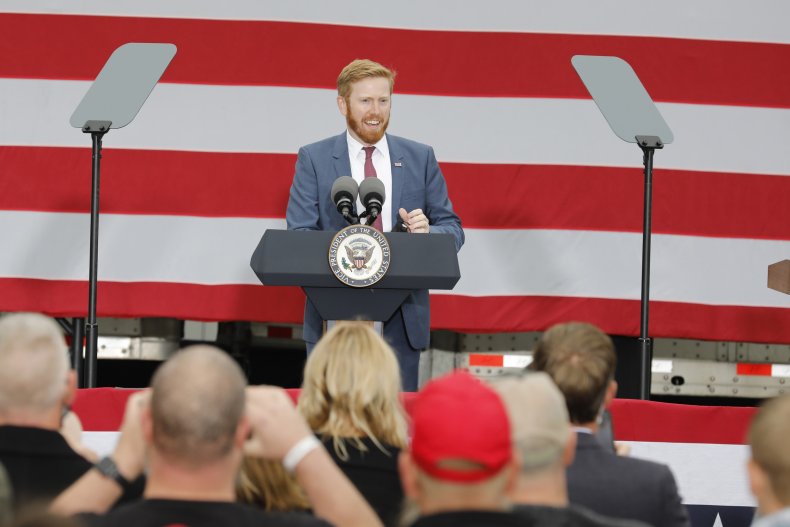 "That did not factor into my decision [to vote in favor of the impeachment]. I don't believe in giving an assassin's veto, an insurrectionist's veto, a heckler's veto...if we let that guide decisions, then you're cowering to the mob," Meijer continued. "I mean, that's the definition of terrorism, is trying to achieve a political end using violence."
Meijer outlined his reasons for backing Trump's impeachment in a statement released Wednesday, referencing the sitting president's actions to catalyze his followers' violent siege on the Capitol, as well as his failure to diffuse the situation. Thousands of Trump's supporters stormed the federal complex after attending a rally to oppose President-elect Joe Biden's legitimate victory. The uprising trailed months of baseless allegations, promoted by Trump and his campaign, that claimed election fraud and misconduct cost him a second term.
"With the facts at hand, I believe the article of impeachment to be accurate," Meijer's statement read. "The President betrayed his oath of office by seeking to undermine our constitutional process, and he bears responsibility for inciting the violent acts of insurrection last week. "With a heavy heart, I will vote to impeach President Donald J. Trump."
Newsweek reached out to Meijer's office for further comment, but did not receive a reply in time for publication.