GOP Lawmakers in Missouri Propose Bills Making It Legal to Hit Protesters With Cars
Missouri state Republican lawmakers have introduced legislation allowing drivers to legally run over protesters with their vehicles.
Two bills introduced this month by Republican Missouri state Representative Adam Schnelting and Republican state Senator-elect Rick Brattin would remove legal liabilities for drivers striking protesters, or those at gatherings deemed to be "unlawful" demonstrations, with their vehicles.
"The Fleeing Motorist Protection Act ensures that motorists who are trapped in their vehicle during a riot are civilly and criminally protected under state law," Schnelting tweeted on Thursday. "If your grandparents are caught in a mob and are being threatened, they shouldn't be held liable for inadvertently hitting a rioter if they flee the scene in order to save those in the car from physical danger."
The bill does not allow vehicular assault or acts of "gross negligence." It would instead apply only to those who drive into a person while attempting "to flee in a motor vehicle from an unlawful or riotous assemblage."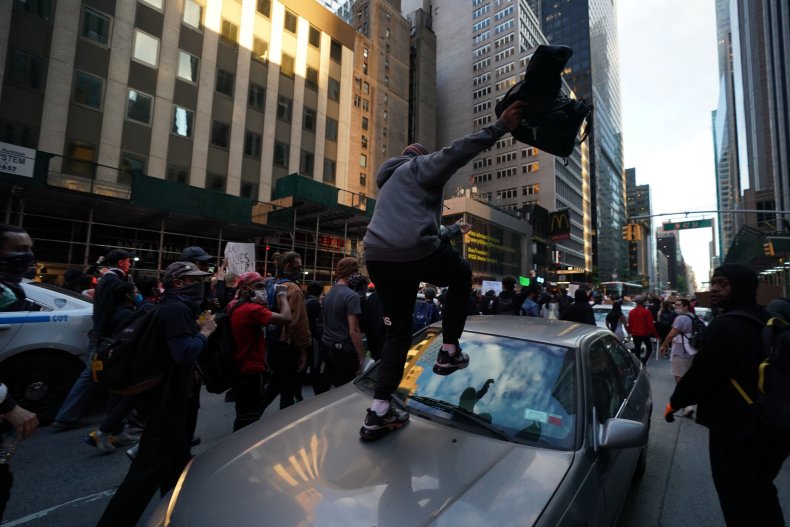 There were over 100 instances of drivers striking protesters at Black Lives Matter protests that took place across the country this year, according to The Wall Street Journal. Memes popular in some far-right social media circles encouraged and celebrated drivers intentionally injuring or killing the protesters with their vehicles, using hashtags like #AllLivesSplatter and #RunThemDown.
On Friday, Schnelting insisted that the bill was aimed at protecting his constituents and objected to the notion that it was aimed at protesters while sharing a local news article headlined "Missouri bills push to protect drivers if they hit protesters" on Twitter.
"Misleading headline," Schnelting tweeted. "The Fleeing Motorist Protection Act protects motorists from rioters & mobs, not 'protestors'. Peaceful protesting is a very American idea, one that I will support until the day I die."
Brattin's bill, which was prefiled on December 1, similarly absolves drivers of any liability but does not excuse acts of gross negligence. The legislation also seeks to strip employment benefits from government employees determined to have taken part in "rioting" or "unlawful assembly." Unlike Schnelting's bill, it explicitly proposes allowing vehicles to strike protesters, or those "participating in a protest."
"Any person operating a motor vehicle who injures another person with the motor vehicle shall not be liable for any damages if, at the time of the injury: (1) The person operating the motor vehicle was exercising due care; and (2) The person injured was blocking traffic in a public right-of-way while participating in a protest or demonstration," the text of the bill reads.
Several Republican officials from across the country have made similar proposals this year, including Florida Governor Ron DeSantis, who in September suggested allowing drivers to legally kill or injure protesters as long as they are deemed to be "fleeing for safety from a mob."