GOP Lawmakers Slammed for Wearing Pearls to Gun Legislation Hearing: 'For Some, Gun Safety Is a Joke'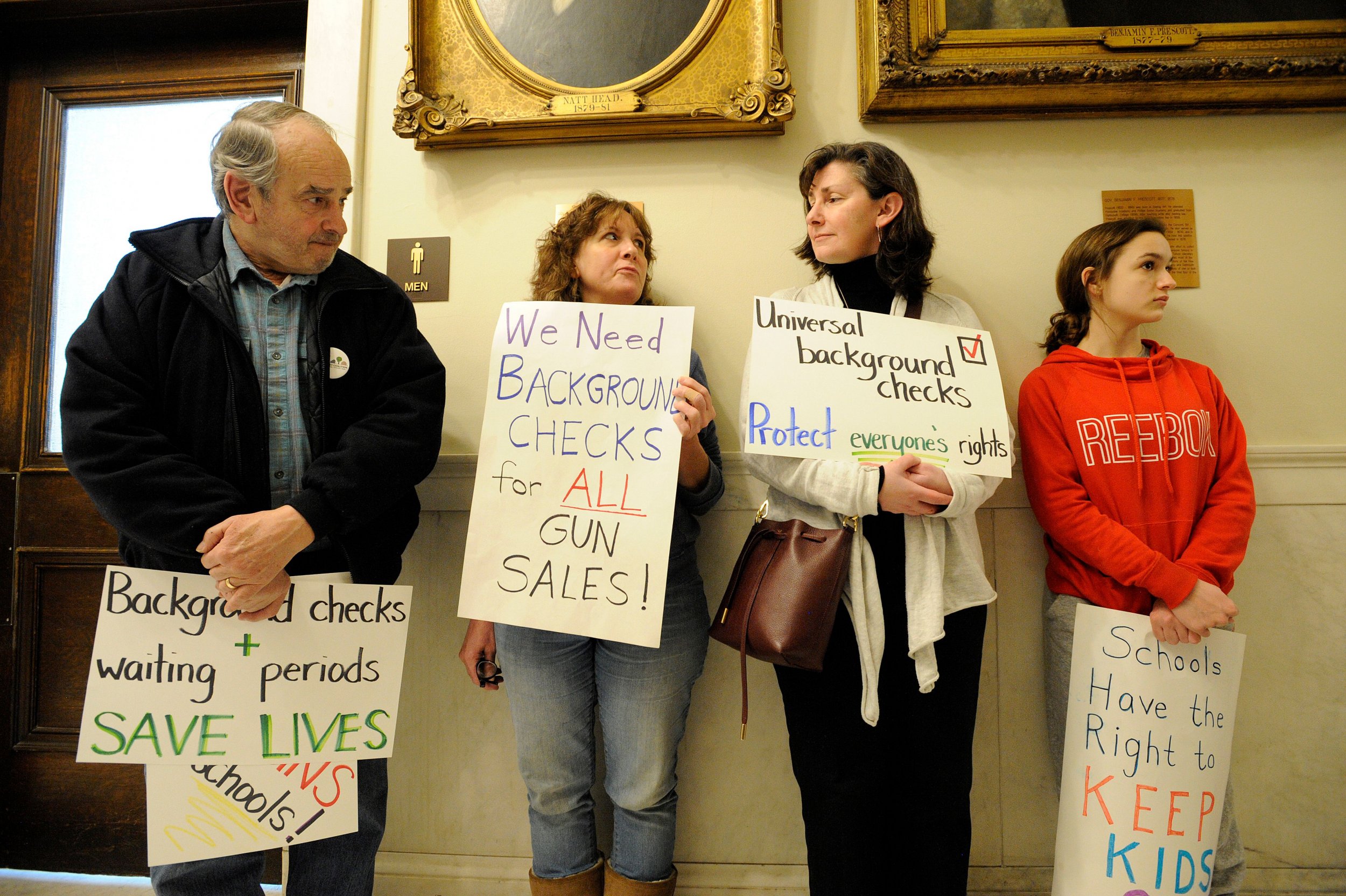 Lawmakers sparked controversy by wearing pearl necklaces as they listened to activists share stories of gun violence at the New Hampshire House of Representatives on Tuesday.
Widely condemned for invoking "clutching at pearls" imagery—a phrase used to mock outraged activists and women in particular—gun safety campaigners blasted the politicians online.
"It really is shameful to behave that way when your constituents are being brave enough to share their stories," Shannon Watts, founder of Moms Demand Action for Gun Sense in America told The Washington Post. "They clearly did not come to this hearing with open minds or compassion for their constituents."
Activists from Moms Demand Action were describing their experiences of gun violence at a hearing for a "red flag" bill that would help restrict firearms access to people deemed to pose an immediate risk to themselves or others, the Post reported.
One father, described by Watts as a Republican, described how his son bought the firearm he used to kill himself "despite his psychiatric hospitalizations and his encounters with law enforcement. While being an immediate risk to himself [he] was able to walk into a gun store and purchase a handgun."
According Watts, 10 of the 13 lawmakers presiding over the hearing were men, and around half of them wore pearl necklaces. One also wore a pin shaped like a semi-automatic rifle. Clearly visible in the pictures are Republican representatives Daryl Abbas, Scott Wallace and David Welch.
Watts published photographs of the hearing online in a post shared by more than 3,000 users, including survivors of the Marjory Stoneman Douglas High School shooting in Parkland, Florida.
Male lawmakers were "wearing pearls to mock Moms Demand volunteers" as their constituents "[testified] about gun suicides and domestic gun violence in their families" in tears, she wrote on Twitter.
Fred Guttenberg, whose daughter Jaime was killed in the Parkland shooting, criticized the lawmakers on Twitter, writing: "For some, the idea of gun safety is a joke. For others like me, it is something we live with every day. Shame on these lawmakers but glad they thought it was ok to expose themselves. Step by step, we will defeat them."
The pictures prompted outrage among other social media users. "I had to double check that this was in our country. Where legislators mock constituents," wrote user Sandy Griebe.
"This callous display of disdain for their own constituents as well as for the rest of us is extremely disturbing," said Dawn Johnson. "We are talking about human beings killed by guns. Fathers, mothers, children. On what planet is this snide mockery acceptable?"
Pro-gun activist Kimberly Morin disagreed with Watts's interpretation of the pearls. She told The New Hampshire Union Leader the Women's Defense League of New Hampshire gave beads to several lawmakers as a symbolic gesture in support of her group. "We are moms just like they are, only on different sides," she said.
Watts maintains the gesture was offensive. "When you are a male lawmaker and you come to a hearing wearing a pearl necklace and a semiautomatic rifle pin, you sort of lose control of the narrative," she told the Post. "It seems like a pretty foolish choice."