GOP Lawmakers Seek to Re-Name Part of 'John Lewis Way' After Trump
Two Republican lawmakers in Tennessee introduced a bill this week that would rename a portion of a Nashville street named after civil rights icon John Lewis after former President Donald Trump.
The Tennessean reported on Friday that state Representative Paul Sherrell and state Senator Frank Niceley sponsored the bill to change the name of a section of John Lewis Way. According to state general assembly records, Sherrell filed the bill on Tuesday. Niceley filed the state Senate version on Wednesday, which fell on the first day of Black History Month.
John Lewis Way was formerly known as Fifth Avenue, however it was renamed after the late congressman in 2020. According to The Tennessean, "Lewis helped lead lunch counter sit-ins along the street during the early years of the civil rights movement."
The bill from Sherrell and Nicely looks to rename part of the street to President Donald Trump Boulevard. The area that the two Republicans seek to name after the ex-president is between Dr. Martin L. King Jr. Boulevard and James Robertson Parkway.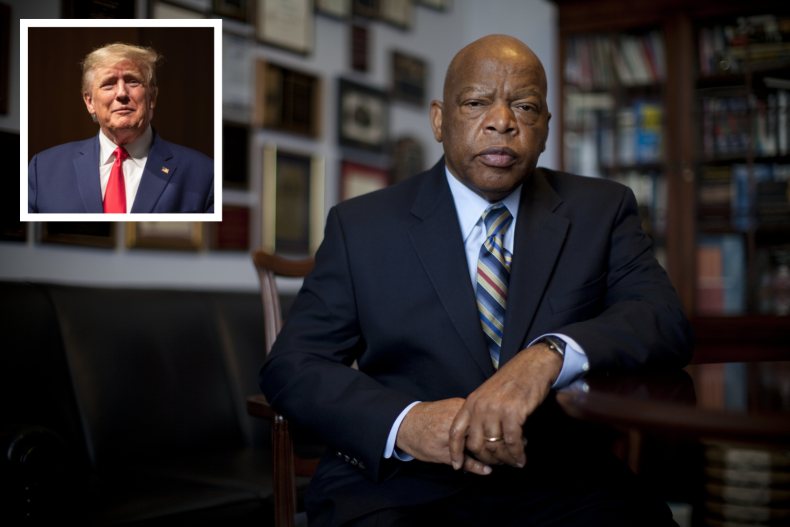 Lewis was aligned with Dr. King in the 1960s and carried on as one of the country's most prominent civil rights activists for the rest of his life. From 1987 until his death in 2020, he served as a member of the U.S. House of Representatives for Georgia.
Lewis was also a leader of the Democratic Party during his time in Congress, serving at different times as chief deputy whip and senior chief deputy whip. In 2011, then-President Barack Obama awarded Lewis the Presidential Medal of Freedom. He was also the subject of the critically-acclaimed 2020 documentary, John Lewis: Good Trouble.
Councilwoman Zulfat Suara, a Democratic member of the Metropolitan Government of Nashville and Davidson County, criticized the bill introduced by Niceley and Sherrell on Twitter.
"OMG. I have to take a deep breath so as not to swear! What have this state become! Do some just wake up and propose the next thing that comes to mind. This is not how to govern. This is ridiculous. We are going to fight this," Suara tweeted Thursday night.
Tennessee state Representative Justin Jones, a Democrat, also decried the move on Twitter.
"Tennessee Republicans' bill to change parts of John Lewis Way to Donald Trump Blvd is about more than a street name," Jones wrote Friday in part about the proposed bill. "It's spitting on the grave of our ancestor. It's memorializing hate. Best believe, we'll fight back."
Newsweek reached out to Sherrell, Niceley, and the John and Lillian Miles Lewis Foundation for comment.