California's Secretary of State Alex Padilla has publicly dismissed claims made in a lawsuit filed by an attorney against the State of California and the state's DMV on Tuesday, according to the Sacramento Bee.
The suit, filed by attorney Harmeet Dhillon in the U.S. District Court of Sacramento, requests that the two state agencies work together to develop an improved system to verify the citizenship of persons registering to vote.
It claims that an audit has revealed California DMV's "motor voter" program, which registers DMV visitors to vote, is ''riddled with technical problems" and these problems led to discrepancies in voter registrations, according to the Associated Press and the San Francisco Chronicle.
Dhillon's suit further alleges that Padilla and the director of California's Department of Motor Vehicles, Steve Gordon, are in violation of federal law and the National Voter Registration Act because they have failed to verify whether or not non-citizens are registered to vote through the program, and further that Padilla "established a pattern and practice of doing nothing to verify that a potential voter is a United States citizen, thus causing non-citizens to be placed on the voter rolls."
Padilla replied with a statement declaring that the suit,"is a fundamental misrepresentation" of the National Voter Registration Act.
"The plaintiffs claim they are protecting voters, but this is nothing more than an underhanded attempt to bring their voter suppression playbook to California," Padilla wrote in a statement replicated in the Sacramento Bee. "As we have seen in other states—most recently in Kansas and Texas—these efforts only serve to disenfranchise thousands of eligible citizens. California remains committed to ensuring the integrity of our elections, empowering citizens to participate in democracy, and defending the right to vote."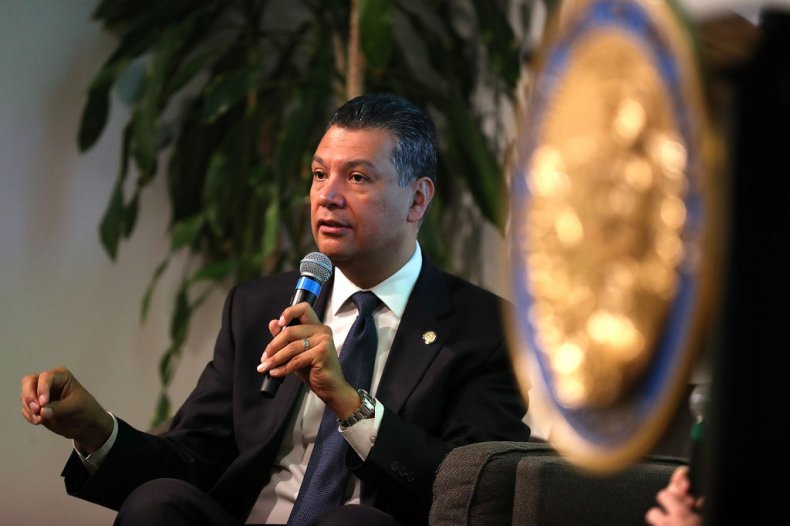 Dhillon told the Sacramento Bee that Padilla's claims of voter suppression are "ludicrous and dishonest" and the suit is simply about ensuring correct information about citizenship is being successfully transmitted between the DMV and the Secretary of State's Office. She also said she wants the DMV to send Padilla more records related to citizenship to demonstrate that only eligible people are able to register.
"We want the secretary of state to do his job, which is to ensure that only eligible voters are placed on the voter rolls," she said, according to the Sacramento Bee.
"It's Padilla's duty to cross-check databases he has access to," Dhillon added.
Padilla's office told the Sacramento Bee, however, that voter registration databases don't include official citizenship documents.
The program's launch resulted in six ineligible voters casting ballots in the 2018 June primaries, with two of those voters participating in November 2018 elections. In total, 1,500 DMV registrants may have been improperly registered to vote and In all, 105,000 registration errors were reported by the California DMV following its beginning in the months after its implementation.
Dhillon, the former vice chairwoman of the California Republican Party and a Republican National Committee member, filed the lawsuit on behalf of three California residents, all of whom are also identified as Republican voters by The Associated Press.