GOP Leader Pushes Law to Cut Funding From Cities Where 'Leftwing Mobs' Remove Statues
House Minority Leader Kevin McCarthy introduced a bill on Thursday that proposed barring cities and states from receiving federal grants if they do not take action against Americans who try to topple or deface statues in public spaces.
The California GOP congressman said on Twitter the act is an incentive for local leaders to take action against the "leftwing mobs" that are "trying to erase history by destroying statues of George Washington, General Grant, and Christopher Columbus."
"Enough is enough," McCarthy tweeted.
The Republican-backed legislation, which McCarthy introduced alongside Representative Jim Jordan of Ohio and Representative Sam Graves of Missouri, came after weeks of demonstrations that started in response to the police-involved death of George Floyd on May 25. Protesters in the U.S. and around the world took to the streets to demand an end to violence against Black individuals and ask government leaders to reform policing policies.
Not long after the movement began, many protesters began calling for the removal of controversial statues outside government buildings and in other public spaces, and some took action to remove the statues themselves.
While some local leaders responded to those calls by agreeing to remove statues of historical figures with ties to slavery and colonialism—for example, Mayor Levar Stoney of Richmond, Virginia, ordered the immediate removal of all Confederate statues in the city in early July—the federal government has been less open to making any quick changes. President Donald Trump signed an executive order in late June that instructed state and local authorities to prosecute Americans who sought to remove or vandalize statues and monuments. States and cities that did not comply with his order risk losing federal funding, the president said.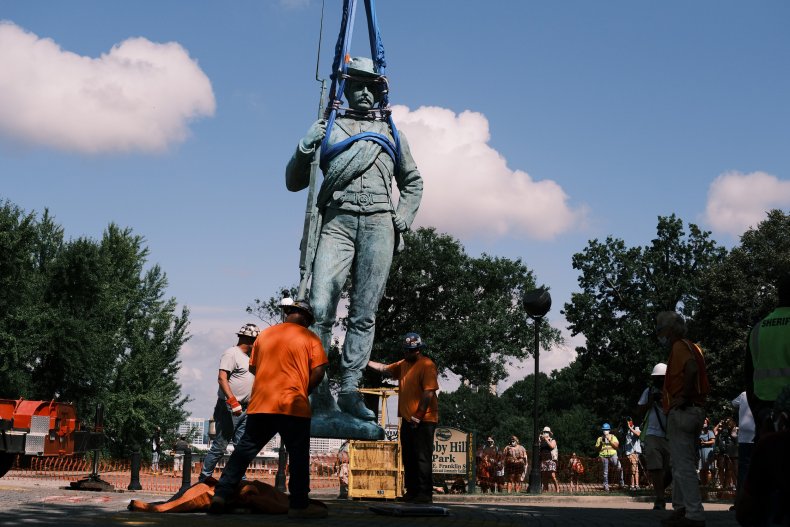 McCarthy drafted his new legislation, which is officially called the Protect America's Statues Act of 2020, in a similar vein to Trump's order last month. "Public monuments are indispensable because they tell the American story," McCarthy said in a news release announcing the act. "My legislation has real consequences for states and cities: no order, no funding."
The legislation suggested restricting access to some federal grants, including those awarded for historical preservation efforts.
McCarthy said monuments that have been targeted by protesters in recent weeks are vital to preserving American history and thus deserving of federal protection, according to a statement shared with Newsweek.
"It is wrong to erase our history. We should be learning from it. Instead, leftwing mobs in cities across the country are destroying statues of General Grant, St. Serra, Christopher Columbus, and abolitionists. This is lawlessness in its purest and most unacceptable form," McCarthy said.
The House minority leader's statement continued with a reference to local leaders who did not take immediate action to prevent their citizens from removing or defacing the controversial statues. "If state and local officials will not protect historical monuments, then Congress must and will," he said.